I have a mare I breed, Her Mother is a Standardbred her sire a Clydesdale.
6years ago when I made the decision A lot of people boo hoo'ed me but now those same people are chasing their tails to try & buy her & are out there doing the cross themselves.
I went for Standardbred rather than TB because her mother is a beautiful piece of horse flesh & had a Temperament to die for. I wanted all that but a little heavier.
The resulting foal is here with my non horsey Husband riding her :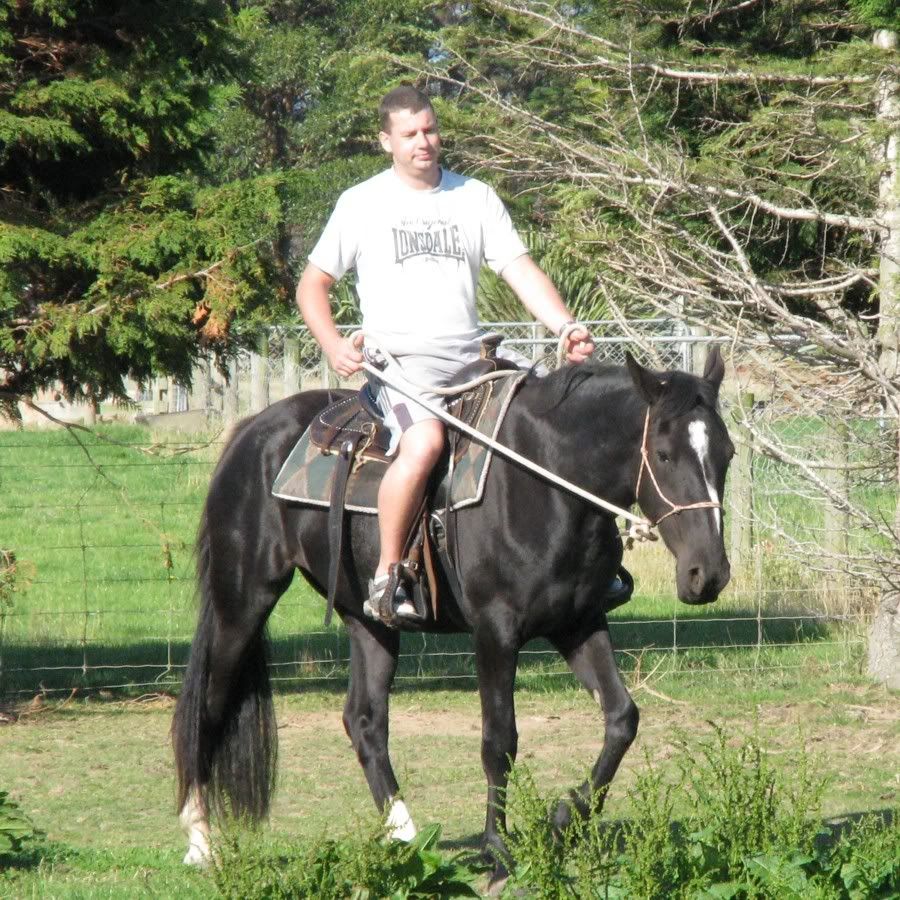 Here is her Dam: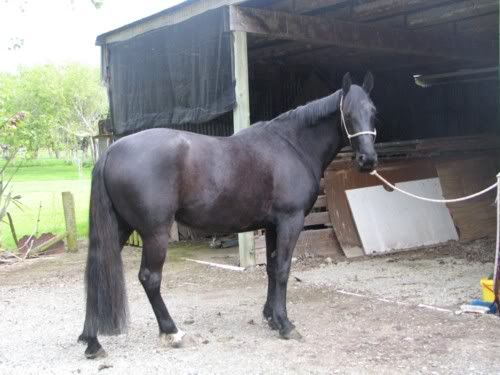 I dont have one of her sire unfortunately as my old PC ate it!!
Here is another of the foal & her Dam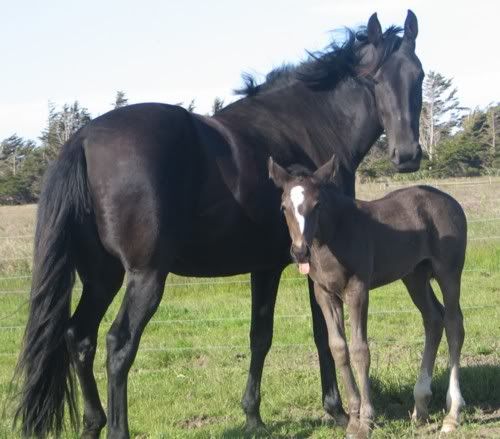 .
Beautiful horses, Katana! I've always loved bulkier, black horses.

My Grandfather, about 35 years ago, bred apps. and had some very high quality ones, apparently (and some not-so high qualities, but that's a differant story, and the reason my mother hates most apps. now and isn't a big fan of mares). He also bought his children an older Shetland pony mare, for the younger ones to learn to ride on.

Well, they apparently owned her for a few years, and decided that since she was in her mid-20s, she probably couldn't breed anymore (stupid, I know; my Grandfather wasn't all that horsey, despite everything), and let her run with the main herd - and the stallion. Lo-and-behold, she had an App/shetland foal that year... and the next year... and the one after that, before they finally sold her.

Obviously, I never saw them in person, but I have seen pictures of the foals. One had the leopard spots, app tail and maine and the Shetland head, legs and body; it was adorable. The others got the shetland maine and tail and shetland legs... and app. everything else. They looked like hippo-pony crosses.

Not sure what happened to them. They were sold as year-olds and my mother doesn't know what those people did with them.
At my work we actually have a ShireXArabian that used to do dressage. Will get a picture of him on Wed for you.
Percheron and Fjord
She's a really wonderful horse, she works as a hippotherapy horse and shows training level dressage.
I don't get the pintoloosas...I have yet to see one to turn out with color to them.
My first horse, Stuff, was Paso Fino/Quarter Horse. He was gaited, but only when frightened, lol. So when I entered walk/trot classes, he wouldn't trot! :P
The strangest horse I've ever seen was the Arab/Clyde cross I trained. He was an opps baby and probably the ugliest little foal I have EVER seen! He looked like a half starved mule for the first 2 years of life! He's 5 now and has finally grown into his head and ears...he's still a little ugly but that boy can jump anything put infront of him!