creeeeeeeeeeeeeeeeepy!
Quote:
A Foxtrotter and a Gypsy Vanner.
That poor thing was as ugly as sin. The infuriating thing is that it was done on purpose.
There was a foxtrotter mare on craigslist in my area that was in foal to a gypsy vanner. They wanted $5000 for her...
---
RH Queen O Anywhere "Sydney"
2009 Sugarbush draft
Started
Join Date: Aug 2009
Location: In the barn whenever possible.
Posts: 1,910
• Horses:
2
Quote:
Originally Posted by
MacabreMikolaj
View Post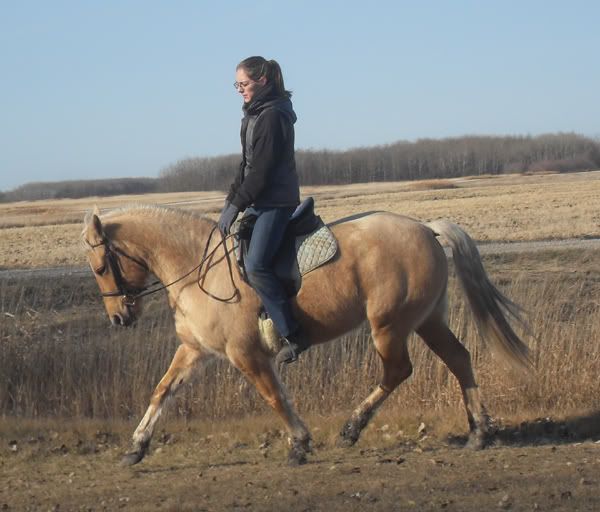 Her daughter Justus
She's gorgeous!
---
"Riding a horse is not a gentle hobby, to be picked up and laid down like a game of solitaire. It is a grand passion. It seizes a person whole and, once it has done so, he will have to accept that his life will be radically changed." -Ralph Waldo Emerson
Haha, well I worked with a gelding, who's dam we knew the breed of, but were uncertain of the fathers breed. His dam was a smaller pony, I'm thinking something along the welsh lines if I remember correctly, who ended up somehow getting out of her stall at a show, and got bred by the owners thought an Andalusian stallion. The gelding had an andalusian type mane and tail, as well as the thick rounded neck, a TINY chest, thick stocky legs, was a palomino type color, and was about 13 hands or so. Wasn't the prettiest horse I've seen. And an ugly fresian arabian cross. I saw another one that actually looked pretty nice, but this one in particular, had the fresian neck, arabian head, arabian legs, fresian butt, arabian shoulders, and the fresian mane and tail, but very little feathering. Don't remember what color she came out, but just wasn't a pretty horse, and she was definately bred on purpose.
my mum rides a percheron x qh x hackney. he turned out ok, but all his siblings have bad dispositions & are pretty unattractive....
---
Gypsy & Scout <3
Everybody is a genius. But if you judge a fish by its ability to climb a tree it will live its whole life believing that it is stupid. ~Albert Einstein
belgiun and welsh pony. :) lol she is my mom's trail horse lol she looks like a halflinger
---
<3 MiKKi ~
my horse is a tn walker quarter horse mix. two very diffrent breeds! her daddy had a gait to die for! her momma was a reg. quarter horse that wasnt too thick.she is tall,skinny,has a funny gait.shes not gaited but does a kinda shuffle.not a lot of tn walker mixes come out well if the horse that is crossed isnt gaited.
---
its horse show time in tennessee!!!!!!!
what im not paranoid!!! ....whos asking???
proud to be a southerner!!!
Weirdest I've seen is a Thoroughbred x Ardennes. You know how lightly built most TB's are, and how heavy and thick the Ardennes is. The dam was an Ardennes plow mare, and the sire a OTTB. The poor gelding (thank goodness) has a massive thick neck, TB legs, a big roman nose, and the hindquarters and shoulder of a TB. He was bred on purpose. Poor thing.
---
Good people get cheated, just as good horses get ridden
The strangest one I've seen in person so far has got to be my Standardbred x Arabian... and she's carrying a foal to either a paint or a quarterhorse... We'll see what happens with that one...

She's kinda cute, looks like a petite standardbred, but her necks a little short, and she just looks funny to me, but she was in foal when I got her, so I'm curious to see what she looks like without the baby belly lol.....
---
"Not one shred of evidence supports the notion that life is serious."