Sweet Face??
---
Hi, everyone. Being new, I've just been reading and trying to absorb everything! Several times I have heard comments that a horse has a sweet face, and looks nice or kind, etc., and I just have to ask, can you really tell anything about a horse's personality by his face? I mean, I can understand if an animal is angry or upset that you can "read" this in his expression. Is this what you are talking about? Or is there something more? Thanks for all the information. I am learning lots from you!
You know how when you look at another human you automatically think "they look like a friendly person" or "they look mean"? It's pretty much the same with horses. I've met lovely horses with ugly faces and mean ones with sweet faces, so it's not an exact science. =P
I'll try to find some pictures to demonstrate. =)
I think my lovely lady Lacey has a "sweet face". She looks pretty friendly and her eyes look really soft.
This horse on the other hand doesn't look so friendly. He was but he didn't look that way. I think it's partially due to how small his eyes were.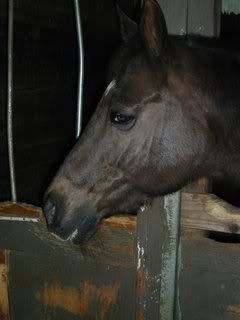 I hope this helped you and welcome to the forum!
First off welcome to the forum!

Every horse has its own personality. Just like humans a cute face dosen't always mean a nice personality behind it. I think what you are reading is people are looking at photos (or videos) and see that the horse is cute and also has a calm temperament (for example stands quietly and is patient) and is not in a bad mood (example pawing and totting in place, tossing his head, and/or pinning his or her ears). The more you have experience with a horse, the more you know how it reacts and even most likely what it is thinking through its expressions.

Hopefully that helped!
A sweet face can mean a lot of things. Since youve probably been hearing a lot about this in the critique and breeds section... they are most likely talking about a "sweet face" in a conformation sense.

A sweet face is when a horse has large, kind eyes, largish nostrils, an attentative expression and perky ears. Most horses that seem cute or appealing to someone are also said to have a sweet face. Others use it as a conformation term.

I think you can tell something about a horse's personality by their expression. If a horse is constantly showing the whites of his eyesor has small pig eyes, carries his head high, etc... he has an unkind expression and is probably either high strung or feeling fresh. A horse with the description of a sweet face is probably calm and kind. Like a childrens pony or a school horse.

Hope this helps,
eventnwithwinston
Welcome to the Horse Forum!
Ah, very true. When I look at a horse's face, it does tell me a lot about them. Some horses have 'softer'-looking faces, & I see them as sweeter, lol.
On the other hand, a horse can look a bit grouchy, & I think, "maybe I should stay away from him!" hehe! But still, even though a horse may 'look' grouchy, you never know- they could be really sweet. :) The face does tell a lot about a horse, though. I like horses with soft, kind faces & nice eyes.
---
Ride more, worry less.
Linda Tellington-Jones has this theory that certain facial features (size of eyes/jowls/nostrils, shape of profiles, muzzle placement, length of mouth, shapes of ears, etc) can predict what kind of personality/intelligence that horse has. She has this chart with all these different facial features and everything. I laughed the first time I saw it and rolled my eyes. but honestly... the more I work with horses the more I definitely see some patterns emerging! I don't think I'm a true believer yet but I don't know! Large soft eyes mean sweet personality, high intelligence. The horses at our barn with large soft eyes have that. Horses with a large hard eye are intelligent but very dominent. Noticed that. Horses with a smaller "pig" eye are not as smart. I know some pig eyed horses that aren't so bright. Large jowls are a good sign. etc etc. Anyways, I can't find the chart but you should do a little internet research, it's pretty interesting.
I have notice that alot of horse with big warm eyes tend to be sweeties!

But like most people say there like humans...you realy just dont know.
Sweet face=Owner thinks horse is cute.
---
Are you absolutely sure you wanna mess with my carrots?
Wow! Thanks everyone, that IS helpful.