I have a beautiful TB mare, just turned 4, she's got a great character, is full of personality, has a great heart and is one of the most athletic horses I have ever ridden. The *WANTING* to please from her is just amazing.

I got her green as grass last year, and the learning from her and her from me has been a fantastic experience. In my opinion all breeds have their good and bad, but the TB is one of the most misunderstood. Yes she's hot, yes she's highly intelligent, yes she's mine =) She is EXACTLY what I wanted when I was looking for a horse and has exceeded my expectations in every regard.
---
The blood runs hot in the Thoroughbred and the courage runs deep. In the best of them, pride is limitless. This is their heritage and they carry it like a banner. What they have, they use. - C.W. Anderson
i lovvvvve a horse with personality, i got what i wanted and im happy
Absolutely adore my OTTB! :) Quiet and sweet, and puts up with all my antics lol. In 3 days i'll have had him 2 months. He is my first horse and is my best friend! :)
Absolutely love all of mine
Have always had at least 1 TB for the past 19 years. They are all unique individuals with their own personalities. Definitely *not* the horse for everyone, but they sure are the breed of choice for me.
With the exception of my first two horses ever I have always had thoroughbreds. If off-track, once they come down from the super high energy food and quit acting like they are on heroin, they tend to be the most loyal horses out there. If they got lucky and were treated well on track, they learn very quickly to trust and yes, they can have some pretty silly attitudes and mannerisms. I got my last thoroughbred when he was 7 and he acted more like a 3 yr old...he had to put everything, brushes, leadline, halter (he could toss a halter, after a few good tosses of his head to get the momentum going, a full 41 feet..we measured after we quit laughing) into his mouth and was very fond of "walking" himself with the leadline in his mouth. Unfortunately they are also prone to issues later in life due to their early track days. Not all of them develop issues but if the issues develop they tend to be pretty bad.
Teen Forum Moderator
Join Date: Dec 2010
Location: South East Texas
Posts: 7,157
• Horses:
2
I've always been around big QH and paints, so when I took on the job of rehabbing a sickly little TB yearling with a bad past I didn't expect to like her. I've always thought TBs were rather ugly, with huge withers and noodle bodies. That didn't matter though, when I met Kenzie. She's one of the sweetest horses I've ever met, even though she's gone through horrors that would make any animal hate humans forever. She has a hard time trusting, but you can tell she WANTS to, and I don't think she has a mean bone in her body. She loves to just 'hang out' with me, and has a huge soft spot for little kids even at her young age. She's literally been to hell and back, and one look at her body will show that to be true...she isn't beautiful, and she'll always look a little 'funny', but her personality shines through her neglect and I've just loved every moment that I've spent with her so far!
(she is still mid-rehabilitation and still needs weight. I'm aware of this and believe me, she eats more than our 18hh warmblood!)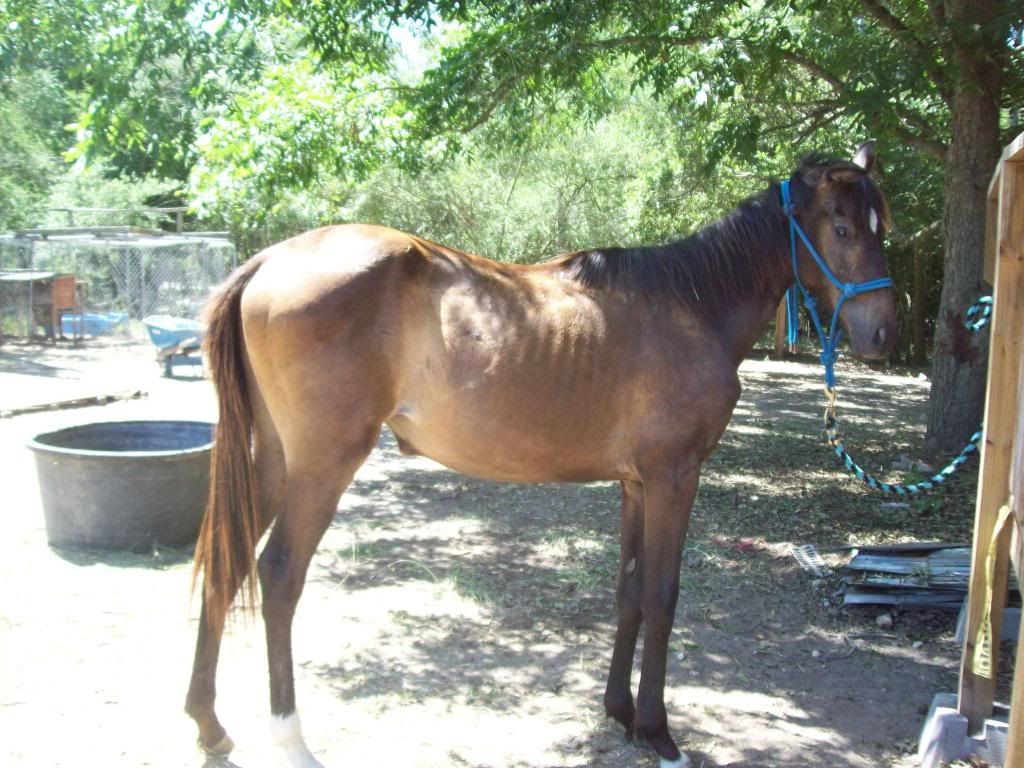 ---
Everyone in your life is meant to
be in your journey, but not all of
them are meant to stay till the end.
I had an OTTB for my first horse. Seven years on the track and I got her when she was ten.

She was the only horse who I ever experienced that special bond with... complete and total trust. She was incredibly smart and sweet-natured, with enough spunk to keep a person interested.

I only had her for two and a half months but I still miss her more than words can describe. She was my first, and definitely not last, experience with an OTTB.
---
Forever loved, never forgotten; my beautiful Indie. <3 Hoofprints on my heart.
I've had nothing but OTTBs and will never buy anything else. I started up Second Chance to retrain for eventing and then resale OTTBs. My current horse is a Camelot save and I will never sell him. We clicked immediately. I enjoy proving the "crazy Thoroughbred" sterotype wrong with my guys since I've actually had nothing but laid back geldings and only one had a letdown period.
I love my OTTB, he is so honest. He tries his heart out for me and is such a gentle soul.
Here are some pics of him this weekend at Thoroughbred Horse of the Year. We tried our hand at this show horse stuff and although we didn't come away with any ribbons, Bo was so well behaved and tried hard, I am happy with that achievement :)
HOTY.jpg
hoty1.JPG
hoty2.jpg
hoty3.jpg
This is my 4 years old OTTB. Two month ago was impossible to ride him. Look at him now.