lucky... my trainers barn has a race track on it, but i havent run it with Romeo yet, i ran it with my old TB (never raced, but should have) and it was suucchh a rush to race against my twin on her slow warmblood. hahahhaa but i want to race Romeo against the other 3 on the track soooo badly. like to use the starting gate and the flash at the finish line.
haha
---
Horses are angels without wings!
Quote:
Originally Posted by
ThoroughbredJumper
View Post
Has anyone ever wanted to race their OTTB??? Mine raced and ive always wanted to be on his back and race him on the track. Hes just the most obedient and easy keeper, love him, and he loovveeessss his job (jumper), but i have always wanted to test his speed against the other 3 OTTB's in our barn :) haha
We've hit about 40 mph on a stubble field, that was fast enough and at the end it was one of those thank goodness I'm still alive feeling
, that was AMAZING
! but I don't want to do that again for a little while
Heres my 16.2HH TB, Turly, aka Fulford Vosico... He was born at the race track in Vancouver, BC, but was never raced he is to "big boned" they said, he's a Hunter for sure.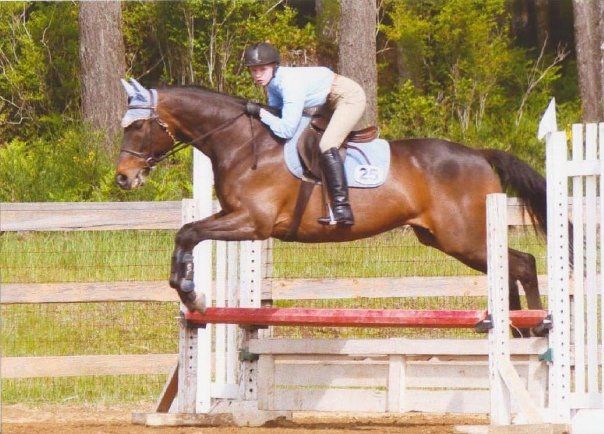 He Kind of looks preggo here... lol
He likes to smile :)
---
~A Cowboy's Chance~
1977-2011
Rest in Peace
---
Last edited by Fulford15; 12-05-2012 at

11:13 AM

.
40??? Sweet! AHHHH now i really wanna go race.. lol!
---
Horses are angels without wings!
Yay! A thread just for us!
---
He's a hat rack. I saw this thread & in the spirit of the holidays decided to share. I actually never had a thing for thoroughbreds until I met this goof ball.
---
He knows when you're happy
He knows when you're comfortable
He knows when you're confident
And he always knows when you have carrots.
~Author Unknown~

i dont see any picture? is it just me?

Edit: NEVER MIND! lol
---
Horses are angels without wings!
I have an ex point-to-point gelding called Praetorian Guard (: he's 17hh, and so chilled out I wouldn't think he was a TB without his pedigree! (By Exit to Nowhere out of Songs of Innocence). He's not an easy keeper, but with plenty of haylage and hard feed he does keep his weight on ok. Fingers crossed he's going to make my event horse, but meanwhile we're working on basics... like stop.
My TB is very calm too, when I first got him he was 9 and was CRAZY, he was a lesson horse and was not happy about it at all. Since the day I brought him to our own property and he's been a "one person horse" to my mom and I, he couldn't be happier. Sweetest boy ever, I love TB's, I have trained quite a few of them and they will always be my favorite breed!
---
~A Cowboy's Chance~
1977-2011
Rest in Peace