For those of us who are feeling left out... post your chestnuts and sorrels!
---
I've been seeing an awful lot of paint appreciation around lately. I believe there is more variance in chestnut/sorrel shades than most people seem to realize. Let's show everyone the beauty of chestnut/sorrel horses!
Here's mine, a dark chestnut: (excuse the non-muscle, this was only a month or so after I bought him)
---
"The trouble with the world is that the stupid are certain and the intelligent are full of doubt"
-Bertrand Russel
I'm so happy to see this thread. I love chestnuts/sorrels, definitely one of my favorite colors. I'll see if I can find the pics of mine (RIP). Now I've just got a bay and a dun. Miss my copper horses
This is Ty, the Saddlebred gelding I used to have. He now has a cushy show home in Southwestern VA. His registered name was High Touch. He has both Wing Commander and Supreme Sultan in his blood lines. Unfortunately, his 19 years of showing didn't transfer to the trails. He was great in the ring...but hell on wheels on the trails!! He was 16 and 1/2 hands. If he didn't park out so well, I would have never been able to get on him!!!
This is my daughter's Shetland Pony, Teddy. He is the first sorrel I have owned, and I just think he is the cutest!
then my daughter riding :)
---
♥ Gypsy gold does not chink and glitter. It gleams in the sun and neighs in the dark ♥
I never use to like chestnuts until I moved to my current farm and all she had for a while was chestnuts, and then I ended up with a chestnut mare and now my chestnut gelding!
My QH mare Malibu. She is a bright copper chestnut (when its not cloudy and raining...)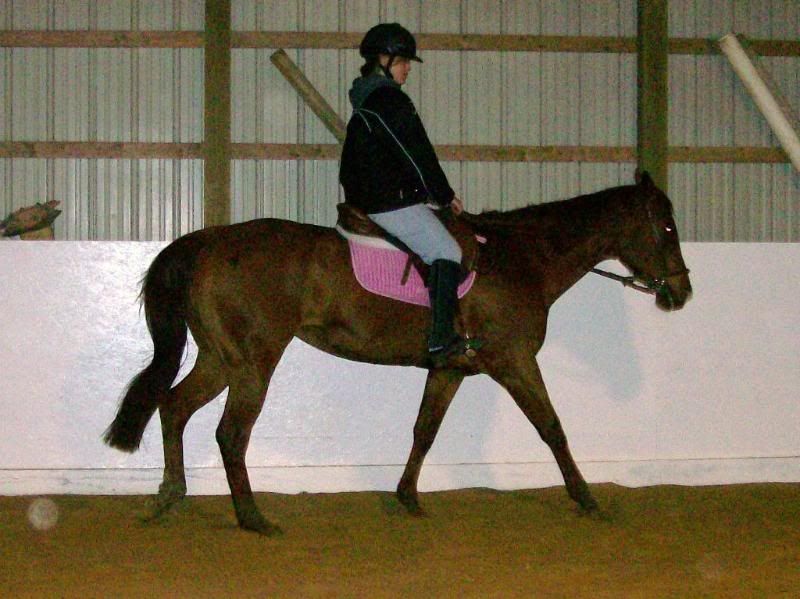 The Appy mare that I helped re-home, Lilly: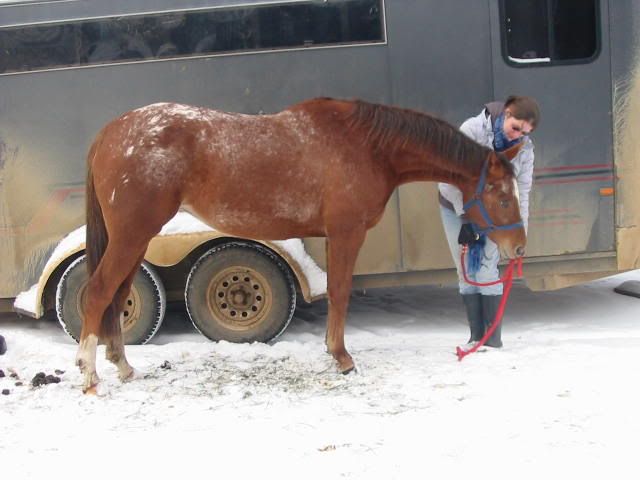 And my current dude, a welsh cob cross, Major:
The give me cookies face.
---
RH Queen O Anywhere "Sydney"
2009 Sugarbush draft
Green Broke
Join Date: May 2009
Location: Winnipeg, Manitoba, Canada
Posts: 4,510
• Horses:
2
Haha, I curse chestnuts because it's all I ever seem to own! Zierra's dam was bay and her sire was black, and of course I got a chestnut! She could be lime green for all I care though, her color isn't what makes her so special!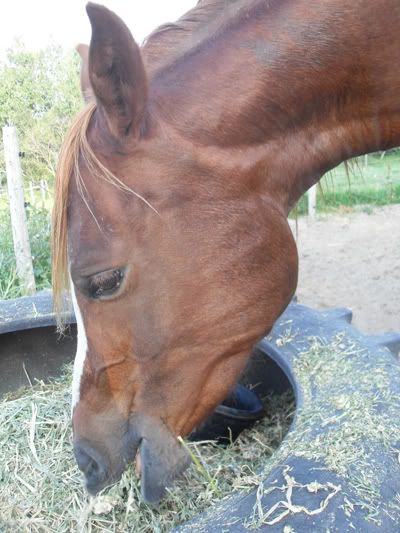 ---
Quote:
I hope God tells her to smash her computer with a sledgehammer.
Started
Join Date: Mar 2009
Location: Middle-of-Nowhere, Illinois
Posts: 2,225
• Horses:
1
Great thread! Here's my chestnut beauty. =)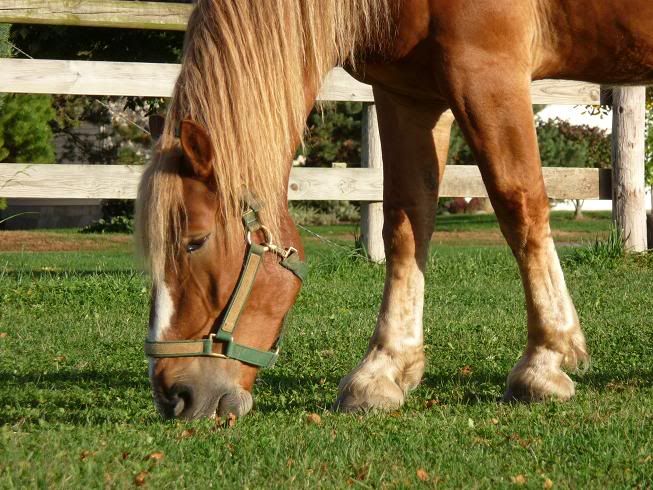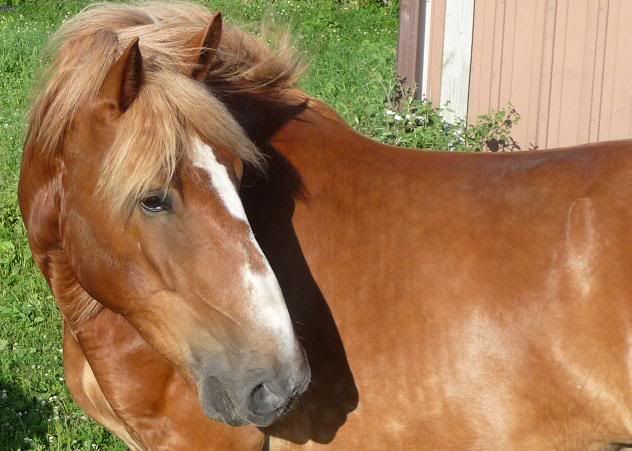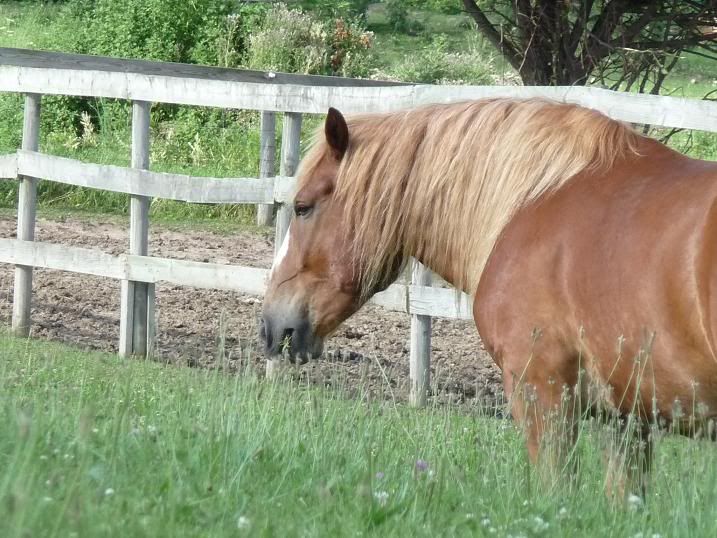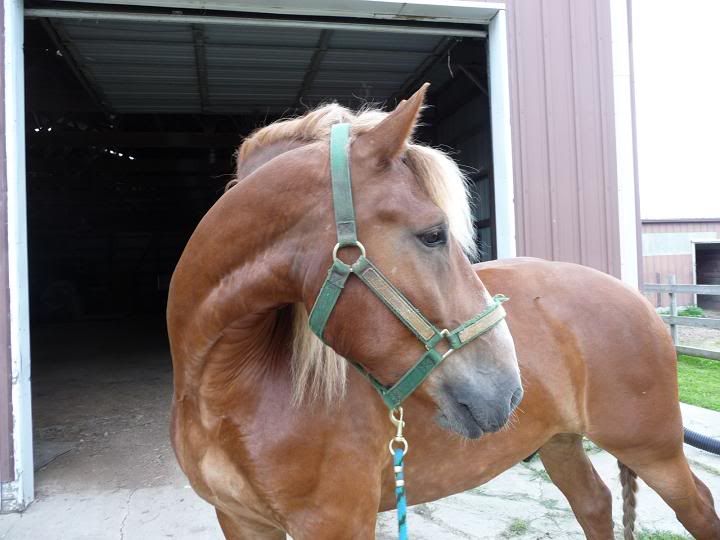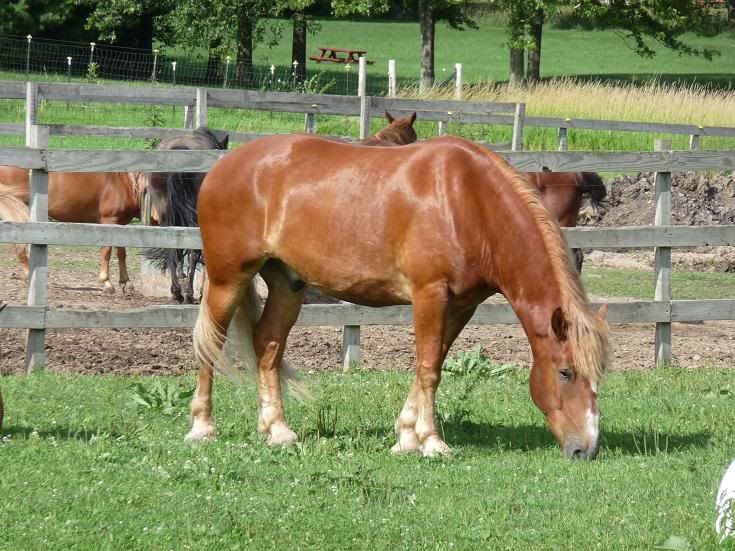 ---
"A musician must make music, an artist must paint, a poet must write, if he is ultimately to be at peace with himself.
What a man can be, he must be." Abraham Maslow, 1968

I used to dislike chestnuts because I thought they were boring colors, but I've come to love them and all their funny shades!
The first horse is my weanling, Mana, the second is his sire Phazons Fireblaze(he is 29 but I think that his owners could still keep him in better shape than he's in....
) and the last one is Mana's half sister Andromedas Blazin Star.
---
Proud owner of ~Mana: 6yo Arabian gelding~Pearl 13yo Arabian~Danzer 14yo Arabian mare~ Tiny mini filly