The Versatile Quarter Horse
---
A thread for the very versatile and amazing Quarter horses. Feel free to share pictures of your QH doing things some people might not expect them to…. or share some of them doing expected sports! Just some QH appreciation (:

Here is my 15+hh QH, Studley, doing hunters, jumpers, and parade work (we are the second on the left) - in that order!
---
Last edited by HunterJumperShow; 10-04-2016 at

02:32 AM

.
He's not a quarter horse, but I have a 16hh paint (pretty much the same thing xD) who I will be showing hunters and jumpers this April
I love me some quarters and paints. My absolute favorite breeds! They'll do anything you point them at, and well too!
Posted via Mobile Device
QHs are great, all around rides. <3
---
The sensitivity of the internet baffles me.
I just typed out a ton,and it deleted, so now you just get a short piece about each horse xD
Hunter is an 8 year old, 16H, Quarter horse. I hate him, but everyone else likes him. I showed him last year in huntseat and speed events.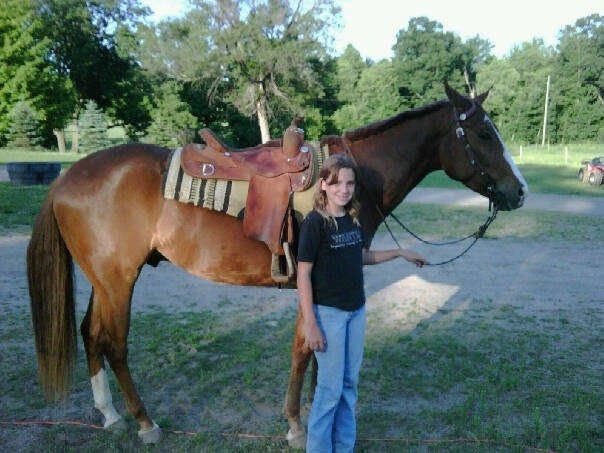 Zeus is a 5 year old, 15.1H, half QH half Paint. I broke him out myself, and this year we are training for eventing, or maybe just dressage.
And here is both of them together!
This mare is actually a registered Paint, but not a drop of Paint breeding in her. Her sire was a crop out QH before the rule was changed. But she's the most versatile horse I've ever owned, I don't have her now I sold her to some friends. But Patty could do almost everything, good barrel horse, good pole horse, great rodeo horse, excellent trail horse, she jumped, she did hunt seat, she could do a reining pattern decent enough for the local fair, I gave beginners lessons on her, she could even pull of a western walk trot class good enough to get called back out of 20 some horses. She wasn't great at any of these things but she was good, she's a 3D barrel horse a 22 second pole horse and she won me the over fence classes at fair.
Excuse my english riding
And to not leave out my current boy Link a registered QH, he does exactly what he's bred to do barrels and poles and he does them well.
Posted via Mobile Device
---
Last edited by BarrelRacer23; 01-09-2014 at

11:27 AM

.
This is my guy -- He's supposed to be a QH cross.. Although I don't have a clue what he's actaully mixed with. I'm thinking a little of a draft breed. He's been a challenge to train, but he's doing fantastic, and I'm so proud of his progress.
this is Nevada. I'm in love with her, despite already having too many horses of my own I'm attached to. I'll have a tough decision come spring. Anyhow, she's spirited, has an incredible work ethic, and likely will ever only be good for an experienced rider. Bred to work cows, crazy athletic and so fast she can turn right out from under you if your not paying attention. awesome little horse.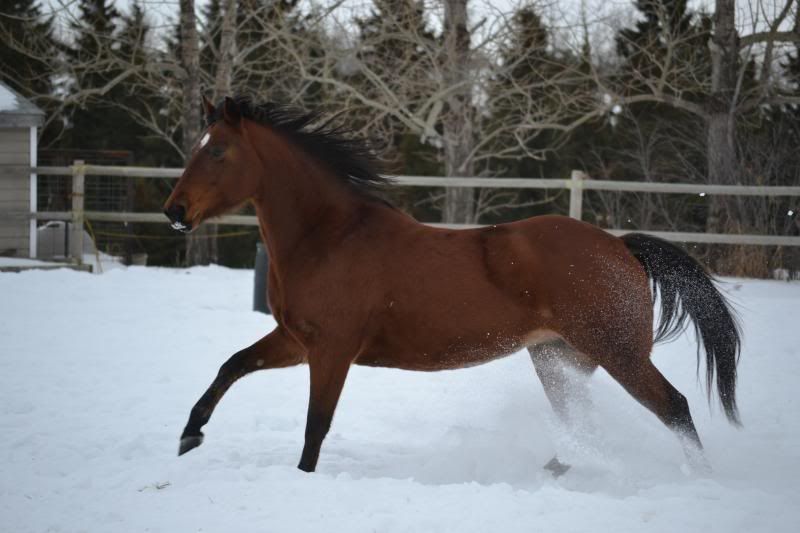 Green Broke
Join Date: Oct 2009
Location: Outside of Oklahoma City
Posts: 2,653
• Horses:
6
This is El Fires Ablazin, AKA Playboy:) Bought him in 2012, first horse for me to buy and completely pay off with my own money. Im very proud of him.
This year, we brought home the Sr Youth Versatility saddle
D
---
Be wary of the horse with a sense of humour. - Pam Brown