Wanted: Photograph of your Leopard App!
---
I'm a painting major at indiana university and I'm looking for a photograph of a leopard appaloosa to paint for my upcoming series.
Idealy, the photograph would have a child riding the horse with an adult leading the horse in halter.
Here's an example of one of my pet portraits from about three years ago:
and a human portrait from last year:
I have a leopard app named Legacy, I don't have any pics of him being ridden or being led, but I might be able to get something.
Here is a pic of him doing what he does best...eating lol
Are you doing a "series" of all things Piebald?
Quote:
Are you doing a "series" of all things Piebald?
how'd you know?! lol. im actually doing a series in regards to specialization in society and im tying each of the paintings together with a common polka dot pattern. ex. dalmation, polka dot dress, the way light casts polka dot patterns while shining through trees, etc.
i have a bunch of pics of my app being ridden by me and some with just him.
---
Star Buster SNC "Buster"- Haflinger Gelding.
Rupert- Belgian John Mule
I suppose you can't use this, but I already pulled it up on my computer, so here you go anyway.
Well, there is this, too....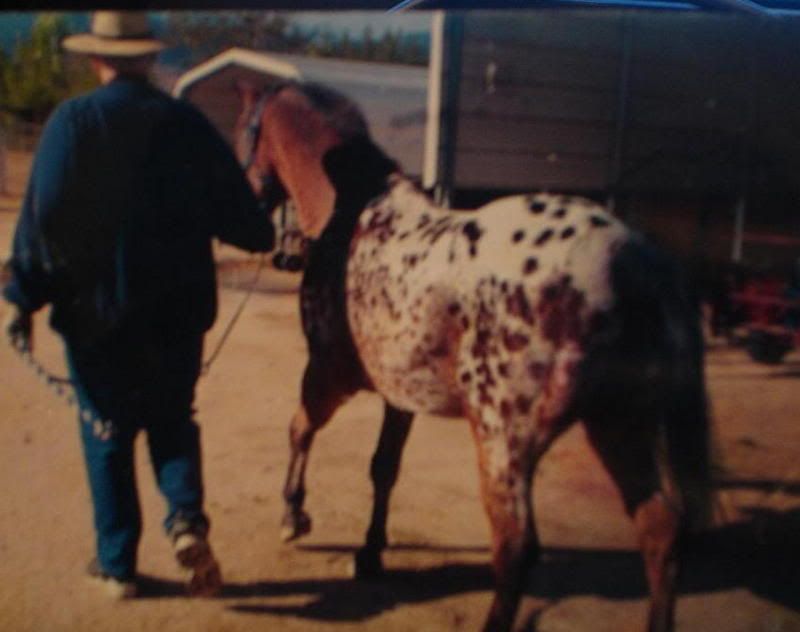 Not a real great picture. :( My grandfather leading Dealers Choice out to run. DC looks short but that is because my grandfather is 6'6" or so.