What is this?
---
Ok, I've had my filly for about 7 months now and when we first got her we thought this brown spot on her was dirt but after giving her a bath we've realized its just her color. Its definatly not dirt. Ever since we've bought her its gotten a little bigger and darker and now I'm noticing another one appearing on her chest. I have never seen anything like this on a palomino and I was wondering if its common or not, or atleast what it is.
I have some pictures if you want to see them.
I showed a palomino several years ago that had a black spot on her rump. The owner called it a "bend-or spot" and said they were common with palominos. Here's a wiki link, it has a few pics too:
Bend-Or spots - Wikipedia, the free encyclopedia
Sure! Sorry their bad quality. I didn't have a camera so I had to use a cell phone. Its the spot circled in red.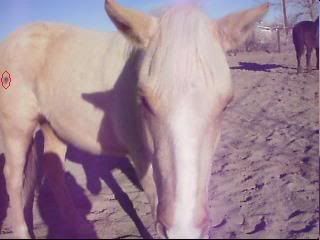 My chestnut paint has one of those on his hip too, yeah it is a bend or spot.
Thanks for the link Indyhorse! Very interesting.

I wonder if they get any bigger...
From what I understand, they can get bigger or shrink year to year. They are very common in palominos and chestnuts. I think it is just a variation of the sooty modifier were the darker color is restricted to a smaller area.