My belgian warmblood is very calm,he's has french x german bloodlines and a 5 year old could ride him.

It's all about bloodlines.Warmbloods with Jazz,Ferro,Darco blood are often very hot (there are exceptions!).
I suggest that you get/borrow a copy of George Morris's "Hunter Seat Equitation."
You are talking about hunter heights, not jumping heights. You do not need a 17+hh horse to get over these sized jumps. The author was a multiple USET team member and coached several USET teams. He is now in his 70's, still rides/trains. His advice can help you to buy a horse that has the correct conformation for jumping and to match the horse's build to your own.
This seems insignifigant, but if you find that you buy a talented horse right from the start, you'll be disappointed if the size doesn't match YOU.
My DH dearly loved his horse, "Tyke", (1970-1998, RIP),but Tyke was too small for him.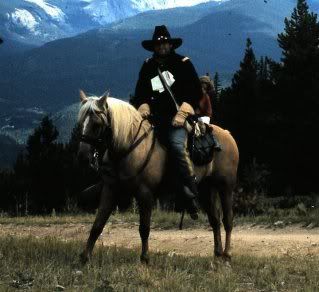 Tyke was 15'2hh
His current horse, (16'3hh) matches his 6'5" height much better.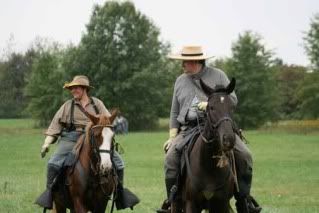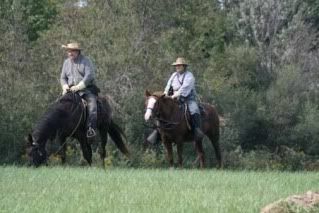 So did "Trogdor",(16'2hh) (1984-2008, RIP)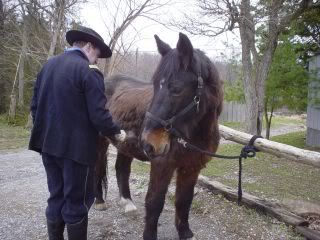 2005
Me, on "Dandy Silver Moon,", 1987.
HE would have made a good hunter prospect, BTW.
Notice how my friend, on "Toma," is undermounted, she is too tall for him.
Points made.
---
Last edited by Corporal; 08-28-2011 at

09:55 AM

.
Most breeds of horses can jump, but some breeds just can't jump well. For example, Arabians are known to jump with inverted frames. Of course, this is a generalization, but their body structure often makes jumping with correct form difficult.

The OTTB in my avatar is my hunter. Jenni free jumped him 3'6" over a 3' spread when he got off the track, and he had no difficulties with it. I love the Thoroughbreds because of their athletic ability, but they are often light in the legs and small in the feet like my gelding, and have soundness issues from repetitive jumping. Many people prefer Warmbloods for their overall sturdiness.
---
Last edited by equiniphile; 08-28-2011 at

09:59 AM

.
It's Belgian Warmblood.


The Belgians have long been known for their draft horses, however the Belgian Warmblood sport horse has become increasingly popular due to their affinity for big fences and charming personality.
Started
Join Date: Sep 2011
Location: In Sunny, HOT and HUMID S.C.
Posts: 1,516
• Horses:
2
Equiniphile pretty much sums it up. And you'll get a long list of everyones favorite choices (and usually a supporting reason why). You can look over the list of the horses that have won various competitions to see what breeds are represented most, but in truth that is not telling you what breed is the best for jumping. It does tell you what breed most of those winners have come from though, which is a recommendation of it's own. But there are many breeds that produce good jumpers. And a breed noted for it's jumping can (as somone already pointed out) produce horses that are terrible jumpers.

I often fall back on things my grandfather told me. He was born in a time and place where people had to have horses and wagons, or you walked. And he had a very practical, and at times humorous, way of explaining things.
If you had asked him this question. He'd have told you "the one that gets you over the fence every time".
Just like his view on the best horse for racing: "the one that gets you where your going the fastest".
I don't know if he ever cared what breed a horse was. He looked at the horse. What it was, or what bloodline it had was never the issue. He wanted to see what that animal could do. To him "The rest is just window dressing" :))
I had a welsh x arab pony (13.3) who jumped 1.43m, a standardbred that jumped 1.60m and a thoroughbred that maxed out at 1.20m

I am currently in the boat that doesn't care what breed my horse is. As long as they brave enough to try the big fences, yet scared enough not to touch them.

The new horse is a draft cross that has shown some talent riderless 1.70m from a standstill......
Quote:
Most breeds of horses can jump, but some breeds just can't jump well. For example, Arabians are known to jump with inverted frames.
That is admittedly an issue in hunter, but... have you watched any show jumping lately? More than half the horses go around inverted, and this is at the national/international level.
Interesting reading! I did Hunters growing up with my old school QH's. They did fairly well at it. I grew up riding all-arounders, even my reining horse had screw in caulks in her sliding plates so she could do double duty & jump. I'm a believer that any breed can jump, but there are certainly those that are better than others.

I just recently got my first non QH (it only took 30 years) and took her over a few today while riding with a student. Now I know what I was missing! She's a lovely older Hanoverian mare with a heart of gold.
---
Life is like a camera. Focus on what's important, Capture the good times, Develop from the negatives and if things don't work out, Take another shot.
You're right MH, that is interesting reading
. I am of the same mind as you and others, pretty much any horse can do lower levels. If you are wanting to excel and get to higher levels, then you'll need a horse with the build and heart for it, it doesn't matter on the breed. Shoot, my old grade QH Denny could have made someone a very successful, scopey jumper. He had the heart and the ability and would have had some very serious potential if he had been ridden by someone who knew what the heck they were doing LOL. I was younger and stupid and just wanted to play around with jumping, so that's what I did and this is what I ended up with... We were consistently clearing over 36" and he wasn't even trying hard, I just couldn't ride anything bigger than that because he got too powerful for bareback.
---
Always remember that feeling of looking at a big, open country over the ears of a good horse, seeing a new trail unwind ahead of you, and that ever-spectacular view from the top of the ridge!!! Follow my training blog:
http://robertsontraining.blogspot.com/
Woo, look at Denny go! Nice helmet btw ;)
Posted via Mobile Device