What breed could he be?
---
We are adopting this guy from the shelter, picking him up tomorrow. When he first came to the shelter he was extremely emaciated. He has been at the shelter for about a month now, and has gained some weight. He is almost all black except for some very tiny white spots by his ears. The vet told them that he is about 15 years old. He is quite a bit smaller than my quarter horse who is about 15-16 hands.
Does anyone know what breed he could be?
The picture does not do him justice and is taken at a bad angle.
He is a very well tempered little boy.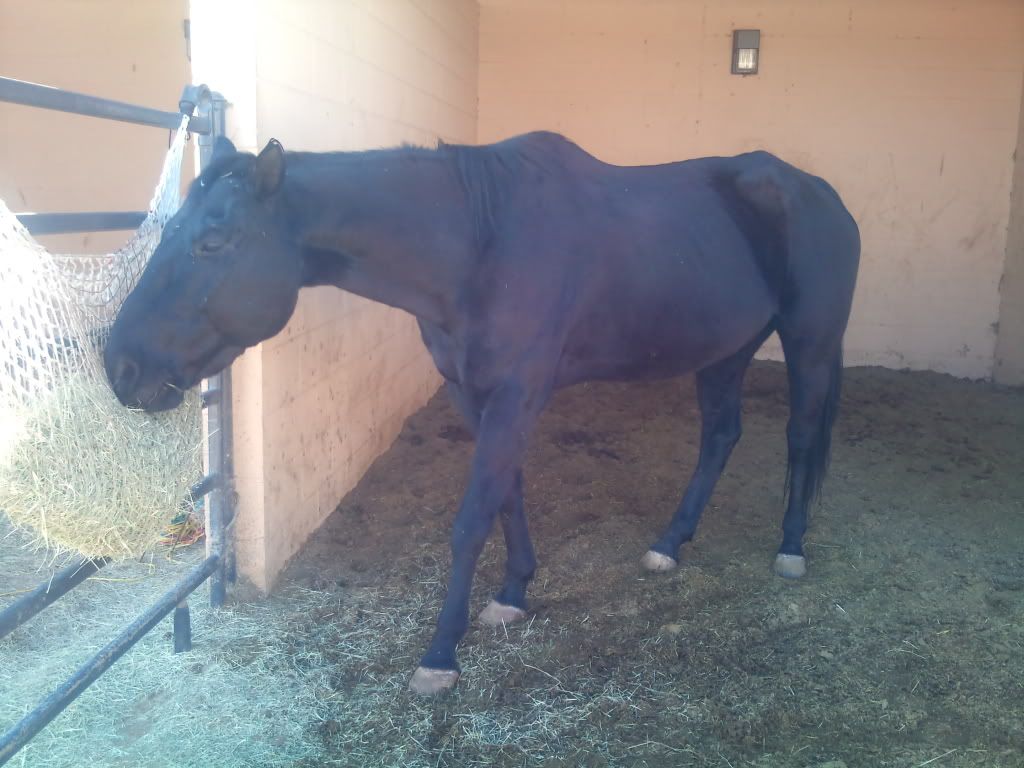 ---
Last edited by Sarahann31190; 11-09-2011 at

02:13 AM

.
He looks like a qh or tb x qh (appen. qh)

Hes bootifull :P
May be the picture, but his head reminds me of an Connemara, but the legs look like a Thoroughbred. And, totally unrelated, thats a nibblenet right? I have one to!
---
"Good things come to those who wait… greater things come to those who get off their ass and do anything to make it happen." - Unknown
He looks very Standardbred. He has a very big face but its completely different from the thoroughbred or quarter face and his body is very long. Thoroughbreds are long but they have a very deep chest. My guess is standardbred
I'd say standardbred, but his head and build (what i think hed be built like if he fattened up) tells me Caspian. maybe a cross?
Based on the picture and his condition, I don't think you can honestly tell what he is at this point. Keep in mind that although his temperament is great now, that can change drastically as he becomes more fit. Good luck with him and keep us up to date on his progress.

There is a world of difference between 15h and 16h (the size of your other horse) so he may be a nice size horse at 15h or a pony at 14h.
---
I'm not arguing with you, I'm just explaining why I'm right.

Nothing sucks more than that moment during an argument when you realize you're wrong.

It's not always what you say but what they hear.