Grey Welsh A mare called Pepper then moved on to another grey Welsh A mare called Tuda for a while before I went to a riding school that was mostly Fells.
---
Eagles may soar but weasels don't get sucked into jet engines.
The first couple horses I rode were my god sisters barrel racers, mostly quarter horse, then the first horse I owned was a half Arabian half pinto gelding named Baloo, very nice sweet horse, gave me REALLY strong legs, as he didn't like to go at all. I did have to relearn jumping when I got my tb mare, because I always had to almost jump for Baloo for him to actually clear the fences and get off the ground, but when I did that with my mare, she like flew 3 feet over the top of the fence I was jumping, and then took off after. Big wake up for me.
I rode a 14.2 hh arabian named fuzzy:)
---
To ride a horse is to ride the sky.
A wonderful red dun QH gelding named Duke. I rode him until I was 9.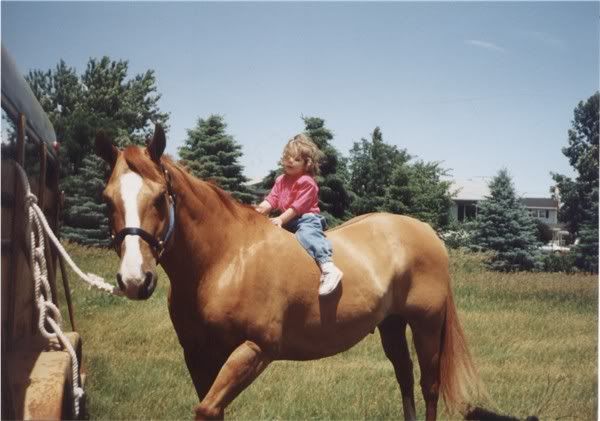 I learned to ride on a herd of eight Crazy kid killing Arabians. ;)
my first ever lesson was on an exmoor pony called minstral..can remember my dad sitting in the stand watching, with a big beam on his face..
My first lesson was on a standardbredX with who knows what named Tango. My friend taught me. Within 15 minutes of getting on his back we were cantering through open fields and jumping ditches. I was only 14 then and still fearless. I rode him two or three times before moving to a little 11 hand Spawn of Satan. lol, Actually Taffy was an awsome pony....For me.... I rode her bareback for two hours cantering, galloping, jumping ditches and ducking under tree branches. Twice she reared straight up, spun on her hind leg and galloped off in the oposite ditection. she would get about 4 strides and realize I wasn't on her back anymore, skid to a stop and nicker to me till I got up and climbed belly first onto her back. Once I was seated wih a handful of mane I would say "Okay" and she would take off at a full gallop again. My fried had been riding for 6 years in lessons and couldn't stay on her with a saddle or bareback. Taffy pony would dump her and run home. With me she only dumped me accidently then she waited for me. She was basicaly my pony for two years until she learned enough to let other riders ride her. Then after a few years she had someone rip at her mouth till it bled and went back to only letting me ride her for a year or so until. By then I was almost to big and so we found a little girl who loved spunky ponies and in one summer she taught her dressage, jumping, and a bunch of pony club games but my friend wouldn't sell her to the little girl. Now Taffy sits out in a field and does nothing even though she is only 10 years old because noone they know can ride her :P

My first real lesson was on a QHXArabian gelding named Gideon. He wasn't a lesson horse but the lesson horse I was riding tripped and went lame walking into the areana so I was put on him instead and the instructor ket trying to apologize that the horse was so badly trained. I was like "Are you nuts! He hasn't reared or bucked even once and he turns when I ask him to! This horse is amazing!"
---
Myth= Free/Cheap horses are expensive.
Indy was $150 we keep her in a pasture with a shed for free and she is brushed and fussed over dailey. Other then deworming and feet trimming she isn't costing us anything.
I started riding on the laziest thoroughbred ever.

His name was Lickity, he was in his late teens, and well over 16hh.

Pretty intimidating for a 10 year old!
---
No hour of life is wasted that is spent in the saddle. - Winston Churchill
Foal
Join Date: Aug 2010
Location: Vancouver Island, B.C., Canada
Posts: 223
• Horses:
4
Hehehe...my first horse was an ARAB! Hard to believe, but she was amazing! She would completely change her demeaner to match the experiance of her rider. I can get on her now, and she'll just want to gogogo, but put my neighbors 2 year old on her, and she practically falls over sound asleep! She was the perfect horse for me to start with!
Green Broke
Join Date: Aug 2010
Location: Southwestern Ontario, Canada
Posts: 3,324
• Horses: 0
Ridergirl--do you mean Merrylegs in Black Beauty? I dont remember there being a horse called Merrylegs in Beauty and the Beast....just Belles horse.

I have no idea what kind of pony I had first. Grandpa found her at an auction and brought her home. Best babysitter a 4 year old can have! Get plunked on the pony after breakfast and wander around till lunchtime, then put back on after naptime! Plum would follow Grandpa around or just dawdle around the farm with me on her back. I learned to ride in the same saddle my mom did, and we still have it!