What breed do you think she is?
---
This is my mare, Summer. She's about 15.1 to 15.3 hh. She is 8 years old and has a GREAT disposition. What breed do you think she might be?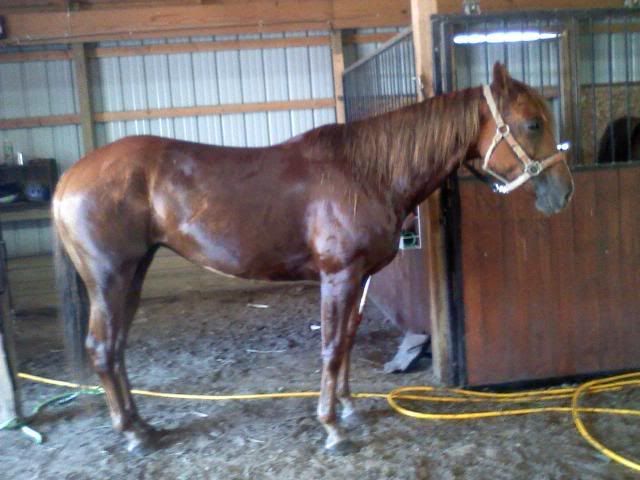 More pictures are available in the "my horses" page of hers.
She could be a Quater horse x thoroughbred
I'm almost positive it's something with a quarter horse, but I'm not sure..she came from a farm where she was abused [they took buckets to the horses heads and such] but now I show her in western pleasure and showmanship..
she looks almost like my western horse and I cant figure out what breed he is
How long have you had her?
I have had her.....3 almost 4 years now, I believe. I just started riding her last year, though because she was unsafe[and uncatchable because she was terrified of people] and then she had a foal.
she is looking good and she does look a little thin but thats just me.
Green Broke
Join Date: Mar 2009
Location: Kansas in the summer, Kentucky most of the time
Posts: 3,028
• Horses:
3
looks like she could be an Appendix QH or a full QH. I am def getting that QH vibe =]
---
Look like a SUPERSTAR, Ride like a FOUR STAR, Win like a ROCKSTAR
Eventers: Making BAD Dressage look GOOD!
I would say QH or appendix.
---
quarter horses.....simply the best
Could be a solid Appaloosa or solid Paint as well--

Is that a white spot on her belly? All of the afore-mentioned breeds could have a belly spot as well as possibly a Paint-- Do you know anything about what the previous farm was breeding or raising?