Green Broke
Join Date: Dec 2010
Location: At The End Of That Rainbow To Yer Left
Posts: 3,171
• Horses:
4
i have a quarter horse that looks just like her! so, thats what im guessing'
---
If you want a stable friendship, get a horse.
She definitely looks like she's got TB in her.
I dont think it's likely that she'd be an exotic breed as something like that wouldn't go forgotten.
---
"If a horse fails to do something that is because he was not trained to do it. If a horse fails to do something properly that is because he was not trained properly."
www.wildestheartart.com
Green Broke
Join Date: Dec 2010
Location: At The End Of That Rainbow To Yer Left
Posts: 3,171
• Horses:
4
ya now that i think of it, she looks like a appendix
---
If you want a stable friendship, get a horse.
She is a flashy color because she's graying out.
I researched Aztecas a bit, because it looks like the horse is in Mexico(?), so I figured, why not an Azteca? But Aztecas are supposed to combine Andalusian, Lusitano, Quarter Horse and Criollo, and to me she doesn't look like any of those breeds.
To me she looks like a Thoroughbred. I guess she could have some QH in her, but I really don't see it. Maybe that's just because she's thin.
She has a really pretty face, almost like she has a little Arabian in her, but the rest of her does not look Arabian to me.
So my best guess is Thoroughbred.
She will look so pretty when she gains a little weight. She's gonna be a looker.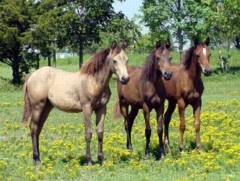 Azteca
WOW! She really does look like one. Nice colour, she looks a really nice horse.
I have a horse [pony actually] that is identical to her! He is arab x ridin pony so my guess us arab x TB... although her head and shorter back are all that makes me think arab... although arabs can have long backs also... so mostly TB? maybe with some of QH? so my final guess is:
60% TB, 20% arab, 20% QH... but she has very TB looks and can really see over half of her breeding TB... this is going by basic looks :P
oh and like someone said earlier there is no 15.5... for example it goes like this in the order i'll do 15hh - 16 hh :P :
15hh, 15.1hh, 15.2hh, 15.3hh, 16hh
She looks like a TB Cross really do not see any Arabian in here. She is very pretty.