What breed is he?
---
hey guys, long time no see
so im leasing this gelding off my boss to school him and hopefully get him good enough to be used for shows or to sell on to a good home, i been told he was too strong for the previous owners children and thats why they sold him to us
he is a chestnut gelding with a flaxen mane, and his passport tells us nothing about him except his name is Flash and he was born in 1993, making him 16 this year!
he isnt the biggest pony, anly about 13.3hh maybe 14hh im not certain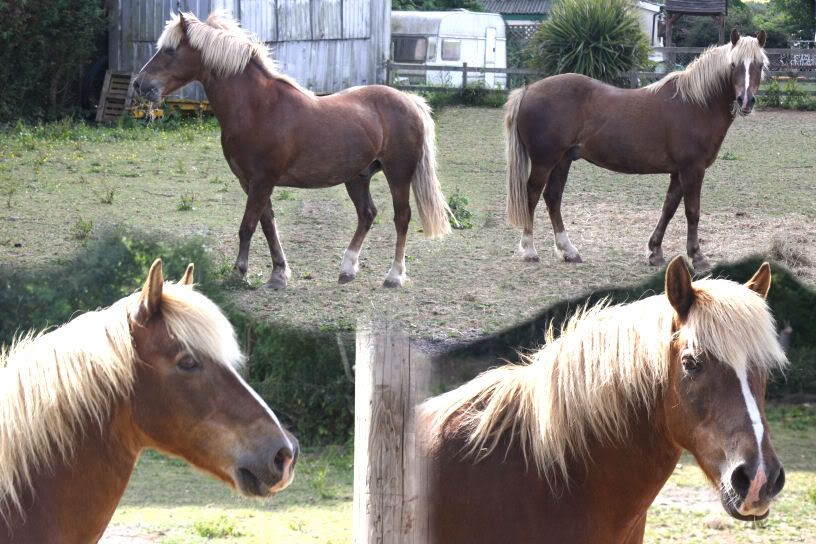 Green Broke
Join Date: Jun 2009
Location: Was in Ocala, Fl Now In West Union SC!
Posts: 3,175
• Horses:
1
He looks like a haflinger. But I could be wrong?
Yeah. I say haflinger.
---
One man's wrong lead is another man's counter canter.
"Adjust Your Pleasure"
2006 Medicine Hat Paint Gelding
He may even be Halflinger Cross... I know one pony who's 12.2 and he's got Thoroughbred in
him for gosh sakes - it's so hard to tell without a background... but the mane makes me think there is some Halflinger in there.
He may have haflinger in him - but if so, I really doubt if he is a purebred. Just doesn't have the typical haflinger look. Over in the UK they have many other pony breeds that could create that "look" than they do over here. I'm thinking Welsh Cob is more likely.
---
All I pay my psychiatrist is cost of feed and hay, and he'll listen to me any day!


I agree: When I saw him, I saw a Halflinger. They are ponies, but are often really filled out. He looks a little lighter than most Halflingers. Maybe a cross; some TB or Cob, maybe?

I don't know.

Pretty, though!!!
---
-RB
It seems the trend to think anything short and stocky and flaxen chestnut in color is a haflinger - but that is just not the case.
---
All I pay my psychiatrist is cost of feed and hay, and he'll listen to me any day!


I thought Haflingers only came in a light shade of palomino? I would say he might be a cross...
thats all that i thought, i did think maybe haflinger cross welsh cob, because of his back, but then again i dont know what other breeds have that kind of back, could be a sec C??
i have no i dea but hes beautiul!!!!!!!!!!!
---
And on the eigth day God said horses shall NOT trot, and the GOOD horses listened!!!!