What Breed of Horse?
---
Hi, I am new to the forum... and also to horse ownership. I had taken lessons for about 7 years as a child and teen. I stopped ridding for about 5 years. Recently I decided to start taking lessons again. One thing led to another and I was given a 4.5 year old gelding. Luckily I have a close friend who trained horses for about 20 years. She is going to help me train the horse and teach me everything I need to know about his care.
My question is what breed is he considered? As far as I have read, he is a Pinto because he is not registered and cannot be a paint? He is about 14.5 hands. Thanks!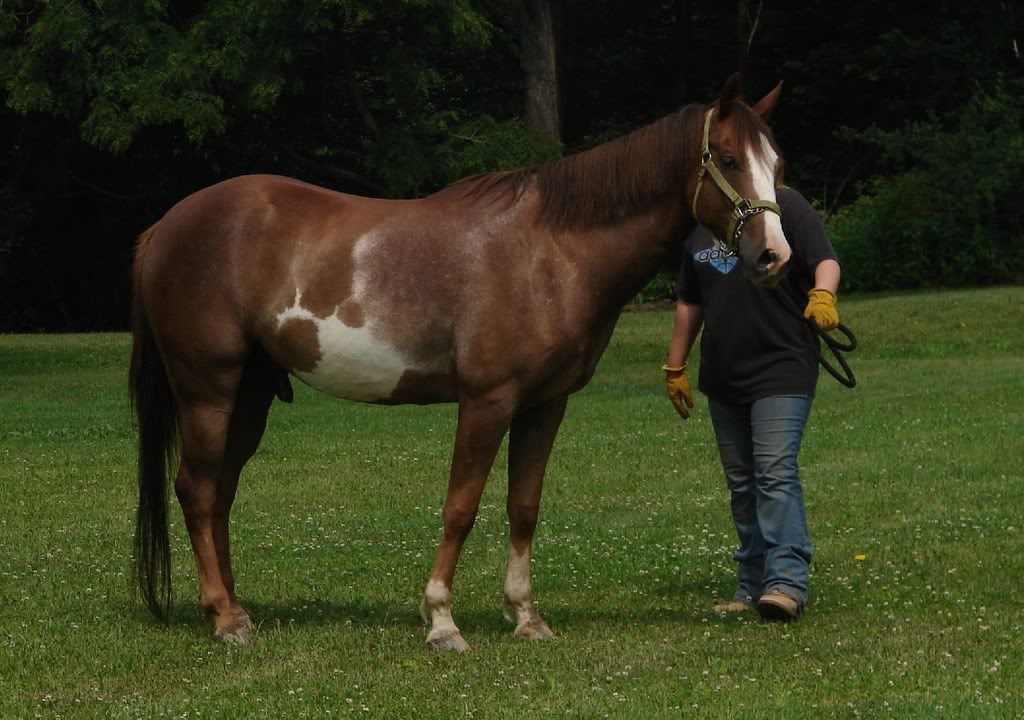 Also, any ideas for a name would be awesome
Breed
---
Hi, welcome to the forum!

Well, it would all depend on the breeding. I am guessing since he isnt registered with the Paint association we wouldnt know for sure what his background consists of (aka Quarter Horse, Thoughbred, Arab bloodlines) because Paints have to have those bloodlines in order to be considered for the Paint association. Pintos arent of any paticular breed but have to have the color. Paints can be pintos, but pintos cant always be paints. He is a very cute horse! Looks powerful. What encouraged you to get back into horse ownership?
---
Shaneequah, 1998 gaited Bashkir CurlyxArab mare
Treyue, 1999 3-gaited Icelandic gelding
Loki, 2001-2015 Icelandic gelding
He's a very handsome boy! He needs a strong name to go with his good looks. I haven't been awake long enough to actually think up a good name....
But I really like him!
He's gorgeous. Hmm...the pic's kinda dark, but I see some QH in there.
---
Ride more, worry less.
Thank you for the comments! He is a very pretty boy.
He is my first horse. I actually started riding again a month ago. The barn had gotten him on default (his owner's stopped paying boarding) and then he sat in the field for two years. He definitely needs a lot of work. It started out as a lease. The owners started pressuring me to buy him and finally told me I could have him for free. I decided it was a great opportunity. He is young and a little wild :) ... but very willing to learn and wants to please. I am very excited about his training. I know he will be a wonderful horse.
I agree that he needs a strong name, I just can't think of one...
how about Draco, i think that would be a very strong different name
---
"The horse you get off is not the same as the horse you got on; it is your job as a rider to ensure that as often as possible the change is for the better."
I second the name Apollo
. Or maybe Apachee?
Beautiful horse you got there, I'm in love with those markings! :)
Hi, Simmy's Owner! I, too am new to the forum as well as a new horse owner! I have loved horses from the age of 3, and finally got my own a few weeks ago! I have been very fortunate with my gelding, he is only 2, but is actually broke to ride (although, I am not riding him right now, I'd like to let him grow some more first). He is supposed to be a paint (bay), but my niece thinks he resembles a saddlebred. I think your guy is gorgeous, and I was going to re-name my boy Loki---but his original name has just stuck (Charles). Good luck naming your horse, and congrats!
---
Everything can be achieved through patience!

I'd rather have a problem horse than a problem man. The horse I can work with. The man---I cannot help!
qh/arabian? he has a small head for his body so i say hes got an arabian head.
---