What breed(s) do you see in my grade gelding?
---
I purchased Patches as a grade gelding, but his previous owner & trainer thought he was probably an arab/paint cross. He has an extremely thick mane and is only 14HH, so my farrier thinks he has some sort of pony in him (she thought maybe hackney?).
Also, I know there are DNA tests for dogs that can help determine breed. Is there anything like that for horses?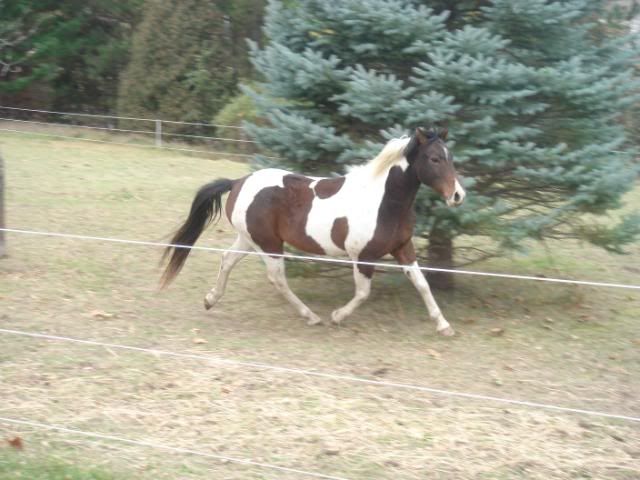 ---
| Kubie, Appaloosa (RIP) | Patches, Pinto Arabian Pony | Scotch, Paint Quarterhorse |
Hmmm, I dunno. He looks like a Paint with QH influence. I'm not seeing Hackney pony or Arab in him...
---
"The greatest pleasure of a dog is that you may make a fool of yourself with
him and not only will he not scold you, but he will make a fool of himself too."
-Samuel Butler
Showing
Join Date: Jun 2011
Location: Cariboo, British Columbia
Posts: 11,951
• Horses:
3
I love looking at him, he looks like a stockhorse, a paint.
I don't see any Arab influence....not sure about Hackney. I just see a Paint.
He looks like a paint pony to me. He sure is cute!
I also don't see really any arab in him, especially looking at the head. I'm thinking mostly paint, maybe with some breed of pony way back which contributed to his size. Whatever he is, though, he is pretty adorable =)
Maybe some Welsh pony.
---
So in lies the madness, the pursuit of the impossible in the face of the complete assurance that you will fail, and yet still you chase.
not an Arab maybe a Paint Quarter Horse just a guess
---
Country Woman


I'd say you have a 100% certified cute pony there!!

I don't see any arab either. Maybe Paint X mustang pony!