To cover all the bases, I would say colored cob/appy cross.

I would lean more towards the colored cob though.
Maybe just me but I don't see much for mottled skin. Can't tell about the hooves as they are covered in muck, but my paint cross mare has striped hooves without a drop of appy blood. My full blooded hackney pony has striped hooves as well.

I am in agreement with the others - I'd say colored cob. I just really don't see appy there. A few polka dots does not an appy make!
spots on her back could be what they call "bend Or" spots ..
My morgan x APHA has them,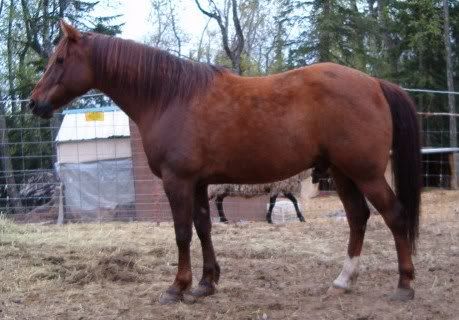 my registered quarter horse has them,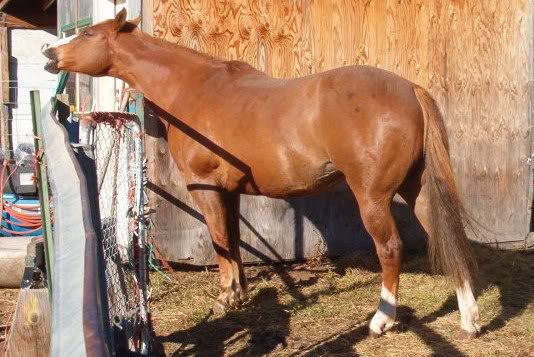 and My Belgian draft has them(from the Conqueror line) only they are brown in color.Here on her left rump..
molting could be from arab breeding..my arab has molting around her lips..There are other factors that cause molting..They get a condition known as "leukhotrichia". Heavy sweat, flys and knats cause this...Also DEET can cause this when sprayed in areas...Pigmentation loss can be caused where they sweat heavy..Its quite common.
My paints have striped hoofs...both overo and tobiano's...
Her having blue eyes are a result of her being a tovero coat pattern...since she is tovero...my guess is her roaning is caused from the sabino gene...
I would say she is some sort of pony breed mixed with some sort of patterned horse.. A freind of mine had a shetland x paint cross that looked very similar to your girl...about the same height as well...Her head looks paint and not appy..She might even be welsh cob mixed since she has such a thick throat latch..Appys aren't the only ones with spots...Knappstrupers do too...
There are lots of pony breeds over the pond that have that thick hair like your girl....be nice to see her foal when it arrives! (hint...hint..wink) What was she bred with?
Chris
Well I for one want to see this little one! I love pony foals! They are such cuties..You mentioned a appy stud where she used to live..what other types of ponies(horses) where there??? It might help with the mystery of her breeding...

Chris
don't know they just said about the appy stallion
I think, to me she looks like a paint X welsh cob.

Paint: for the coat pattern [obviously],

Welsh Cob: for the thick mane, tail, the larger build around shoulders, neck, chest and front area [i would say gypsy but welsh cobs are like them but slightly smaller and a lot less feathers]

I've seen pure paints at shows with mottled/roaned patterning and SB's and TB's with striped hooves amogst many other breeds.
Coloured Cob is another high possibility but if so id say the coloured cob was also cross with a paint/welsh cob/arab because of extreme lack of no feathers compared to any cob.
---
Last edited by Kizz; 01-23-2011 at

12:48 AM

. Reason: .
http://welshcobs.co.nz/drupal/files/...eNIW2006-1.jpg
this welsh cob has the 'true' thick neck and shoulders. It has the normal thickish hindquarters although the neck thickness and shoulders are the way more obvious in welsh cobs.
There head is often araby and pretty but can be anywhere from all delicate and fine to thick and roman nosed. They also often have a extra thick body all over.
His feet haven't been trimmed just so you know. Some cobs a small amount of thick feather but not all. The majority are low in the feathered hooves area.
http://www.stockyard.net/listings/us...es/6819218.jpg
this is a friends stallion [they breed welsh cobs] he has the thick neck and his mane and tail are also very thick.
http://www.prairierosewelsh.com/jpgs/2headbob06.jpg
This pic shows he thickness of the neck and the wavy, thick, full mane in the welsh cob =D
Sorry but i thought i would give yous some examples =D
o and another thing, adding to my aboe 2 posts,. Welsh cobs can come in ANY colours/patterns... They're are vey similar to coloured/gypsy cobs but the diferences are obvious, also! =D
we do have a few appy's here. i'd probably go welsh c to be honest. i don't know what it is about her but there's something about her mane and tail that is making me think of welshies. The old fashioned typed ones!
---
If there's madness in my method, does that mean there's method in my madness!!