What color?
---
Ok, let me first say this is a really bad pic, it's a pic of a pic and it's darkened quite abit (her mane and tail were white), in real life she was brighter colored. She was also dappled, which where alot more noticable in the winter time (she was also lighter in the winter).
I wish I had a better pic, but I don't so this is the best I can do, so what do you think?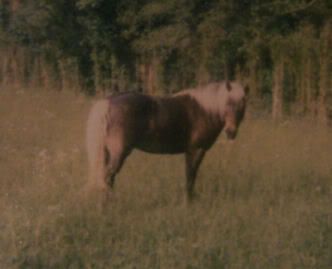 It's really hard to tell but looks like a palomino...the coat looks kind of dark though, so can't be sure.
---
passion is when you put more energy into something than is required to do it. it is more than just enthusiasm or excitement, passion is ambition that is materialized into action to put as much heart, mind, body and soul into something as is possible. // <3 starlite - dream - lady - georgia
Could be a Palomino or Silver Dapple. What colour are her parents? That would tell you a lot if you know of them.
Looks silver dapple to me--
Is this closer to her actual color?
Or this?
Both of the above are different shades of the same color-- Its basically a black horse with the silver gene, which dilutes the black body coat to a silvery mushroom color (usually dappled, but not always), and usually makes the mane and tail white. Silver Dapple is the common term in the USA-- in other countries it is called other things, such as Taffy.
---
Last edited by Eastowest; 02-08-2010 at

09:19 AM

.
Not palomino, but I did wonder about possibly some form of silver. She doesn't look like either of those, she was more red (her body color made me think bright bay, but w/ no points and a white mane and tail, and w/ more dapples then I've ever seen on a bay). No clue what color her parents were, but she had one foal and he was the same color as her (no clue what color his sire was).
Ahhh OK. So maybe more like these?
The above are all silver bays.... the silver gene doesn't dilute the bay body color, but does fade the black legs and make the M/T white, or nearly so. Of course she could have been flaxen chestnut-- hard to tell from the photos. Were her legs at all silvery/greyish looking rather than red or tan?
---
Last edited by Eastowest; 02-08-2010 at

10:18 AM

.
looks silver bay to me... but if he is one of those rocky mountain horses i believe they are just called "chocolate". what breed is she? is it it a mini or a full horse or a pony..it is kind of hard to tell from the pic....
---
Is all that we see or seem
But a dream within a dream?-Edgar Allen Poe
Welsh, and I'm really leaning towards silver of some sort, and bay is a strong possibility. Although none of those look exactly like her, her mane was whiter, she was not a flaxen chestnut. I do know that when we trimmed the hair on her legs, the hair was silver gray, but it didn't look that way before we trimmed. Somewhere I have a pic of that, that's the one I need! I will look for it.
So I was just looking at a horse that was silver on black, and I'm thinking that may be what she was closest to! She was abit lighter then that horse, but she was abit redder then the silver bay, I'm going to say I feel pretty sure she was one of those, either silve on black, or silver on bay, I've never seen another horse (other then her son, and I only saw him the one time) w/ her exact color.