Its a never-ending story. One day he's chocolate, the next he's bay, the next he's more of a buckskin color. I'm just so confused! I've never seen a bay with the light caramel snip and hind end before....But who knows!!
---
~*~*~*~No hour of life is wasted that is spent in the saddle ~*~*~*~
my boss has a bay with the light coloring on her face. She's also got some light coloring on her belly and hind quarters under her tail. She's definitely a bay though. I think someone else said there was a certain gene that causes that, so your horse is probably a bay.
---
I would honestly say he is bay. Though i've seen a lot of sooty buckskins that have very dark brown dappling and lighter shades around the muzzle. its hard to tell because he isn't shedded out.

So, there's my two cents.. bay or sooty buckskin :p
I'm leaning toward buckskin. Buckskins have the black legs too. Actually buckskins are a bay base coat with the dilution gene. Esp. since his mom was palomino. I think the shed out coat (the pictures after you first got him) shows more of his true color. Maybe he's a sooty buckskin. But I'm not an expert. Whatever his color is, he's gorgeous.
Well thanks! He is a very pretty color indeed. I'm really anxious to see what he sheds out like this coming spring! I can already tell though that he is going to be lighter than what he was last year...
---
~*~*~*~No hour of life is wasted that is spent in the saddle ~*~*~*~
Ready to get technical ...

OK, if his Mum was palomino, that means her base colour was chestnut. She could have passed the dilution modifier on to him (that turns chestnut into pally), and turns bays into buckskins.

If his sire was black, he could be homozygous for black (ie carrying two black genes) or he could have the recessive chestnut gene, as black is always dominant. Not that it really matters, because your horse's base colour is definitely black, not chestnut.

Now, his dam also carries the agouti gene that turns blacks into bays. It's dominant, so if his sire carried it he would have been bay, so it must have come from his dam. It doesn't affect her colour because it only affects black, and chestnuts don't have any black.

Now, if your boy had only picked up the dilution modifier from his mother, he'd be a smoky black, as his base colour would still be black. He definitely picked up the agouti modifier from her, as he's not black. Now the question is, did he also pick up the dilution modifier to make him a dark buckskin, or is he bay?

So, the way to tell? Does he have a dorsal stripe? If he does, chances are he's buckskin, if he doesn't, I still reckon he's bay.

Phew!
---
Last edited by Jenna; 03-13-2009 at

05:36 PM

.
Phew is right! He doesn't appear to have a dorsal stripe, but I may just take a close gander when I get home...Man that was a mouthful Jenna. Thanks for the insight!!!!
---
~*~*~*~No hour of life is wasted that is spent in the saddle ~*~*~*~
I would guess either a very sooty buckskin or a light bay. I lean more toward sooty buckskin though he could be bay with the Mealy or Pangare gene. That is the one that the other posters were talking about.
Pangare:
Pangare is a modifier that acts by lightening certain portions of a horse's coat, usually the muzzle, the belly, the inner forearms and thighs, and sometimes even the chest or around the eyes. When it acts on a chestnut coat, the horse usually will have a flaxen mane and tail. It can act on any color, and varies in intensity. It is often found in pony and draft breeds, such as Haflingers, Fjords, Exmoors,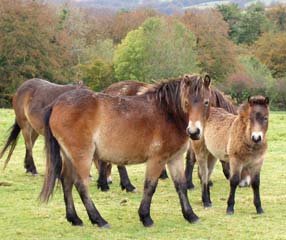 Very sooty buckskin or "brown buckskin" (I lean more toward this one)
It is the really lighter places on his face other than just his muzzle that make me think so. It is the lighter buckskin hairs on the bony part of his nose and the light "eyeliner" that makes me think so.
Oh, and Jenna, for future referance, Buckskins don't have dorsal stripes per se. Though they may appear to because of a countershading gene. True dorsal stripes continue down into the tail and countershading stops at the tail dock. :)
I have a feeling he is going to look VERY similar to the sooty buckskin in that first picture of the sooties there..VERY similar. He already looks like it. And as far as the dorsal stripe on a buckskin goes, I thought that it was a countershade effect. I checked him over and he obviously doesn't have a true stripe, although he does have a shaded effect. But I guess we will see in time...I can't wait! But just looking at that picture above of the first sooty buckskin makes me very eager as that is what he almost looks like already!!! :)
---
~*~*~*~No hour of life is wasted that is spent in the saddle ~*~*~*~