What do you think about Mustangs?
---
I'd love to hear some peoples opinions on owning a Mustang, and if you have one, your experience with owning one. (pics are more than welcome!!)
I've been interested in adopting one since I was a little girl and may have the opportunity to in a few months when my husband and I PCS to my new duty station with the Army. We're planning on buying a house when we get there since I should be finishing out my time there so I'll be able to put up a shelter and enclosure that is to the BLM's standards.
I think they are great horses. I've been able to work with some, but never owned one myself. Once I graduate college and have my practice going I hope to adopt one.

:)
Each one is an individual. I adopted 2 at the same time. One gentled down very quickly and was very mellow - unfortunately I lost him early on due to colic. The 2nd one was a wild little thing and he took forever to gentle down. After 2 years I had him where he could be caught, lead, basic ground work, and loaded on a trailer, but still no one on his back. 2 mustangs, 2 completely different personalities.
---
All I pay my psychiatrist is cost of feed and hay, and he'll listen to me any day!


I have also dreamed about owning a mustang.... looked into one before I got my first horse but decided I wasn't ready to break my first horse so I just got an ex-racer instead, broke to ride but I would be able to retrain.

I will get one someday =] just like I'll get my Walker. A Mustang is on my "breed to own" list. good luck and congrats on finishing your army time and I must say, Thanks for being brave enough to enroll in the army, I know I couldn't.
---
16 year old TWH Mare named Ginger
3 year old APHA Paint Gelding named Fox.
RIP Evie (Clydesdale) 7.29.09 & Magic (OTTB) 2.23.10
We adopted a BLM mustang from the prison program here in colorado and are very very happy with him. He was adopted as green broke but we were riding him bareback within the week he is very gentle and has good manners. They are not all the same I have a friend who has 3 mustangs from the same program 2 are great trained easily and 1 is very special and difficult.
this is Rooster our mustang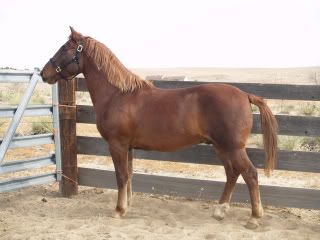 I have got 2 mustangs that I absolutely love. Most everyone has seen pix of Dobe and Koda. I am unable to load any right now because my stupid computer is being difficult. Dobe was completely wild when we got him and within just a few weeks, I was riding and working cattle on him. He has taken to hard work very well and thrived when my brother borrowed him to work in a feed lot. Now, 4 years later, he is extremely broke but is not husband friendly. Very alert and active. He tends to be overly agressive with the other animals around the barn and loves being the alpha. Koda on the other hand had been handled a little as a yearling but had no real training when I got him as a 5 year old; no leading, loading, farrier, vet, etc. I started him last August and he only has maybe 60 rides at this point. He is really broke and is husband friendly. No spooks, and is just a big lover. 2 completely different personalities but both great horses. I prefer mustangs above any other breed because they are almost a combination of all the good points of many breeds from QH to draft to TB.
Wow, sorry for the ramble but I LOVE Mustangs and that is the only breed I will ever buy again.
There are pix of both in my barn and more pix on this site in the folders labeled with their names.
http://s551.photobucket.com/albums/ii462/smrobs/
---
Always remember that feeling of looking at a big, open country over the ears of a good horse, seeing a new trail unwind ahead of you, and that ever-spectacular view from the top of the ridge!!! Follow my training blog:
http://robertsontraining.blogspot.com/
---
Last edited by smrobs; 05-05-2009 at

11:12 PM

.
Koda is gorgeous!

I would love to own a mustang one day. I just checked out some of the ones on the online adoption site, and they're beautiful!
i am with smrobs and am in love with the mustangs. i have a gelding that i got when he was a late yearling and pretty much trained him from teh ground up, although he was domestic bred. he has the best head on his shoulders.. probably better than the seasoned horses at my barn. he's been a little slow to train, but that's prob because im learning with him and he gets bored easily. they are very headstrong and loyal.
I love em I think they are probably the most versatile breed of horses they can do anything and everything and be good at it. We had a 9 yr old mustang gelding his last owner let him suffer with pneumonia for months before dumping him at a sale where I got him, cost a small fortune and about a year of letting him take it easy before he finally was fit enough to ride. He was as bomb proof as a horse could get..the kids rode him all over everywhere saddled, bareback, doubles, I lead little kids around on him he loved all the attention..then he was stolen!
On the other hand we have Jazz which has a lot of mustang traits but I think she is a cross with what I don't know lol.
She is a handful to say the least but incredibly smart, not afraid of anything no matter how big it is, don't have a bit of spook in her. She's an extremely easy keeper never lame never sick but she is stubborn as the day is long. She is different from the other horses, hard to explain but there is definitely something different about her mannerisms almost primitive in nature.
e
---
Courage is being scared to death but saddling up anyway~~John Wayne
Quote:
Koda is gorgeous!

I would love to own a mustang one day. I just checked out some of the ones on the online adoption site, and they're beautiful!
Thank you!! He is one of those horses that is just so ugly that they are pretty. I may be selling him soon to a friend's wife. I just don't have time to keep him ridden between John and Prissy needing training. Plus, as much as I love him, Dobe is my main man. :)
I wish you luck in getting one someday. If you have the resources to train one yourself, it is very rewarding. However, I have seen lots of ads for broke mustangs and there are programs that adopt out green broke youngsters now like the prison program that roosterdo was talking about.
---
Always remember that feeling of looking at a big, open country over the ears of a good horse, seeing a new trail unwind ahead of you, and that ever-spectacular view from the top of the ridge!!! Follow my training blog:
http://robertsontraining.blogspot.com/