Yes i would love to you some pics:).i need to learn to examine a horses scope more closely anyways:)
Thoroughbreds continue to hold their ground and dominate a lot of upper level eventing/jumping. I've never met a more versatile breed... I have always loved thoroughbreds and boy can they jump. Find a good one with a nice uphill build that's got solid legs, and of course a passion for leaping (hehe). Another good thing is that if you have experience training, you can turn a very inexpensive TB into a very successful show mount.
---
EQUI
LOVE
So,here a few pics of my BWB,
Always ready to work!
..very good jumper
..and a very good eventer
...and he can dressage
I'm seeing a lot of generalizations here. TB's are good for this, WB's are good for that. There is no specific breed that, by virtue of its breed alone, will prevail in any particular discipline, IMO. Sure, there may be advantages due to conformation, size and temperament, but no sure guarantees.

I think heart has much more to do with it. I have ridden grade horses from a killer pen to very high levels in jumpers and eventing. Some looked very unlikely, but had the heart to do it.

I have also had WB's from the best lines that had all the advantages of breeding lines, conformation and movement that had no heart at all.

I'll take that TB (or any other breed) with a brave heart and a desire to please anytime.
Allison Finch>I totally support your opinion:)I have seen plenty of quarter horses and other breeds jump fences higher than some of the warmbloods i've worked with lol and Laures he is gorgeous:).
Equilove<i'm only 14:) so i don't have alot of training experience but i have worked with greenies before:)
heres a couple of my boy, he loves jumping. sorry in advance for my bad position in a couple of them this was from last year and i was coming off a bad car accident and hadnt jumped him all that much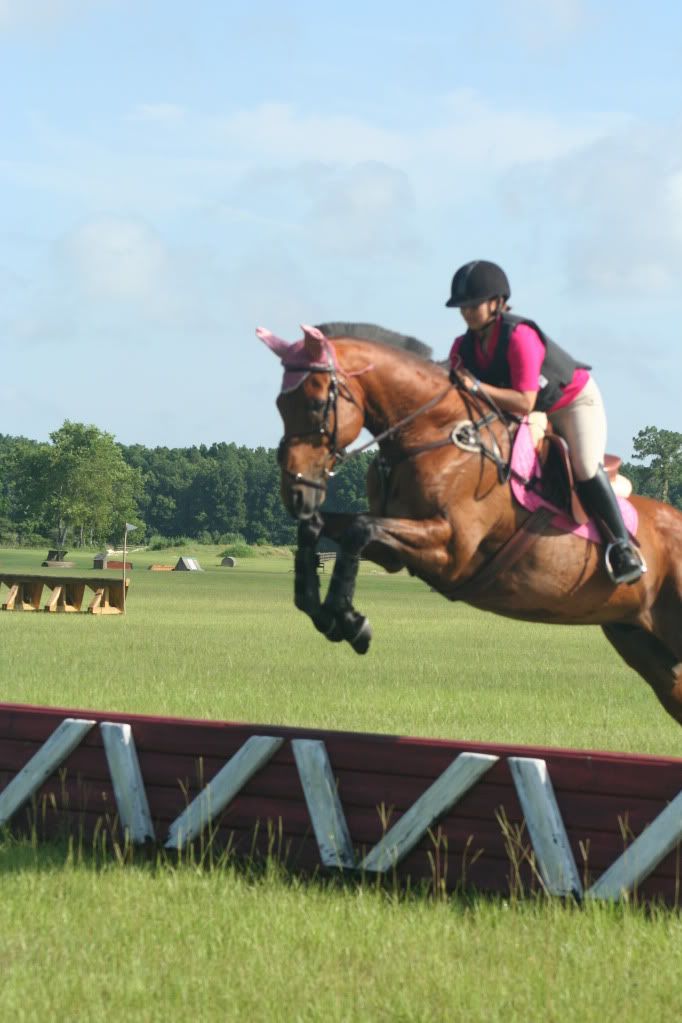 look at that cute butt of his
ok im done now lol
---
"The horse you get off is not the same as the horse you got on; it is your job as a rider to ensure that as often as possible the change is for the better."
It isn't the breed of horse that matters, what is important is conformation. The horse can have all the heart in the world, and all the want to do the sport in question, but can the horse physically handle it.
As Kacha said:
Quote:
However, the most important things will be conformation and temperament

Conformation is very important, if the horse is not built to do it, the horse will physically break down.
I have seen many TB's do well, and I have also seen many TB's not make it. I have seen QH's, Appy's, Pony's, Mixed Breeds merge into Mid and Upper Levels, and I've seen many not. Same with WB's and Sport Horses - it isn't the breed that matters, it is the conformation/build of the specific horse.
Of course, spirit/want/heart is important as well, you can have a horse with wonderful conformation, but no heart - that doesn't do you a lot of good either. Still, conformation is very important.
---