What They Look For In Halter Horse
---
I have been doing local shows with my AQHA mare and i cant see why she is not doing well in halter. It seems like she fits what judges are looking for in the research i have done and she is correct in confirmation and no blemishes ect... i would just like answers
Thanks for the help
SimplySoft
setup.jpg
show.jpg
First I would like to say she is a cute mare. How old is she? What is her breeding? She looks more of a performance type body style than a halter type mare. In picture 2 her front legs are all over the place (may be the angle of the shot not sure) and she looks a bit over on the knee.
She lacks overall substance and the muscle bulk required for halter and although her head is not ugly she is bit high between the eyes.
I like this mare more for a performance type mare. She has a decent neck, is fairly balanced and is likely a pretty good mover.
The angles of the pics are not the best but she also looks like she is soft muscled, not fit, which can also take away from her overall look.
Best of Luck with whatever you do with her.
First off your mare is a very cute girl, for true. I also ask what are her pedigree/bloodlines.
I tend to agree with Annie31 on the other aspects of your mare's physical conformation. On the other hand to take good conformation pictures of a horse is to aim the sight cross hatches of the camera at the horse's side/barrel like this pic of my Candy in the bottom pic: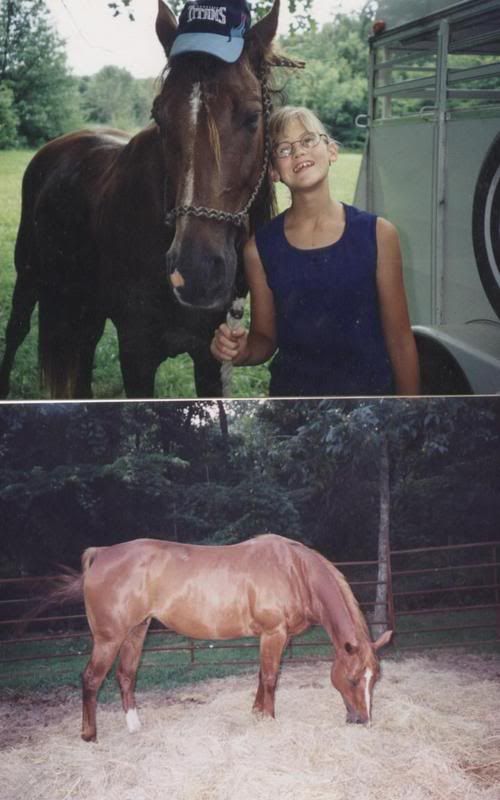 Maybe it's not only her; are you doing your part by keeping your arms right, smiling, doing your quarter movements, etc.?
Posted via Mobile Device
Is she not placing at all or is she just placing lower end of the class? Is it a breed show or local level?

It's hard to tell exactly from the angle of her pix but she has a nice build. I'm thinking her neck seems long and slim for the rest of her body but the pix are not straight shots. Other than that she's a nice looking mare. She is not nearly as muscled as many of the halter horses, I'm not talking about the huge HYPP types, but just halter horses in general are cut and streamlined to perfection. They look like little body builders and that may hurt her.

There is nothing really wrong with your mare. She's cute.
---
"Be a best friend, tell the truth, and overuse I love you
Go to work, do your best, don't outsmart your common sense
Never let your prayin knees get lazy
And love like crazy"
Maybe i didnt pick the best angles for the shots taken the 2nd picture im not square with her (or the first picture) nor is she 100% square but they were just for my personal pictures not to look perfect.

she is a performance type horse but in the local shows that im showing, there is maybe one halter bread horse. im not looking to be in the big shows in halter lets face its not in her breeding nor does she look like a female body builder. Pictures are so hard to capture but she is fairly stocky. but like i said camera angles suck lol.

Shes not placing at all and (i know your basis to your own) but i dont get it. ive had many people come up to me and tell me she should have placed. oh well i love her just the same lol and she makes up for it in the performance :)

Her Sire is SELECTION SO SIMPLE out of DONT SKIP CHARLIE
also has IM A BIG LEAGUER on her Dams side
WOW I love the Dont Skip Charlie's and Im a Big Leaguer fan. She should be an awesome pleasure mare. Do you show her in showmanship also?
If I HAD to pick something it would be her neck, but again that could be the angle of the shots. It may just be the judges don't like her... or maybe those other horses really are that much better.

Nothing stands out to me that says, nope, not going to pin. Again, I think she's cute....
---
"Be a best friend, tell the truth, and overuse I love you
Go to work, do your best, don't outsmart your common sense
Never let your prayin knees get lazy
And love like crazy"
Thanks everyone, i think shes cute too and its not the end of the world shes not placing its only one class.
Yes we do showmanship she had no showmanship foundation when i got her and we did well this year (first year showing) two 2nds and a 3rd the third was all me i was so nervous i was slow on my quarters but im very happy with her :)

and really when it comes down to it i think it might be the case of local club favoritism, you get it everywhere. no biggy she still rocks and i love showing with her.
SimplySoft
She's beautiful. To me that's what a Quarter Horse should look like. Not the halter types they are breeding now.
She's a good looking mare that looks like she could do just about anything.
Don't go to the dark side and want to be like the halter horse people. I think their idea of beauty is warped!