What would you call this color
---
Meet lucky Lady. Purchased this girl when she was 4 months old. She is now 10.5 months. Her parents were both Tennessee Walkers. Her mother was solid black colored. No idea about the dad. This guy had about 30 Tennessees and let them all run around together. She was much darker when I got her. She now lost most of her winter coat and is lightening up a lot. She's also the hairiest horse I've ever seen with her winter coat. Thanks from a newbie!
My vote is black with some sun/sweat/baby fading. I would have suspected liver chestnut, but I think she is too dark around the lower legs/coronet bands for chestnut-- thats usually where some red "clues" show up on the really dark chestnuts.
---
Last edited by Eastowest; 06-07-2010 at

07:54 AM

.
I'm with Indyhorse ......makings of a liver chestnut....but very cute
Banned
Join Date: Jul 2009
Location: In a land far far away, or so I wish.
Posts: 12,825
• Horses: 0
I agree with Indy.

If she was sun bleached black the lighter brown spots would not be in the areas underneath where she gets less sun.
Well, if not black, then brown (as in, seal brown) which would explain the lighter area at the flank (although on a baby with an immature coat I have still seen that on black horse.) I am just not seeing chestnut because of the lack of red on the legs, like on the liver chestnuts below.
Even this blackest chestnut has a slight hint or lighter/reddish about the pasterns--
Here are some black (pictured when faded black, but definitely still genetically black) Friesians for comparison--
registered gelding--
Registered mare--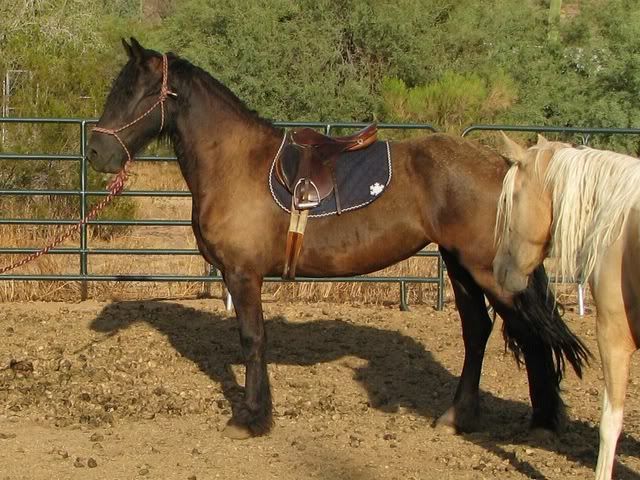 Friesiain mare ponying a Friesian foal--
Here is a row of registered 2nd premium 2 year old Friesian fillies--
---
Last edited by Eastowest; 06-07-2010 at

08:34 AM

.
She looks black to me , but possibly is not a "true black "and thats why she is lighter in some areas !
---
"Go confidently in the direction of your dreams. Live the life you have imagined. For no dream is impossible "
Will this help?
---
I appreciate everyones help in this. I went back to the previous owner and he gave me some pics of the parents. They were already gone when I purchased the little one. Dad's on the left. Mom on the right. Don't know if this will help. Thanks again.
---
Last edited by jacquesvan; 06-07-2010 at

12:36 PM

.