I quite like thoroughbreds..I like the draft breeds and warmbloods.
I like so many breeds! :p
But I like any breed as long as they have a nice tempermant :)
I love tb's for their quirkiness, genuine characters but I'm afraid my all time favourite is the arabian. I love them for their individual characters, intelligence, sure-footed, loyalty. Mind you saying that, its all a generalisation.
Posted via Mobile Device
I've been riding TB's for almost 15 years now, breaking them for the track, riding track work, re-training them after the track for SJ, dressage and/or eventing and I love them! When I am riding a TB I feel like I am riding an extension of my own body, it just feels natural to me.

I am learning to appreciate Arabians and QH's. Arabians for their beauty, grace and intelligence and QH's for their reliability and laid back nature.

But I will always be a TB girl at heart.
---
All horses deserve, at least once in their lives, to be loved by a little girl.
I love tbs, not only are they athletic, they are smart. They have a certain quirkiness to them that always keeps you on your toes. Not for everyone but I love them. Here is my ottb Homer.
hits2009.jpg
And Holsteiners,every one I have ever ridden has a great attitude about working and has been really athletic. They love to please and are great on the ground.
Started
Join Date: Mar 2009
Location: Middle-of-Nowhere, Illinois
Posts: 2,225
• Horses:
1
I love any type of heavy saddle horse or light draft. Warlanders, Andalusians, Black forest Horses, draft crosses, and some Friesians. Something tall, classy, Medieval-looking, with a gentle personality, yet an imposing presence.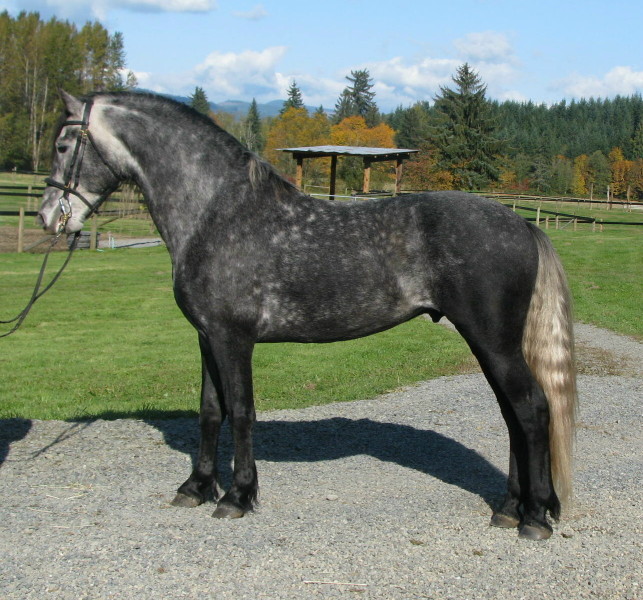 ---
"A musician must make music, an artist must paint, a poet must write, if he is ultimately to be at peace with himself.
What a man can be, he must be." Abraham Maslow, 1968

I WANT that last horse
He is sooo beautiful! And I am really not a heavy horse person... Is he a Noriker?
Is the second horse, a Black Forest?

Lizzie