Whats a good breed of horse for a Beginner?
---
I am just wondering what everyone here thinks. I am a beginner basically when it comes to horses.
I was wondering what you all think is a good horse breed for a beginner? It could be a Mixed breed or a Purebred. I love Arabians, but I have heard they aren't very good horses for beginners.
So what are your suggestions?
Arabians are wayyy to headstrong in general for a beginner. There are always acceptions to this though. My cousin wanted to learn to ride and she is the kind to get everything she wants so she got a pure white arabian as her first horse and got thrown. She threw away her horse and her riding just like that afterwards.

A breed in general would be a colder blooded horse. Not thoroughbreds or something that is really hotblooded but something like a quarter horse or a paint or something like that. They are generally more calm and not so pushy.

You do have to remember however that for a first horse... NEVER choose a cheap horse. I put off learning to ride correctly for 5 years because my first horses shouldve been a "project" instead of a teacher. The horse i got and finally learned to ride on was $15,000 but i now have used the knowledge she gave me to completely retrain my first horse as a showhorse.

Basically all im trying to say is dont skip out on quality because of money. Any breed can be a perfect teaching horse but the training and horse's character in general is what you look for.
I disagree with a lot of points in the post above me.

One of my first horses was an arab. One after it was a TB.

It depends on the individual horse. I've seen very hot non-beginner friendly quarter horses and TBs used in handicapped rider programs.

What you need is a horse that has been there done that, has a good temperament, and is safe. Usually something a bit older and broke.

Price is also not a factor. Actually, the more expensive horses I have ridden have been the most difficult to ride horses.
The most I have ever spent on a horse was 2200 and he was a handful when I bought him, the $800 arab I rode was safe though.

I would suggest working with a trainer who understands your skill level, budget, and needs who can help you find a good match for you. It is all based on the individual horse.
I agree for the most part with Spastic. However, what you need in your first horse will also depend on what type of riding you intend to do. Riding lessons are practically a necessity if you plan to ride English. If you plan to ride in a western saddle, lessons are a good idea, but not an absolute necessity - unless you plan to show or compete in something.

I've never had a lesson - not a formal one, anyway. But - I'd love to have lessons now. Just can't find anyone who has a suitable horse and saddle for me. (I'm super plus size!)

Your first horse should be older, calm and well trained in at least the basics, with no bad habits or vices. Around here, you can find horses like for $250 - $1,000 (or more, if you have lots of $$ - I don't), depending on what their breed (and sadly, color) is. A nice, grade chestnut gelding sold up the road from me for $250. I'f I'd known he was for sale, I'd have snatched him in a heartbeat for my grandkids!
---
Plain Old Dee, horses Dancer and Rain
I believe in dragons, unicorns, good men and other mythical creatures!
The color of the horse should match your hair!
Thats the criteria I use. P.S. the pony came with a Pedigree, and Show history, and looked very obedient in the round pen as well for a filly. But the color of the hair, is actually what did it!
I am joking, but my 8 year old and her 4 year old Haflinger are doing very well together. The horse is 13.2 hands, very intelligent, and the more they work together the closer they become.
For myself, I bought a quarterhorse!
---
...............
................
It's better to stand in mud, than manure!
Breed is irrelevant to what is "beginner safe." It's all about training, training, training.
Posted via Mobile Device
In the words of Clinton Anderson "an old ugly gelding is the perfect beginner horse" A horse that knows his job and loves his rider doesnt matter breed.
I would say if you are speaking in generalities, a quarter horse would be the best.... and a bay at that ;)
---
"Equine-facilitated therapy employs a form of biofeedback for practicing self-awareness, emotional management, and relationship skills that human role-playing exercises and discussion groups cannot begin to access." Linda Kohanov (The Tao of Equus)
Don't look for breed, look for BEGINNER SAFE. I've known lamb-like TB's and hyper-as-heck Quarter Horses
I agree with others here-- rather than choosing a specific breed first, its more important to choose a first horse with the training, experience, and personality to be as safe as possible a start for the beginner, which will allow the beginner to learn and build confidence and skill on a tried and true horse. Having help, in the form of lessons, a trainer, coach, experienced friend, neighbor or family member-- also helps a great deal.
All of that said, There are many Appaloosas out there paired with beginner riders-- and if you like to compete, the ApHC and ApHCC have great youth and non-pro programs with a big variety of classes offered in several age and skill levels, and there are sponsored trail rides, open show awards, and mileage programs as well.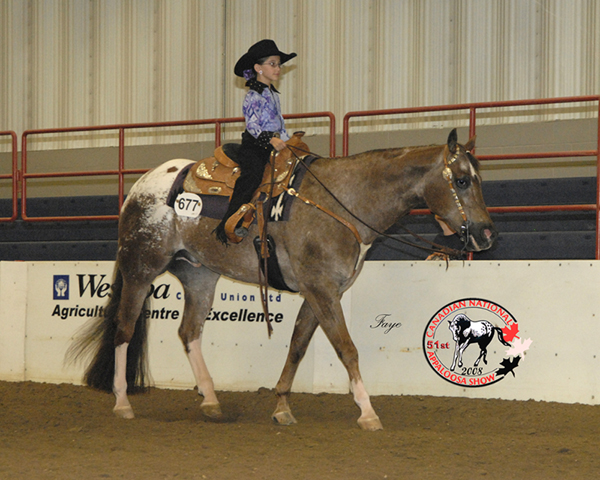 ---
Last edited by Eastowest; 11-13-2010 at

12:31 PM

.