Oh, and when he spooks, he tends to do it in place. Anything else would just take too much energy!!!
I breifly owned a OTTB, he was an experience. I learned a lot from him...like how to stay on during a rear...and a bolt...and lots of bucks...
It wasn't entirely his fault, from what I learned of his history he was started into hunter/jumper training straight off the track and I don't think he ever really wrapped his mind around being a riding horse and not a race horse. Alls well that ends well, he is now a purdy pasture puff for his new owner.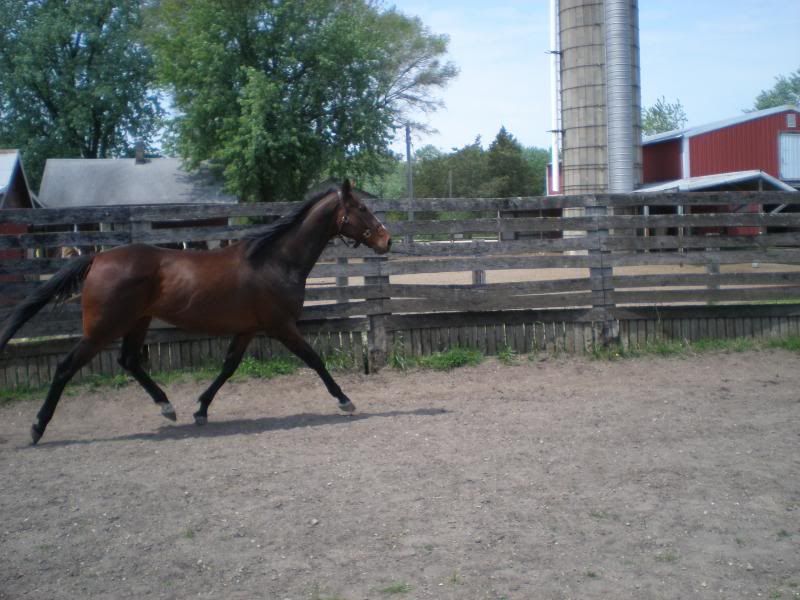 He has a beautiful extended trot.
He would have made a fab jumper too.
Now I have an Anglo-Arab. I think it's really the best of both worlds. Super athletic without the Arabian and Thoroughbred sillyness.
Majic likes to jump, but I think he is going to max out at about 2 foot or 2'6'' which is fine by me, he is my dressage horse first and foremost.
---
RH Queen O Anywhere "Sydney"
2009 Sugarbush draft
I DO!!!!! my TB has the greatest personality and the biggest heart...and he is so well behaved i freaking love him to death!!!!!!!!!!!!!!
---
"When your horse follows you without being asked, when he rubs his head on yours, and when you look at him and feel a tingle down your spine...you know you are loved."-John Lyons
---
Quote:
I've never met these elusive "crazy TB" creatures either. I love TB's.
Agreed.
Granted, they're probably out there.. but stalled all day with little attention.
Where Cerra (TBX) is, there's an OTTB gelding -- and he is the most RELAXED horse you'll ever meet. An apocalypse could go off in the distance and irregardless if his owner was there, he'd probably continue to bury his head in the hay. *Munch munch munch*
Its the Paint mare in that bunch that is CRAZY. Not sure what she is, other than absolutely off the rocker. I think it's partially that her owner hasn't been out for like a month, and she's lonely.. :(
My OTTB is amazing, he took to riding right away, only being a week off the track I was able to trot him comfortably in the big, outdoor arena, he is usually so calm, but I must say he has his moments. I have ridden different breeds of horses, and I have mainly rode OTTBs and they are like no other horse, they want to learn and make their owner proud. I love my boy Hero, he is so funny, like all of a sudden pulling my ipod out of my pocket and throwing it in mid-air...which I know he was a bad boy for doing that but those kind of events helps make memories and shows the personality of the horse. I love my boy :) <3 Hero
---
Chad Barnes 6-16-85~7-22-13
Hero Act - Thoroughbred Gelding ~ Gunner - Quarter Horse Gelding ~ John Deere - Mini Gelding
I love my TB by default! lol I never wanted a TB, never would of gone out looking for one on purpose, but then there was Gupper the most pain in the butt,inquisitive, nosy as all get out, crazy, dorky horse I've ever meant in my life.
And I had to get him out of where he was (If I knew how to link my intro. post I would but you can find it and read what I mean)

So yeah, by default ;) I love a TB
This is Wesley-7 year old, 16 hand OTTB.
I've seen alot of new members with TB related usernames, so I thought i'd give this a bump! -BUMPS-
Posted via Mobile Device
I DO! Have always loved horseracing and now that I own a TB, I wouldn't have anything else!
I do! My favorite breed.
---
Equestrians kick butt!
Similar Threads
Thread
Thread Starter
Forum
Replies
Last Post
my loves:)

Weltiger

Gaited Horses

13

04-14-2010

07:57 PM

he loves her ... but

kchfuller

Horse Pictures

7

02-09-2010

12:19 PM

ok here are my loves

missy45690

Horse Riding Critique

7

05-24-2008

11:28 AM

My loves.

suenosderosas

Horse Pictures

13

12-02-2007

11:40 AM