i am proud to say i have an AWESOME APPY! to me, a horse is a horse...the breed really isn't the big of a deal to me.
Quote:
Originally Posted by appylover31803
thats a lovely horse there!

I remember there being photos on here about knabstruppers, are they like a different line of appaloosas, or are they pretty much the same?
The Appaloosa and Knabstrup were originally two very distinct breeds, although the line is beginning to blur in some breeding programs.
The Appaloosa was originally developed by the Nez Perce in Idaho, though it's doubtful that their original breed still exists today. Most of their horses were deliberately slaughtered by order of the United States Cavalry. The few that survived the massacre were heavily interbred with other horses. The Appaloosa that we know and love today are descended in part from those original horses, but most also have Arabian and Quarter Horse blood in them, too. Foundation Appaloosas are believed to be the closest in type to the original Nez Perce breed. They are leaner and more wiry than Quarter Horses, and have sparse manes and tails. A grand majority of Appaloosas today have the American Stock Horse type build. In essence, they look like Quarter Horses with a spotted pattern. Those with more Arabian blood have more refinement. Altogether, there tends to be a great deal of variety in the morphology of the Appaloosa.
The Knabstrup is from Denmark. Denmark has had horses sporting "Appaloosa" patterns for as far back as history records. The Knabstrup was the refinement of Danish horses with spots. It's breeding was heavily based upon the Frederiksborg, and indeed, many old type Knabstrups were essentially small Frederiksborgs with spots. Originally, the Leopard pattern was most prevelant. I'm not entirely sure, but I think it might have been the only spottig pattern in the old style Knabstrup. Their numbers declined sharply during the middle of the 20th century. The breed was facing extinction when a few dedicated breeders decided to save the breed by crossing them with the more abundant Appaloosas to get their numbers up. This seemed to introduce a greater variety of patterns into the breed. The new style Knabstrup is thus closely related to the American Appaloosa, but it still tends toward more of a Eurpeon Warmblood type build since Trakehners and Danish Warmbloods have also been used to improve the breed since the introduction of Appaloosa.
The distinction between the Knabstrup and Appaloosa is further confused in Appaloosa Sport Horse Breeding. Both Appaloosas and Knabstrups are eligeable for use in producing Appaloosa Sport Horses, since the goal is to simply produce spotted horses with the correct conformation for European equestrian sports and has no care for preserving the purity of the Appaloosa or Knabstrup.
Neither the Appaloosa nor the Knabstrup are to be confused with the British Appaloosa, which originally had nothing to do with Appaloosas at all! Small numbers of spotted riding horses and ponies have existed in England ever since the Spanish Jenet was introduced centuries before the Nez Perce laid eyes on a spotted horse near their beloved Palouse River, after which the Appaloosa is named. England already had a small but dedicated group of spotted horse enthusiasts when the popularity of the Appaloosa exploded in America and spread rapidly throughout the world. Eager to jump on the band wagon, the registry that controlled spotted horses and ponies in England asked the Appaloosa Horse Club if they could borrow the name. The ApHC agreed so long as ponies were excluded. Thus the British Spotted Riding Pony was recognized as a distinct breed at last and the British "Appaloosa" enjoyed a resurgance of interest by riding on the coattails of a borrowed name.
So, the short answer to your question is this: No, the Knabstrup is not a different line of Appaloosas. They are two distinct breeds that are slowly converging, especially in the Appaloosa Sport Horse.
---
Endless Dreamer
Eternal Student
I love love love appys that's all I've ever owned I admit I've met some that was a lil hard headed (not many though) but I think it's just like anyother horse it just depends on the temperment of the horse becuase I've met QHs & paints that were just as hard headed...

as for the characteristics of the appy I love the eyes, freckels, coat pattern, and I don't mind the shorter manes and tails (my appys mane and tail is longer though lol)
I think appaloosas are SO Beautiful. I used to have one about 18 years ago. He had the prettiest coloring :) I don't know who couldn't like an appy!!
I LOVE Appys! My horse is a leopard appy and I think he's beautiful!
I wouldn't change him for the world and his attitude/personality is to die for!! He has ability in most areas (dressage, jumping, etc.) and is a saint on the roads. Everyone that meets him falls in love instantly... I can't see what's not to like!
Here he is...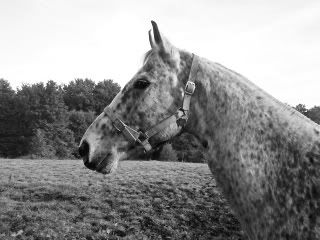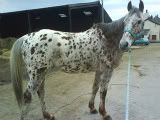 ---
Gemma && Domino Xx
hey i never said i dont like the breed i think there 1 of the most beautiful breeds of horse there is and i did not make that up i just heard it from 1 of my moms freinds and i am sorry if that efended you but i looked that up and she was wrong and realliy i am sorry if i afended any 1 :(
---
2 Dogs:Rose & Rocket
3 Cats:Humpherie,Skimmers & Mandy
2 Gerbils:Arnould & Rocky
1 Horse:Braidee
2 Turtles:Mexico & Spot
Bunch Of Fish & More 2 Come! =)
I certainly dont. I own a Palouse Pony, and because he doesnt have all that many spots, people dont realise he is a mini Appy. When they ask what breed he is and I say Palouse they sort of well, go off him. I dont think it should matter. What if they got a paint Andulusion (I dont think it will happen, but if it did) I wonder if people would still see them the same. Or what about a TB (I think there are already spotted TBs), would everyone still see them the same ?

I dont care what colour the horse is, as long as he has a good temperament, and does what I want him to, I couldnt care less.
---

Dream like you have never dreamt before, Dance like you have never danced before, Love like you have never been loved, Sing like no one is listening.
Their beautiful
---
i think they are wonderful i absolutely adore them.
---
Brumbies ROCK!
WEll I love apps and I wouldn't have a horse with no color. I love paints too. I dont' think solid is pretty at all. But I dont' hate those horses.

Appaloosa's are the best!
I have an appy too!
And she is the best.
My appy is frosted , and she is the longer haired version. Her name is Katy! And they are my favorite breed. Some people just dont know what there missing out on!

Appaloosas ROCK!