Have you ever heard the 'joke'..

Why do indians ride appys on the war path?

So they'll be good and mad when they get there!

I've heard from several people that apps are unusually stubborn and often not as smart, but, the ones that are great are absolutely worth their weight in gold. Someone else told me that apps originated from the horses so slow/unintelligant that the indians were able to catch them. And I think a lot of people aren't used to their unusual markings. I have to admit, I've seen some not so pretty apps out there.:) but i haven't had enough experience with them to really form an opinion overall.
i have to be honest, i wasn't in love with apps when i went horse shopping. I wanted a quarter horse or a TB, but then i met Vega. She's defintely not the typical app. She's not really level headed, her tail's a little longer, but her mane was a mo hawk, but its not laying down, sorta. She also doesn't have a blanket.. its more of little spots all over the place.
here are some pics of her
http://horseforum.com/viewtopic.php?t=4094&highlight=
My boyfriend's app is a leopard, but he doesn't have a busy pattern. He's mostly white with a few spots here and there. I'll get a photo of him soon so everyone can see.
And as you can tell from my username, i'm in love with apps!
As long as its got good conformation, I don't care. That being said, I tend to prefer knabstruppers or appaloosas with a good dose of tb blood because I think they are better built for the sports I enjoy. I'd be more than happy to put this horse in my barn!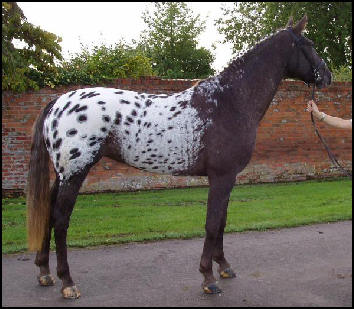 I'm really not sure where the temperment stereotypes about apps come from...all the one's I've met were pretty level-headed horses.
thats a lovely horse there!

I remember there being photos on here about knabstruppers, are they like a different line of appaloosas, or are they pretty much the same?
I love appaloosas! I think they are beautiful & they are good jumpers. I thinks its really dumb how some ppl say this breed is stubbern or this breed has to much of an attitude. I dont think its the breed cuz there are great appys out there and then some that hav a crappy attitude. Its the horses personality not the breed just like people. its just like saying that all blacks are criminals and terrible ppl. we should no that not all blacks are criminals, I know a lot of blacks & one of my closest friends is black.
Quote:
Originally Posted by appylover31803
thats a lovely horse there!

I remember there being photos on here about knabstruppers, are they like a different line of appaloosas, or are they pretty much the same?
I can't remember where exactly the spotted coloring originated (I'm sure if you do a web search, you can find out...I know there are images of apps in ancient Chinese paintings), but it is very old. You can basically think of the knabstrupper as the European version of our American Appaloosas; at some point in history, they had common ancestors:P
That's exactly what i did. I googled them and found a site. Its very interesting and all the horses are just gorgeous!
http://www.knabstruppers.com/
I want one now lol
I've known two appy's that had the ugliest jug heads and really nasty temperments............maybe human induced I don't know ........But I would never assume that ALL appy's are like that based on two individuals, I think each horse should be judged on their own merits, I wouldn't say no to an appy just because he/she was one and I've seen pic's of some gorgeous appy's out there!
This was our Appy we just sold. His blanket was BEAUTIFUL!! Iw ish I had a pic without the saddle so you could see him better!
He was the most bull headed horse ever but would run through fire for me if he had to. Had to sell him so my daughter could have a calmer horse.
I love appaloosas! My dream horse is a loud leapard Appaloosa Sporthorse. I just love em'!