Why is Sonya's tail going silver?
---
So today I was looking through my pictures of Sonya, from when I bought her, to now, and I noticed that her tail has changed in colour quite a bit.
I know she has roaning, but thought thats from the Appy in her.
When I bought her, she was a yearling, and her tail was completely black(with some sun-bleaching), as well as her mane, and now it is half silver! Her mane and tail have just changed colour this year. Could this have something to do with a roan, or just the appaloosa, or something different?
Here she is as a yearling:
And here she is this last year, still black:
And here she is this year:
Thanks for your help!
---
Sonya ~ 5 yr old Appaloosa/Welsh mare
The roaning will do that. It affects mane and tail color as well as body hair.
My appaloosa gelding has the silver streaks in his mane and tail as well--although it is less noticeable with him, as he is a light chestnut.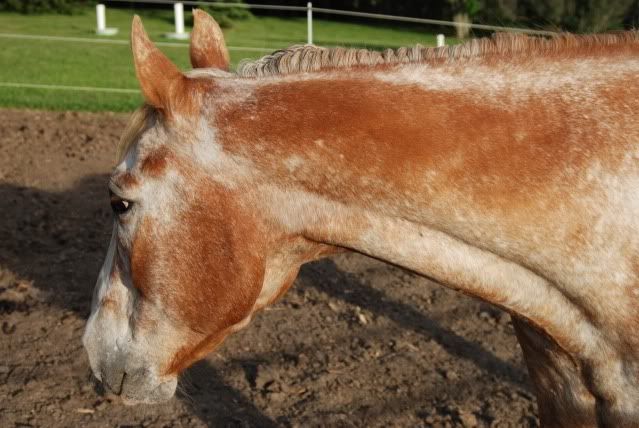 You can kinda see it in this picture.
---
| Kubie, Appaloosa (RIP) | Patches, Pinto Arabian Pony | Scotch, Paint Quarterhorse |
To me it looks the normal coloring of a bay-based horse, sometimes they have the lighter hairs in their tails like that. Maybe I'm not looking correctly, but I don't see any roaning on her.
She sort of looks like a wild bay to me (sometimes called pangare I believe).... scroll down a little bit to the horse being ridden here....
http://www.whitehorseproductions.com/ecg_basics2.html
---
Last edited by Remali; 10-04-2010 at

11:18 PM

.
Here is a pic of her roaning. This was when she was 2, she now has white hairs all over her body, and more of them
---
Sonya ~ 5 yr old Appaloosa/Welsh mare
From what I have read up on roans, they are born roan and don't change color as they get older.... true roans that is. With Appaloosas now, that is something different, and I am not sure about them...
Classic true roans need one roan parent.
I think her coloring has to do with her Appaloosa blood. What color are the sire and dam?
She's really cute!
http://www.horse-genetics.com/roan-horses.html
---
Last edited by Remali; 10-05-2010 at

07:23 PM

.
Thanks :)
I actually know nothing about her parents. The only thing the woman that I bought her from told me was that she was a welsh pony... Nothing else. I know she has to have Appaloosa in her, because she has the mottling, striped hooves, white sclera ect.
So no idea of colour. But I think I may have seen her dam. If I remember, she was a flaxen chestnut, but I am not 100 % on that.
---
Sonya ~ 5 yr old Appaloosa/Welsh mare
She sure is a pretty thing, I think you are correct tho, she gets her coloring from the Appaloosa side.