A friend of the family has a Percheron/QH. She looks like a Percheron on short QH legs lol. But the neighbors stud colt jumped the fence and bred her and he is a Saddlebred/Walker/Paint. But surprisingly the baby named Thunder turned out pretty nice he is a big powerful and athletic 4 year old. He had some awkward moments but not he looks pretty good. So here he is the Percheron/QH/Saddlebred/Walker/Paint lol. Definitely could of turned out worse
!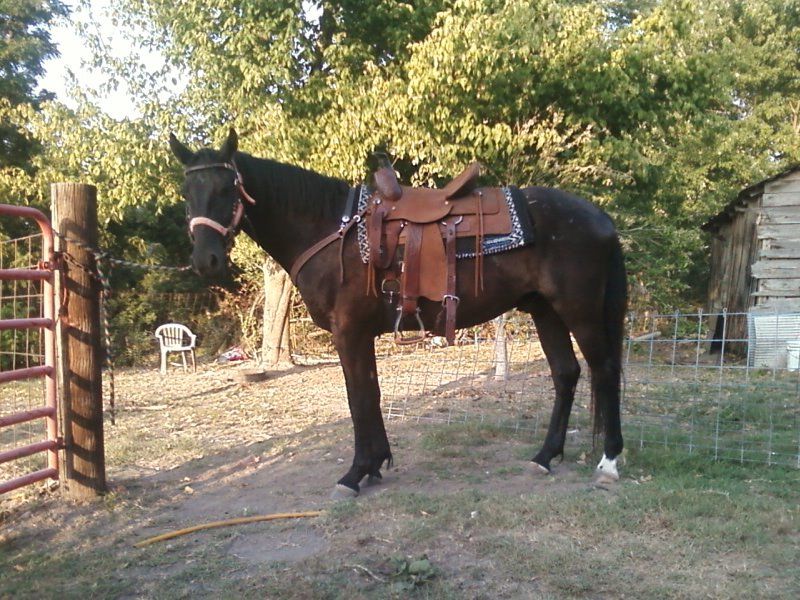 ---
Noey's Herd
Started
Join Date: Nov 2010
Location: Lethbridge, Alberta, Canada
Posts: 1,634
• Horses:
2
Quote:
Hmm to me i think all horse breeds are amazing but if i'd say if there is a bad crossbreed it'll probably be a quarter horse and a percheron
I actually know of one. Stocky mare and is a decent fox hunter as well.
Clydesdale x dales pony. came across this picture today when browsing horse ads, it's the first of this cross ive seen. maybe the photos just bad?
I know this isn't a bad cross but I rode a QH/Percheron/Paint/Saddlebred gelding for a month. He had beautiful gaits! Smooth, and it felt like you were riding a mountain. I actually prefer the Percheron crosses to the Belgian crosses. Nicer gaits, imo.
Sonny
He was probably around 16.2 or 16.3 hands
---
I figure if a girl wants to be a LEGEND, she should just go ahead and be one. ~Calamity Jane
Personally I'm not a fan of the Friesian crosses.
I LOVE the Friesian breed, but the crosses just do NOT come out well. Occasionally you'll find one that's okay, or even nice, but it's very rare.

I really get the impression that some people think, "Oooh! I'll cross my _insert breed of horse here_ mare with a Friesian stallion and get a horse with long pretty hair and feathering!" *BUZZER SOUND* Think again! They usually turn out to be heavy, ugly looking things. Or they look like the mare!

But there are some people who make educated decisions about Friesian crosses (the majority just gets lucky with the good looking ones, lol!). If you look at the requirements for a FHANA registered Friesian stallion, you'll see that their proving tests are pretty intense. There are only- I believe- about 100 approved stallions in the world. And there's a reason why. Just take a picture of an approved stallion, and compare it to someone else's "un-approved" Friesian stallion. The differences are amazing. But a lot of people don't care, so I guess that's the way it goes.
(And I say "un-approved" because most advertised Friesian stallions are still FHANA registered, but they stay in the "Studbook", unless they're approved for breeding.)

Heck, breeding a registered Friesian mare to an unapproved Friesian stallion is even a no-no! Those offspring can't be registered with FHANA (though I believe they can either be registered in a B-Book, or with KFPS).
Teen Forum Moderator
Join Date: Dec 2010
Location: South East Texas
Posts: 7,157
• Horses:
2
I don't have any pictures of him yet, but we just bought a mare who has a colt that is definitely a heinz 57 xD don't know what his owner was thinking, breeding him! O_o His pedigree goes something like this on mom's side.
1/2 QH 1/2 Paint Stallion bred to 1/2 ASB 1/2 Arabian (National Show Horse)
\ /
1/4 QH x 1/4 Paint x 1/4 ASB x 1/4 Arabian bred to Thoroughbred Stallion
\ /
1/2 TB 1/8 QH 1/8 Paint 1/8 ASB 1/4 Arabian colt
So he's KINDA an Appendix x NSH cross with some paint thrown in there O_o very odd. Crazy enough though, he's actually super cute. Refined face, big stout, muscular body, short back, and high white socks/blaze. He's a BIG boy too. Just goes to show you though, that even though on HF we tend to guess that the grades are half and half mixes, most of the time that isn't the case xD can't wait to see how good...or bad...this little guy turns out. He'll definitely be gelded though so HIS little family line is stopped NOW. lol
Then theres my poor mini mule. I'm waiting to see how she turns out but it doesn't look good xD her dam doesn't have very good conformation I'm afraid, so the result is....this.
A miniature wooley mammoth. Hopefully she looks better in her summer coat. LOL. And I swear she sounds like a goat rather than a horse or donkey. Sounds like 'MEEEIIIIIIIGHONKHONKHONK'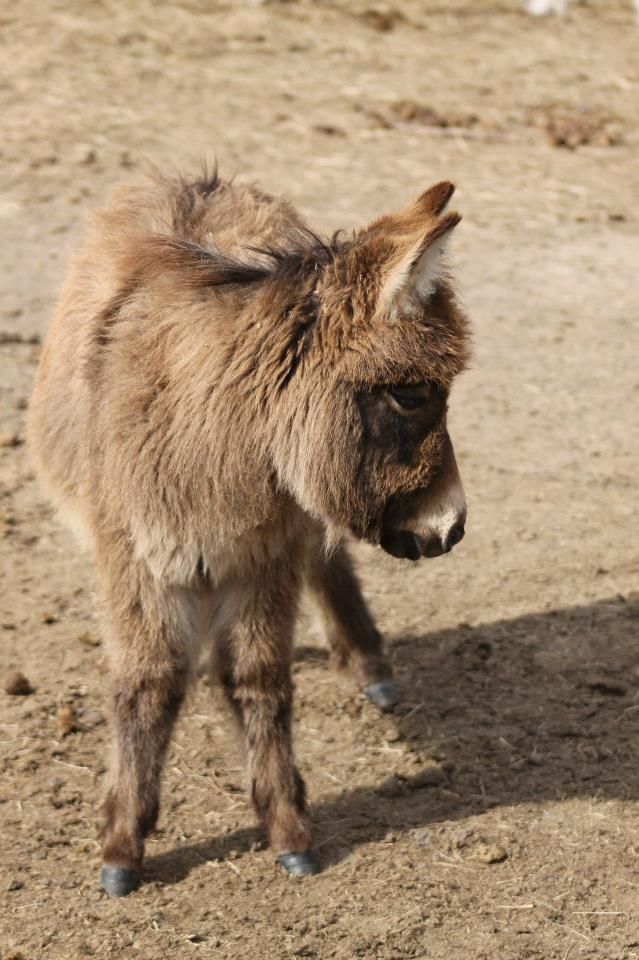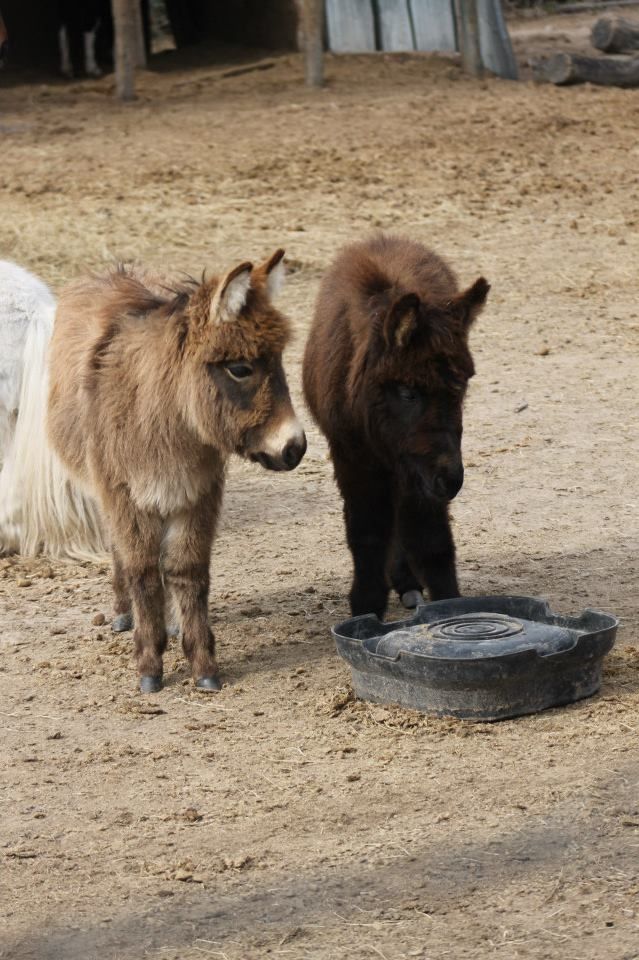 ---
Everyone in your life is meant to
be in your journey, but not all of
them are meant to stay till the end.
---
Last edited by Endiku; 02-14-2013 at

04:11 PM

.
Quote:
Hmm to me i think all horse breeds are amazing but if i'd say if there is a bad crossbreed it'll probably be a quarter horse and a percheron
HEY! My filly is a QH/Percheron X, and I have to say that though she isn't the most feminine or refined looking horse, she is an absolute doll! She is very smart, gentle with her people and the bottom of the herd. She is careful and respectful, though she can be antsy when she's in heat (but I think that's a mare thing =/).
She's not spooky at all, and she was barn favorite at the barn in PA, and she is also very well liked at her new boarding facility.
---
Quote:
Originally Posted by Jareth, the Goblin King
I move the stars for no one.
RIP Pumpkin: 2012-8/26/13
My Perch/QH X
This is her Dam, the QH:
---
Quote:
Originally Posted by Jareth, the Goblin King
I move the stars for no one.
RIP Pumpkin: 2012-8/26/13
Know a lady that bred her Andalusian stallion to a minature mare for a mini-Andalusian
I don't know the story, but there is a gypsy cob mare at the local college barn, and I have been informed somehow a mini stud got to her. She should be due to foal within the next two months....

Also, we ended up once with a mustang pony X percheron filly. Was probably the best horse, was the easiest to break, never spooked, and was just beautiful, just think of a percheron proportionally shrunk to about 14h with a very thick mane and tail but not the fuzzy pony kind. Perfect kid sized and yet stocky enough for mom and dad to ride.
Posted via Mobile Device