Quote:
the first picture is where my friend kept her horse
is a Canadian Sport Horse X with a Percheron

oops my neighbors Dobi puppy
So just to be clear.....they are not breeding the horse with the puppy. (giggling)
Quote:
I had a Paso Fino/ TB cross mare name Star Flower. She was beautiful little bay, but she was also a hard headed little spitfire. I miss her:(
I briefly owned a half Arab, half TWH. I will say she was gorgeous. Black and about 15.3, pretty upright conformation, carried her head high, moderate length back, nice straight legs and good feet.
She was the worst-tempered horse I have ever known. She was ridiculously, but maliciously smart. You had to be one step ahead at all times, and I really feel that the amount of training she had prior to my purchasing her, was less than I had been led to believe. She tortured other horsee the same way she tortured me, constantly testing them and bothering them, even when they set strong and clear boundaries with her, she kept picking and picking at them. Even her herd did not like her.
She had incredible gaits. She was not gaited. It is hard enough to get most purebred gaiteds to gait, forget about the crosses.....but my mare had lovely gaits. Long swinging walk, and she would almost glide down hills. You could see if you watched her from the ground, how she would pick up her feet, for a split second they would float in the air above the ground, and then she would set them down. Her trot was springy and powerful, and she had that glorious rocking chair canter. She was surefooted as anything out on the trail.
I had dreams of doing both trails and learning dressage with her. She was only seven. But she did constant testing of me, as I said, and it really started to put me on edge. Then she realized she had the power to make me nervous, and really put on a show. She would, if being asked to do something she simply did not want to do, squeal to herself (yes, haven't seen anything like it, before or since) and then attempt to rear sky high. Fortunately, I am a pretty good rider, and know how to deal with a rearer, though regardless, it is a terribly dangerous habit. And she gave plenty of warning with those squeals. When she started to go up, I would throw my weight foreward and immediately disengage her backend to knock her of balance. Then I would quickly drive her forward, putting her to work. Sometimes I could catch her *before* the rear and just drive her forward (a horse moving forward cannot rear). But when that started, I knew her days with me were numbered.
She lucked out. She was bought by a small time and very dedicated trainer. At that point I would have sold her to anyone, save a meat auction....but I even considered that......will explain below that thinking. Anyways the woman that bought her attempted to work with her herself, and then put her into training with another, better trainer when she realized the mare was beyond her capeability. I heard through the grapevine later that she had been in serious training for years and finally became safe enough for the woman to find a good match for a home for her. I still dunno how if that worked or not, but they could not have put more money or effort behind that horse.
The reason I just wanted to get rid of this horse was that I absolutely hated her. She was horrible with me, she also tortured my poor elderly mare who was just as sweet as can be. I had a trainer helping me, a good one, and we just kept going downhill. I only had her six months, and never got hurt on her, but that was only due to sheer luck combined with my own riding skill. She made me afraid to ride....for the first time ever, really, and I had been riding continually since the age of 6 and was approaching 30 when this happened.
I ended up getting out of riding horses completely for three solid years (still kept my old mare at home with me),but I was terrified to get on a horse. I did not think I ever wanted to ride again. I was also worried that *I* had done something to ruin this mare....that her behaviors were all my fault. The woman who bought her assured me this was not true. She said the mare had deep seated issues and major holes in her training from the get go. She did not think there was any way I could have caused that horse's behavior in only six months. I knew she was an excellent horsewoman, and it validated me a bit that she could not even work with the mare, that she had to get help from someone else, and they basically restarted the horse completely. That mare seriously lucked out, because she basically made me an emotional wreck, and I wanted her *gone*.
I have always told people that there is no shame in getting a horse and deciding it just doesn't work for you and finding it another home, and in this instance, I had to take a bit of my own advice. I had terribly mixed feelings. Even though I could not stand that horse, I was taught growing up that it is *never* the horse's fault, that the fault always lies with the rider. And it was true that I just didn't have the skills to work with her. But, in my defense, she was a tough one. She was lucky to be purchased by someone who liked her quirky behavior and looked upon her as a challenge.
Sorry such a long post. I did not realize I would get so into this. Maybe it should go under another topic, because it does address rider fears, and difficult decisions to be made. However, it also does address what you can get with some of these crosses. Physically, a fantastic horse, but emotionally......a really tough horse to deal with.
See more messed up registered horses than the forementioned "mutt" horse. I like my crosses(sane ones that is,ie no shetland clyde stuff) I have had both reg and crosses. I prefer a good draft/light horse cross. Must be a good thing our law enforcement across NA uses them ;)
Posted via Mobile Device
Green Broke
Join Date: Oct 2009
Location: Outside of Oklahoma City
Posts: 2,653
• Horses:
6
Im guessing we never figured out the reason for why breeding a foundie QH is a bad thing...?
---
Be wary of the horse with a sense of humour. - Pam Brown
Quote:
No, no, thank you. I always thought mules were flat out sterile; I did some digging however before I went shooting my mouth off and found that, though it is rare some of them can indeed have viable offspring. Apparently itís not so much about different chromosomes making them sterile, but just how the genes and chromosomes match up in the individual that decides whether or onto they can reproduce. So basically I learned something new. Thanks.
i am like you but i found out when i left my mule in with a stud (didnt own the sud) and went out to find the little bugger uggly little bugger dad was a grade stud and the bigger had a head like his moms but built like his sir..
Roan QH/Percheron she is a chunk!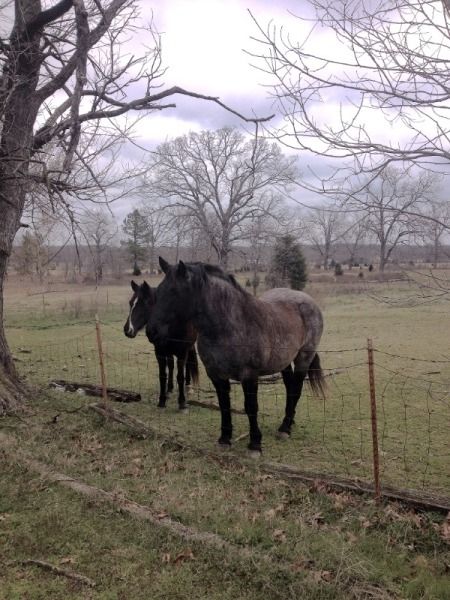 Posted via Mobile Device
Are you sure she's not entirely Percheron? Roan exists in Percherons
Quote:
Are you sure she's not entirely Percheron? Roan exists in Percherons
Nope she is half Percheron. I the lady that owns her and she bought her from whoever bred her
Posted via Mobile Device
I'm about to go drop a horse of theirs off I'll take a better pic of her
Posted via Mobile Device
Here's better picture of her. Her name is Butch lol. She is a gentle giant and interesting to ride. She is 15.3 HH. She looks like short Percheron lol and has a huge cresty neck.
Posted via Mobile Device
---
Noey's Herd