Your Arabian Stories - The Good and The Bad
---
I would love to hear every ones experiences with arabs and part arabs
I have seen both the good and the bad, and now that I just bought one I'm really curious to hear other peoples experiences with the breed.
The Bad:
I had a very well bred,gorgeous but crazy gelding. He went on to be an endurance champion, but I started him under saddle and after 6 months I could w/t/c gallop bareback with a string around his neck, %90 of the time. The rest he would buck, pitch hissy fits or otherwise be a huge diva. I had a buyer coming out and I had explained his issues. He bucked me off half way around the arena
They still loved him and bought him, but man was that embarrasing.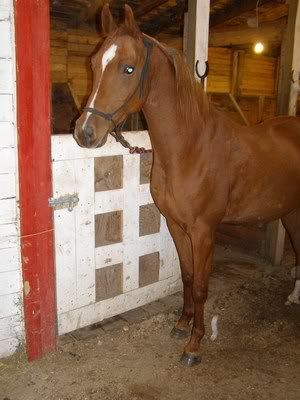 The good:
I had an arab mare side step over top of me to protect me from some rowdy geldings that were running straight for me. It took me a minute to figure out what she was doing, but I've never had a horse actually defend me before.
The Good:
I leased an older Arab mare as a 10-12 year old still learning to ride. She took amazingly good care of me when we went out romping in the pastures. The barn I'm at now offers lessons. Over half of their lesson horses (including the two go to beginner mounts) are purebred Arabs with hearts of gold for the beginner kids.

I don't really have anything bad that I can think of at the moment.
Good and bad: When I was boarding my mare, I would take her out on the trails and usually have to pass a herd of cows in the next pasture. Well, the little diva she is would buck, snort and pitch a holy fit. Fast forward a few years, I bought my own place, complete with...you guessed it...COWS!! Bt the end of the day she had kicked them out of THEIR barn and decided they weren't so scary after all.
There was no bad with my arab. He was in poor shape when I bo't him but I'd known him as a two year old and knew that a few dewormings and good feed would have him back in shape. He was wonderful with kids and was tolerant of adults. We discovered a funny quirk. A young lad was sitting on him bareback and the horse was getting tense about something. For no reason the lad began rocking the crest side to side with some vigor. The horse immediately settled. He was later sold to a little girl who love to scramble up on his back and ride around the yard with a halter and lead. He took very good care of her.
Teen Forum Moderator
Join Date: Dec 2010
Location: South East Texas
Posts: 7,157
• Horses:
2
We have one arabian mare who is part of our lesson team, and she's definately a piece of work!

The Good:
She's the perfect beginners mount. Smooth, gentle, and great to learn how to trot on. She's actually only 7 years old, and was added to our string as a long five year old- which normally we would never do. She's never dropped a kid though and is always very careful with the little ones- only doing as much as she feels like they're able to do. On the other hand with advanced riders, she really makes them work! She has no problem trying to mess with your head and constantly tries to play tricks on you or take charge. I think I've fallen off of her atleast twice when she decided that my idea wasn't very good and that we should do something else xD

The Bad: Well...she's an arabian. In the arena she's calm and collected, but out on the trails you'd think everything was out to get her! It's taken us over a year to get her confident. She's also rather stubborn with the advanced riders, and likes to try and unseat us by giving us her choppiest canter, and sometimes even throwing in a nice little crowhop!
---
Everyone in your life is meant to
be in your journey, but not all of
them are meant to stay till the end.
I love my mare ... she hasn't been ridden in months ... put a hackamore on her today and hopped on bareback and rode her with two others to the river. She had her moments, but was for the most part her amazing, beautiful, leading the pack self!
They're sweet, they're beautiful, they're smart and they love humans.

The bad: You get spoiled and don't want to ride something else.
---
our arab/saddlebred learned to use spooking as evasion haha. My sister would complain that she constantly spooked at nothing and was practically un-rideable unless she was in a good mood. Everyone loved to call her psycho but I knew her better than that.

I started riding her a lot more and although it would take almost an hour of warm up every single time... by the end of the session she would no longer see ghosts. She was ridiculously smart, she really acted like she was afraid of anything and eveyrthing as soon as you got on her back. But once you let her know that wasn't gonna fly, she would settle into work and not bat an eye at a single thing.
---
Last edited by attackships; 03-23-2012 at

09:53 PM

.
Quote:
They're sweet, they're beautiful, they're smart and they love humans.

The bad: You get spoiled and don't want to ride something else.
Nice
I have to admit I keep getting drawn into the breed, just brought one home tonight. Thanks for the stories everyone
I have always loved Arabian horses when I first read the Black Stallion
I love their disposition, the dish face their endurance level
and how loyal they are.
I had the chance of looking after my friends 3 half Arab horses
they were very hardy and loving easy keepers I used to ride them English
and western and bareback
here is a picture of me on my friends mare her name was Seville
here she is 6 years old and 15:1 hh
---
Country Woman