I'll gladly share my 1 Arab experience.
I started a 3 year old gelding for a customer and it was quite a unique experience compared to the stock horses that I was used to. When I first started him, he was very reactive and spooky and did actually manage to get out from under me once when the big scary windmill jumped out at him
. Once he started to calm down though, he made a very nice horse. I put 30 days on him and by the end, he was w/t/c both ways, picking up his leads consistently, neck reining, and was a fantastic trail horse. He was tiny but had the gaits of a huge horse. The only horse I've ever ridden that had a lope that felt as big as his was an 18hh Percheron.
The owner was planning to have those 30 days done and then turn him out for the winter before bringing him back for a 30 day refresher in the spring, but she didn't even need to bring him back. She said she caught him up after the winter and was going to work him just a bit to see where his mind was but she ended up riding him out on the trail that same day because he hadn't forgotten anything and acted like he'd not had a single day off.
She's still riding the crap out of him and she plans to start using him in Endurance races and CTR's this spring/summer to replace her competition horse that's getting old.
---
Always remember that feeling of looking at a big, open country over the ears of a good horse, seeing a new trail unwind ahead of you, and that ever-spectacular view from the top of the ridge!!! Follow my training blog:
http://robertsontraining.blogspot.com/
oh btw the horse in the picture is half Arab and half Quarter Horse
---
Country Woman


My sister's horse is a Lipizzaner x Arab, although I rode him first for six months until I got my new horse and she had a last summer showing her old horse.
The Bad: He used to be very nappy and VERY spooky, both have calmed down now, but he is still the first horse to jump out his skin at a noise or spook at a scary looking filler, and whilst he now hacks out alone without going vertical he still isn't happy on his own, although this is no issue for my sister as it was for me as she always hacks in company. He does tend to react when he's panicked by rearing, although again has lessened with lots of riding and training.
The Good: He has very big, smooth and generally dressage FAB paces, and a very scopey jump. He has a nice soft mouth and looks stunning going in an outline. Nice and solid to sit on, gets some high speed when out hacking and can go for miles, is fab for cross country. Nice nature, easily fits in with any field of horses. Very willing to please.
Personally, I didn't get on with him, hence why my sister ended up on him, but she absolutely adores him. I didn't like his little habit of going vertical, and didn't like that, when he was still green, he would throw his head in the air with the slightest contact. My sister isn't into dressage like I am, so she didn't bother trying to correct the head throwing and ask for outline, and it actually came right on its on as she did lots of jumping with him which he loved and he relaxed to the contact. Looking good now, and now he's a settled horse I actually do enjoy riding him again - but when he was green we didn't get on at all!
My sis on him at a show last summer.
Screen Shot 2011-09-26 at 20.00.59.jpg
very interesting with that kind of mixture
---
Country Woman


The good,
Pretty much everything about arabians, Love the looks, the snort and blow, the work ethic, the willingness and the train-ability and responsiveness.
The Bad
Arabians seem to attract newcomers that want to breed, they don't want to train them and turn them into solid citizens, they just want to make babies. Arabian stallions are notorious for having soft and trainable temperaments so any idiot can decide to keep one and breed.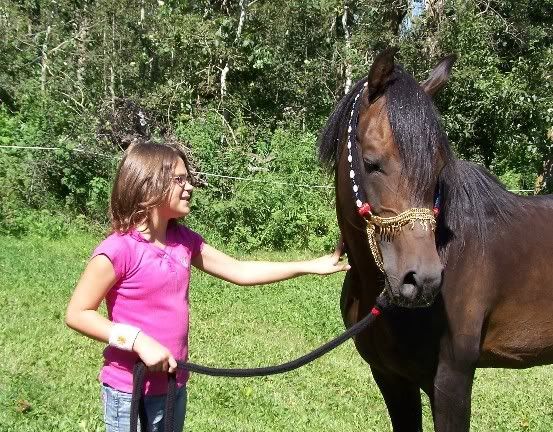 Kristine
I hate when this happens and wrecks good bloodlines
---
Country Woman


My Arabian experiences have all been good! My first and second horses were Arabians. I was really green, no horse experience at all except for riding rental horses nose-to-tail. My first Arabian was a perfect beginner's horse. Lazy, smart, hard to motivate and took excellent care of me.
My second Arabian was spirited and energetic. He was so much fun! I kept them both until the died at ages 24 and 26.
I love Arabians.
The good we have a 30 ish yr old gelding who takes care of all the little kids and gives us 'kisses'. My personal boy will buckle down for little kids to ride him and i can now ride him in a snaffle confidently
Bad...well my boy had little to no proper training and would take off and run you into fences if you even slightly hesitated. He is naturally very on his front end and it is taking me forever to get him onto his bootie hah
Posted via Mobile Device