Your Breeds Original Characteristics
---
If they are in my book I can post them if you want, but here are the characteristics and qualifications of my breed:
Saddle Horse Characteristics
" . . . the beauty of the most perfect and most representative specimens of the American Saddle Horse is unmatched by any other breed of horses.
The style and finish about their fronts suggest the use of descriptive term "class". It is a little difficult to define. In fact, it almost baffles description. We call it charm in women. We call it presence in men. We call it class in horses . . .
Symmetrical and balanced in conformation, set on legs that are sturdy in correctness, with a brand of quality and finish that is hard to match, the model American Saddle Horse leads most breeds when measured by the yardstick of good looks . . .
The American Saddle Horse is a tractable, teachable, clever horse . . ."
The qualifications of a Saddle Horse in order of importance as denoted by the officials of the American Saddle Horse Breeders Association:
"
Sure-footedness.
A kind disposition coupled with a good mouth.
Courage and ambition.
Conformation of a weight carrier.
Gaits and manners.
"
.
And on the general classification of horses:
"On account of the correlation between form and function, a horse must do as he is made to do. his Capabilities in the way of performance will be limited in some respects and extended in others, according to the plan of his structure."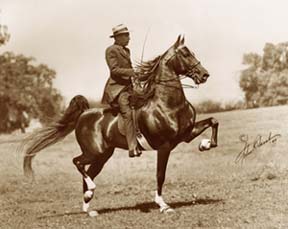 there's something about that breed that always makes me go "wow".
Hm, I'd love to hear what it says about icelandics! (breed books are of short supply here). :/
This book was printed in 1952, so alas there is no mention of any of the more "modern" gaited breeds. I know many who feel the same way about Rockies. No one ever mentions Rockies. Granted, I know Iceys aren't "modern". However in America, I wonder just how long they have been "around". They still aren't big here, I don't think.

What would you say the characteristics of Icelandics are?
I have a TB and am looking forward to reading about the original characteristics of that breed. Thanks for posting if they are in your book! I loved those American Saddle Horse pictures. My grandfather had Saddlebreds, and we have pictures alot like those, of him and his horses Charming Cavalier and Jules Chaudron. Beautiful breed and great idea for a thread.
That is amazing. i wonder how close we are breeding today of any given breed to what that breed's standard were 50 years ago?
---
A good cowboy always has a better horse at the end of the ride, a poor cowboy will be afoot reguardless of the horse.

Mis Raices Estan Aqui (my roots are buried here)
Canadian Horse
---
Canadian Horse Characteristics (which I will say fully describe my guy)
* VERY gentle
* Calm and composed yet lots of spirit and presence
* Strong and hard (that's why they are known as "little iron horses"
* Versatile (from police work to FEI dressage)
* So easy to train!
* Fantastic feet! the farrier always tells me he's got the best feet he's seen
* Gorgeous thick mane and tails

I think one thing I am still getting used to is how composed he is. He is so young and so green that I am always on the lookout for him to spook or look at something and over react(as most horses I have owned). He has never taken one extra step or one extra look. If something worries him or catches him off guard (had 3 chiwawas fly underneath him unexpectedly a couple weeks ago while he was tied in the barn aisle) and all he does is FREEZE. He doesn't spook, he just keeps himself together. I am honestly not used to that, he has an INCREDIBLE temper. Never had a horse like him, ever. He is so mature for his age, I forget he is so young.

I strongly recommend Canadians to anyone
The Australian Stock Horse
The ancestors of the Australian Stock Horse arrived in Australia on the First Fleet in January 1788. The end of the 18th century saw horses imported into Botany Bay in small numbers, believed to be of Arabian and Barb blood. The Barb, developed on the Barbary Coast of North Africa, was a desert horse with great hardiness and stamina. Eventually more horses where imported, these were of English Thoroughbred and Spanish stock. Later importations included more Thoroughbreds, Arabs, Timor and Welsh Mountain Ponies. All horses sent to the Colony needed strength and stamina - not only to survive the long sea journey, but also to work in the foreign, untamed environment that had become their home.
In the 1830s, knowledgeable horse breeders imported a steady stream of Thoroughbreds to improve the local horse strains. The settlers had a keen interest in horse racing, so Thoroughbreds became very popular at the beginning of the 19th century. The use of Thoroughbred stallions over the condition-hardened local mares produced the beautiful strain of tough but stylish animal exemplified by today's Australian Stock Horse.
Australian horses had been selectively bred for strength and stamina, reliability and versatility. The strongest were retained for breeding and despite their mixed origins they developed into a strong and handsome type. The horses that developed had a good temperament, were tough and reliable, able to work under saddle and in harness. They were used to clear timber, plough the land and herd sheep and cattle. From this base the breed was refined and developed, using the outstanding sires of the day. Thoroughbreds had a considerable influence, even though the breed carried bloodlines from other breeds.
Explorers, stockmen, settlers, bushrangers and troopers all relied on horses that could travel long distances, day after day. Weak horses were culled; the stronger types were used to breed sturdy saddle horses that were essential for the Colony's settlement. Exploits of the explorers and stockmen and their reliable horses in the Australian bush became Australian folklore, and stories such as The Man from Snowy River and Clancy of the Overflow depict the character of these pioneers and their horses.
The following Standard of Excellence is based on the original ASHS description of 'The Australian Stock Horse' from 1971.
· Head alert and intelligent with broad forehead, full, well-set eyes, wide nostrils. A fine, clean gullet, allowing plenty of breathing room.
· A good length of rein, well set into the shoulder.
· Sloping shoulder, not too heavily muscled, a well-defined wither slightly higher than the croup.
· Deep chest, not too wide in proportion, but showing plenty of heart room.
· Ribs well sprung and back strong and of medium length in proportion.
· In forelegs, forearms well developed, cannon bones slightly flat, pasterns short and slightly sloping.
· Hindquarters strong, rounded and well muscled, nicely sloping to give a full line from croup to hock. Hocks broad, flat and clean, the cannon relatively short with well-defined tendons. The hind legs well under when standing.
· The Hooves hard and in proportion to the size of the horse, with a wide heel and feet straight.
· The whole of these component parts to be in balance according to the size.
· Preferred heights between 14 and 16 hands.
An artist's impression of the Australian Stock Horse Standard of Excellence is pictured below. (Artist: Deidre Hunt)
(I just have to vouch for the ASH, They are amazing horses, in temprement and versatility. They are so cool minded, I would recommend them to anyone!)
---
Wow...this is preety cool :) Would you mind seeing and posting what it says for Appaloosas? You can also PM me if you don't want to post it.

Thanks!
Trakehner:
Generally a rectangular built with sloping shoulders and a longer back but powerful hindquarters
Tend to be a bit hotter as they are mixed with more Arab and TB bloodlines
They are known for their "floating trot" - full of impulsion and suspension
Tend to be quite sensitive but willing partners
(its also one of the only closed warmblood studbooks, so they really tend to breed true to type as there isn't an infusion of other breeds like you see in all the other registries)

I don't know what to really say about holsteiners ;) My own and all the ones I have ridden have had incredible personalities, have been really thick in body and lovely movers.