Melanoma usually feels like little round marbles under the skin unless it has spread and grown larger.
Posted via Mobile Device
---
Noey's Herd
Quote:
Well, Dobe is my first experience with a gray horse and he had already grayed when I got him...though his shade has changed every year. I'm told that he was a buckskin when he was captured, but I'm beginning to wonder if he might have actually been a palomino and the darkening of the legs/mane/tail done by the gray gene made them list him as a buckskin. Maybe someday I'll have him tested.
This is the only decent picture I have of him as a 3 year old where his color is actually visible.
Here he was at age 4. Still dark, but starting to dapple instead of just the slatey steel gray color.
Here he is at age 7. He's right in the middle of the dapple stage and you can really see that his bloodmark on the side of his face is starting to stand out.
Here he is at 8, leaning less toward dapple and more toward white
And here he is last year, almost completely white at the age of 10.
Though he does seem to be getting more and more yellow fleabites as he gets older.
I haven't gotten any good pictures of him all slicked off this year because, well, he
isn't
slicked off yet. Funky weather has led to funky shedding patterns.
As for the melanoma thing, most gray horses will get them at some point in their lives. For some reason, they are most common around the genitalia and underneath the tail. Most of the time, they are nothing more than a nuisance or an aesthetic problem and cause no actual health issues.
Dobe developed his first at age 7 and developed another shortly after that. I had both surgically removed with no complications, but he has since begun to develop more at random places on his body. They don't cause him pain, but I plan to keep having them removed as there are a couple that are beginning to interfere with tack. The ones he gets are little hard lumps that just slowly grow over time. The first 2 that I had removed, one was the size of a shooter marble and the other was slightly smaller. The ones he's got now vary from the size of a BB to the size of a regular marble. I am currently tracking 5 that need removed; 2 on the side of his head, one on his back, and 2 on the top of his rump.
You know I'm in love with your horses, right? I think yours may be my favorite on the forum. =P Btw, how is the new filly coming along? She's GORGEOUS.
---
Riding: The art of keeping a horse between you and the ground.
I'll keep updating this as time goes by. I've noticed this year that she's a lot lighter, or so it seems. She has had an amazing growth spurt in the past year and is quite thick and lovely. Of course I'm a rather biased horse mommy. =P
---
Riding: The art of keeping a horse between you and the ground.
Soenjer, yes, they do feel like little marbles, though his tend to flatten out a bit as they get bigger...so they are more like squished marbles LOL.
Thirteenacres, thank you
. She's doing really well, just enjoying her playtime with John and Taz and eating until her heart's content.
What a fun thread! Here is Zane from birth to almost 3 years (he will be 3 in July).
You know those spots some of the grays get on their rumps......are they the start of dapples? Or are they just random white spots? Zane is starting to get a few on his rump and I am hoping they are a sign he will dapple.
---
Last edited by trailhorserider; 05-17-2013 at

01:08 AM

.
I know that there are many names for the spots that greys get but as far as I've found they are not proven to be because of any genetic trait. Dapples are typically just a sign of perfect health rather than a pattern, but I know that my girl has had her one butt spot since she started greying and they just keep popping up more and more as time goes by. I love her butt spot so much. haha
---
Riding: The art of keeping a horse between you and the ground.
Here are the loveable butt spots!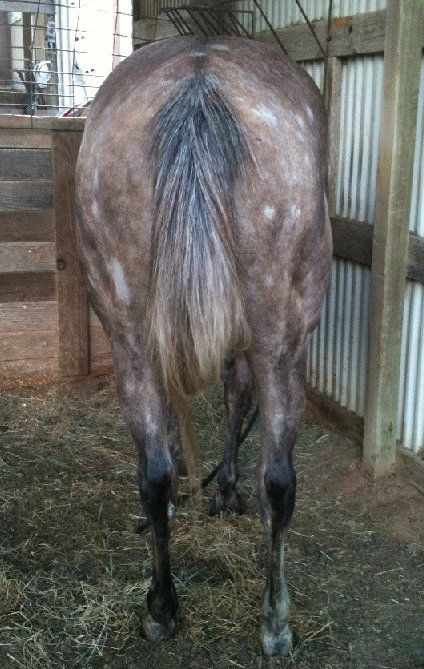 ---
Riding: The art of keeping a horse between you and the ground.