of course all the pics of her on my computer are when shes dirty! i really want to scan some pictures in old photo albums of her turning grey as a yearling.
this last pic was taken during a bath and you can see shes getting flea-bitten spots. It just started this year :)
My stable owner has lots and lots of grey horses.
This is her qualified Lipizzaner stallion.
A Lipizzaner mare of hers.
Another Lipizzaner mare,
Another Lipizzaner mare
And this is one of the Lipizzaner mares that I'm riding.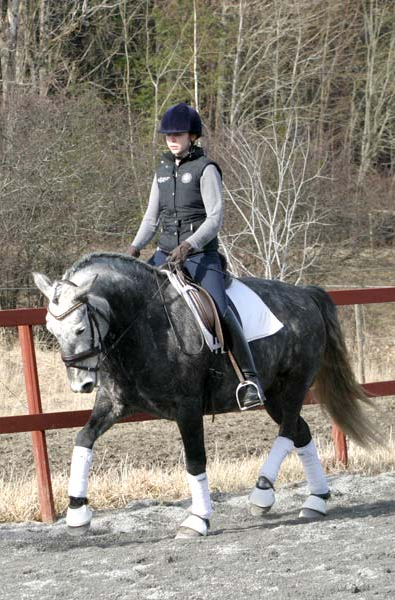 My stallion is a grey. Not the colour I was looking for when buying, but he stole me.
Cracker and Gracie Mae....
---
I DON'T LEAD 'EM AND FEED 'EM, I RIDE 'EM AND SLIDE 'EM.
---
Last edited by COWCHICK77; 02-22-2013 at

11:02 AM

.
---
Quote:
They are both gorgeous! You're lucky to have them two! Very pretty ponies
Thanks!! I'll have to find a picture of Cheyenne's full sister to post, she's a pally too.
---
Being horseless is the pits!!
HLL - They are not your horses, but your neighbors...
Dobe is my gray boy, though he's quickly turning full white
.
---
Always remember that feeling of looking at a big, open country over the ears of a good horse, seeing a new trail unwind ahead of you, and that ever-spectacular view from the top of the ridge!!! Follow my training blog:
http://robertsontraining.blogspot.com/
I wish they would stay dapple grey.
---
So in lies the madness, the pursuit of the impossible in the face of the complete assurance that you will fail, and yet still you chase.
Welp. I figured I had to jump in here sometime. xD
Pallys -
First up is Ruger, he's our three year old.
And Barbie, don't own her anymore, but she's gorgeous and I love her -
Now the greys
Previously owned grey paint stud, RIP Blue -
And this is Maya, who belongs to one of my friends
---
Pssh.I didn't pick up the wrong lead
It's called a counter canter...
...A very advanced maneuver.
This is my gelding Biscuit with the breeder. I hauled him out there so I could see his sire and so the breeder could see my boy. He said "yep...that is one of our babies...look at that head and hip!!" Biscuit has the same eyes as his sire...they look slightly worried about something!!
BiscuitMrLavergne.jpg