He's for sure Varnish roan, not true roan. Varnish roan affects different areas of the horse differently.
See? Learn something new every day!
Well, I hope he doesn't turn all white! Let's go with that one.
Keep the spots baby.
---
EQUUS KEEPUS BROKUS
Horses are just awesome like that. This isn't an Appaloosa, but there's an Andalusian colt at the farm my boy is at who's greying out (I think from dark bay) and he's at a stage where he looks so beautifully roan I wish he'd stop. My BO is hoping that when he finishes he'll look like his mother, which she calls a "white bay" (she greyed out and is now almost pure white, somewhat fleabitten, and has black points).
---
ʀ ɛ ɴ ø ,-------------
"Who rescued who?"
---------ċ ᴀ ʀ ʅ ʏ
He will not lose his spots Drifter, but he will more than likely end up white otherwise.
That's okay then. As long as I can still play connect-the-dots on him, we're good. ;) (Not that he isn't a sweetheart, I'd love him regardless.)
---
EQUUS KEEPUS BROKUS
Green Broke
Join Date: Oct 2009
Location: Outside of Oklahoma City
Posts: 2,653
• Horses:
6
If he completely whites out with the varnish, you'll have your self a nice little leopard, chances are there are more spots under that black just waiting to pop out!
---
Be wary of the horse with a sense of humour. - Pam Brown
Here are my Appaloosas. They are mother and son. Shadow is very old now and has the very short and ugly rat tail. I wish they both had more spots! I am just thankful Phar Lap didn't get the tail. :)
And Phar Lap is more colorful when he is wet!
Quote:
Okay. I THINK He is a Black/Blue Roan with a blanket w/spots that starts at his withers. And Sabiano(?) is at work with his blue eye ,white socks, and the face white... I think. No yes?
What a beautiful and cute colt! I hope he did well with his recent surgery?
I think he is indeed a blue roan, a color term the differs for Appaloosas and Quarter Horses (different genes cause the roaning, a roan Appaloosa does not necessarily have the dark head as Quarter Horses do). The leopard spots do override the roaning, he will not lose them but quite the opposite - the body-roaning may fades and the spots get brighter.
I had a gelding - probably an Arabian-Appaloosa-Mix - who got brighter in his summer coat:
Winter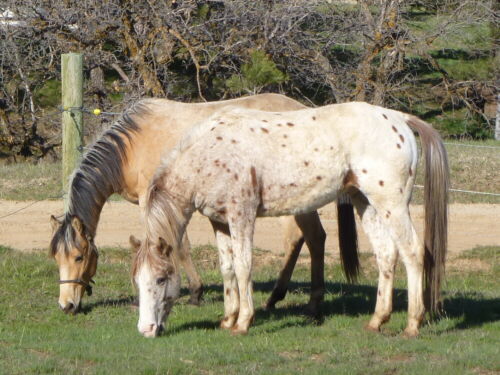 Summer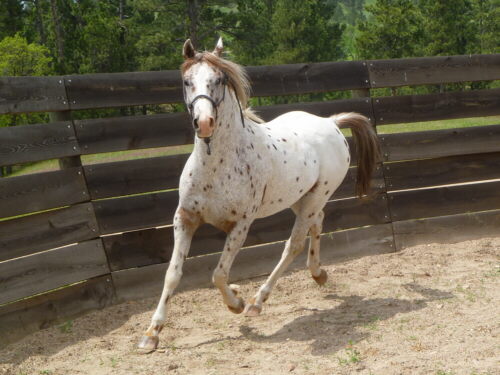 One thing about this coloring - it never gets boring and each hair change is going to be a new surprise
As for a sabino pattern - maybe, his feet markings are not very "clean" which can be a sign for sabino - as well as the blue eye. But it could be normal markings mixed with some freak Appaloosa gene, too, I have seen Quarter Horses with no sign of Sabino nowhere in their pedigree but partial or full blue eyes.
---
Last edited by caljane; 10-23-2012 at

05:25 PM

. Reason: typo