appy color ?
---
this is fancy.. she is our first appy and i honestly didnt know they came in so many colors lol...or were such great horses...have only seen traditional spot on butt color lol...so can someone help me out
what color is she, would she be considered a roan????
---
no time is wasted spent in the saddle
She looks to be brown, bay, or black with varnish, but I can't really tell from that pic if she has snowcap.
Brown fewspot?
---
KEEP HORSES IN THE STABLE & OFF THE TABLE !!!!! ♥♥♥
Not a fewspot - there is still a lot of base color that hasn't roaned out all the way.
She is a double pattern - blanket and varnish roan. She could possibly be a snowcap - can't quite tell from that picture. She probably started out similar to Rambo who is a blanket/varnish/snowcap. Rambo is bay of course...can't tell by the picture what your girl's base color is...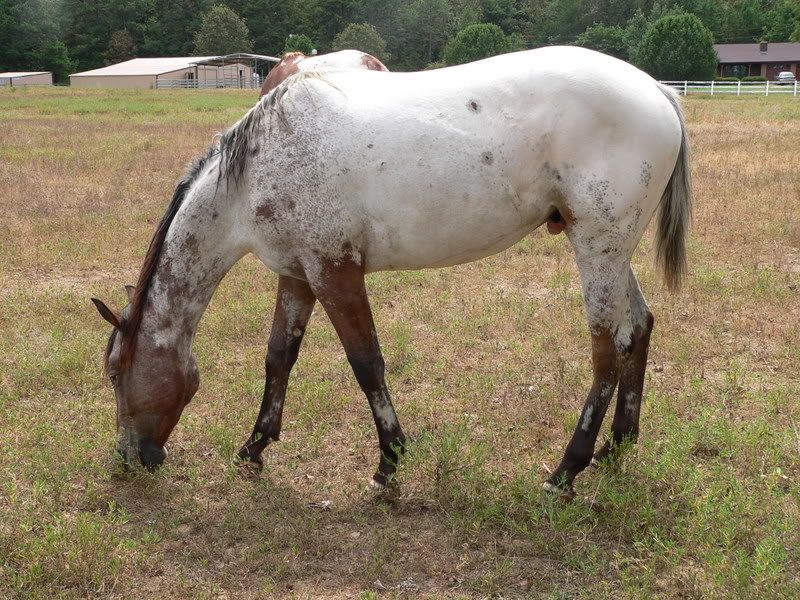 thanx all! maybe these pics help a little?
---
no time is wasted spent in the saddle
She is bay, just like Rambo...
Ok yes, better pics. Bay with both a blanket and varnish.
thanx!!!! and rambo his a handsome boy
---
no time is wasted spent in the saddle