Bay or Buckskin?
---
She's a mustang, but whats your vote? I think she is just a really dark bucky, as she has frosting in her mane, but I would almost describe her color as being similar in shade to a bay dun, but she has ZERO dun factors (she is NOT a dun, just saying the color of her body looks like a dun diluted bay). It is really striking color, especially with her black extending so high up on her legs.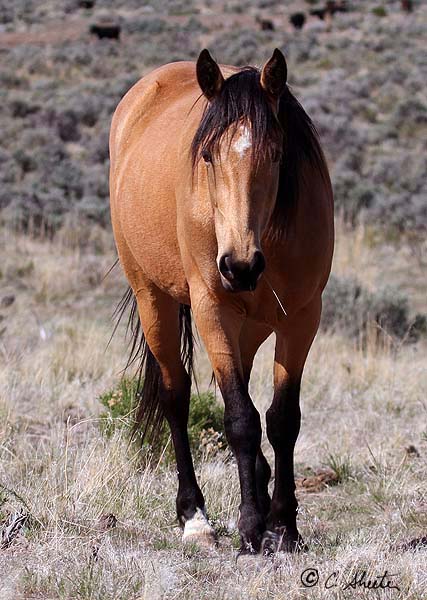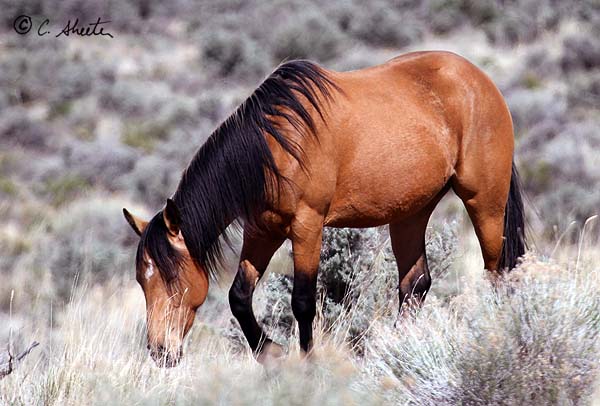 I'm gonna go with a darker buckskin as well. Gorgeous!
---
We drink to our youth, to the days come and gone; for the age of oppression is now nearly done.
bay and she is very pretty
---
Country Woman


My vote is buckskin, for shizzles.
Posted via Mobile Device
I would guess buckskin, but if you want to be 100%, test her for cream. It's $25 through UC Davis.
Looks buckskin to me.
---
"The greatest pleasure of a dog is that you may make a fool of yourself with
him and not only will he not scold you, but he will make a fool of himself too."
-Samuel Butler
I should have been more clear....she is a WILD mustang ;) So testing would be a tad difficult
Difficult one but my best guess would be buckskin
---
"If a horse fails to do something that is because he was not trained to do it. If a horse fails to do something properly that is because he was not trained properly."
www.wildestheartart.com
Does anyone have a photo of a bay horse with mane frosting? I have sen it on Duns and on Buckskins, but never on a regular bay.
U sure the black is not hiding zebra stripes?
Similar Threads
Thread
Thread Starter
Forum
Replies
Last Post
How to Get a Buckskin

hackin'around

Horse Breeding

16

12-21-2012

11:50 PM

Dun/Bay/Buckskin?

Wheatermay

Horse Colors and Genetics

84

08-30-2011

03:20 AM

Bay or Buckskin??

thoroughbredgirl8949

Horse Colors and Genetics

6

07-09-2011

11:57 AM

Dun and Buckskin?

equine fanatic99

Horse Talk

5

03-17-2010

07:18 AM

Buckskin QH

rckstr

Horses for Sale

18

02-26-2009

02:50 PM