Bay with Buckskin/Dun markings?
---
I have an arabian colt (1/4 hackney) who is bay. He has a black stripe down his back, and my trainer mentioned he has dun markings. Is this normal? Have you seen it before? I will post pictures soon. His mother was mahogany/seal bay and also had these markings, and his father was white grey.
Since hes Arabian, he can't be a genetically a dun, hackneys are not dun either.
So this is most defiantly a case of counter shading, or in other words just the hair gets dark down the back and resembles a dorsal stripe.
This a purebred Arabian with countershading: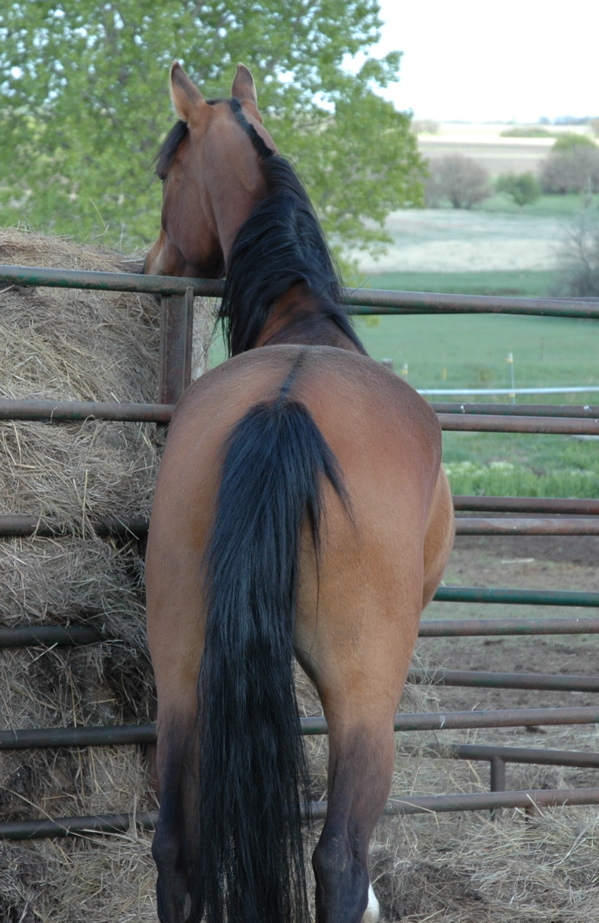 ---
"Chaos is a friend of mine"
Bob Dylan
---
Last edited by SunnyMeadeFarm; 01-16-2013 at

12:45 PM

.
A lot of bays have counter shading which mimics dun caused markings.
Definitely not a dun, but it will be interesting to see if he greys out ;)
---
"If a horse fails to do something that is because he was not trained to do it. If a horse fails to do something properly that is because he was not trained properly."
www.wildestheartart.com
If it is the same horse -
Hero the horse
I doubt he is going to grey. He doesn't show any indications of it IMPO.
Yes, he is four already and shows no signs so he is permanently bay most likely although I have heard of several cases where five year olds start going grey.
In order for him to go grey, he would need one grey parent. So it could be possible, but at 4 if he has not shown grey yet, he no doubt will remain bay.
I've got two bays that have counter shading - dorsal stripe and shoulder barring - and the beginnings of tiger stripping. One sorrel is so light with a dorsal she almost looks red dun. lol