Teen Forum Moderator
Join Date: Dec 2010
Location: South East Texas
Posts: 7,157
• Horses:
2
Bay....with a dorsal stripe and leg barring?!
---
As most of you know by now, Sour foaled a very healthy, very vivacious little molly mule filly a month ago. She's absolutely adorable, but I just can't figure out her coloring! At first glance to me she's bay, but a lot of things stump me about her color and I'm just really not very experienced with donkey genes and how they interact with horse genes. A few experienced people at the barn have also commented on how she might be a dun, so I figured I'd get your opinions! I realize that its hard to tell right now and will be until her summer coat next year, but give it a shot!
Can bays have black points, barring, and dorsal stripes/crosses? I didn't think so but being that she's a mule, I'm not sure. Someone told me that all mules have dorsal stripes and crosses but I know that isn't true because our mini mule Tempest is chestnut with no stripe or countershading whatsoever.
ear with black points in two spots- with brown in between so that it is black-brown-black. You can also see some of the leg barring on her too. Its on all four legs.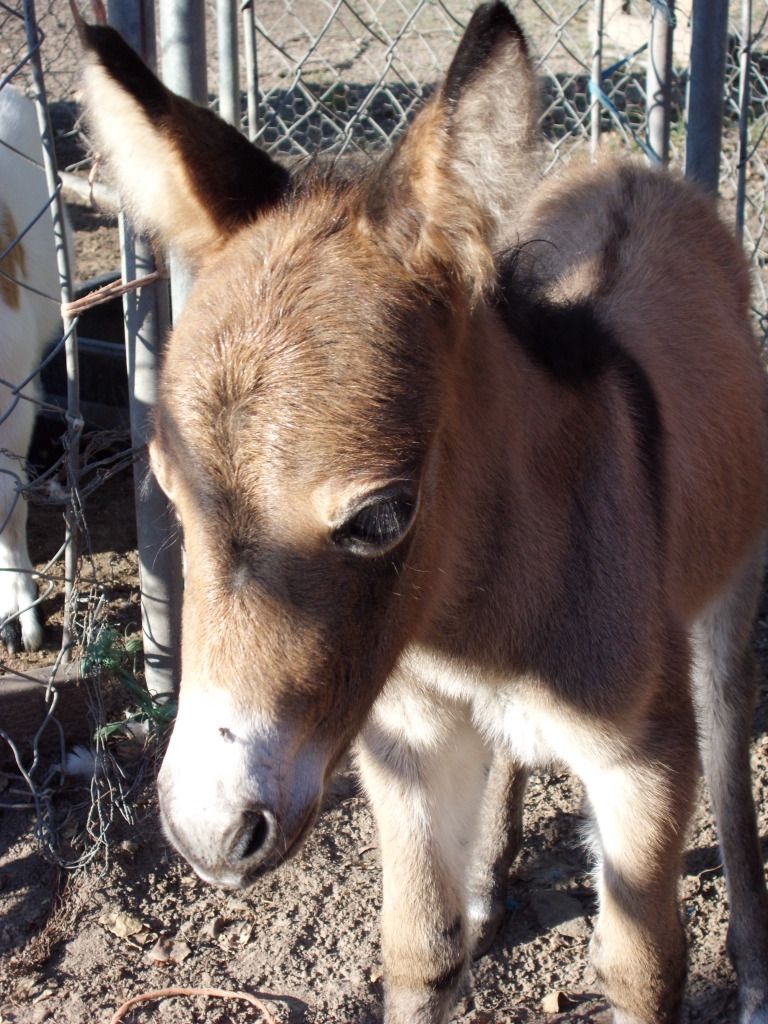 you can see her ears better here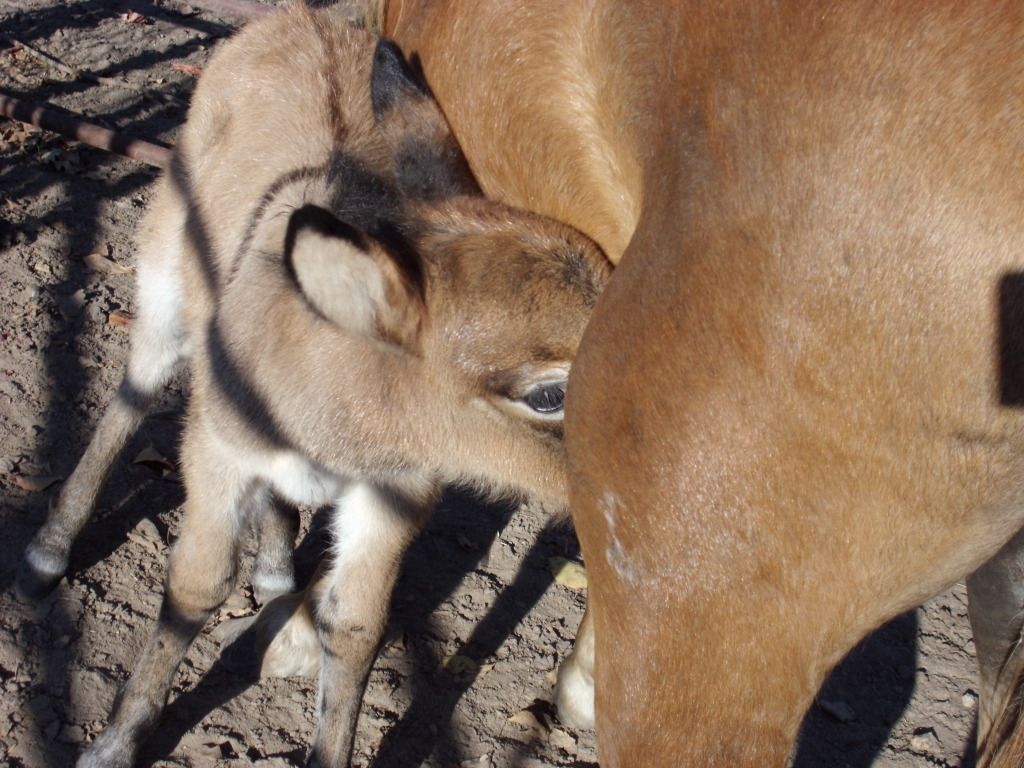 you might be able to tell that she's not really your typical 'bay' color either...more of a rosey brown? I dont know how to explain it but its almost as though she's pink XD she's a month old now and hasn't changed shades at all. her shoulder stripes are also very long and her dorsal stripe goes all the way to her tail.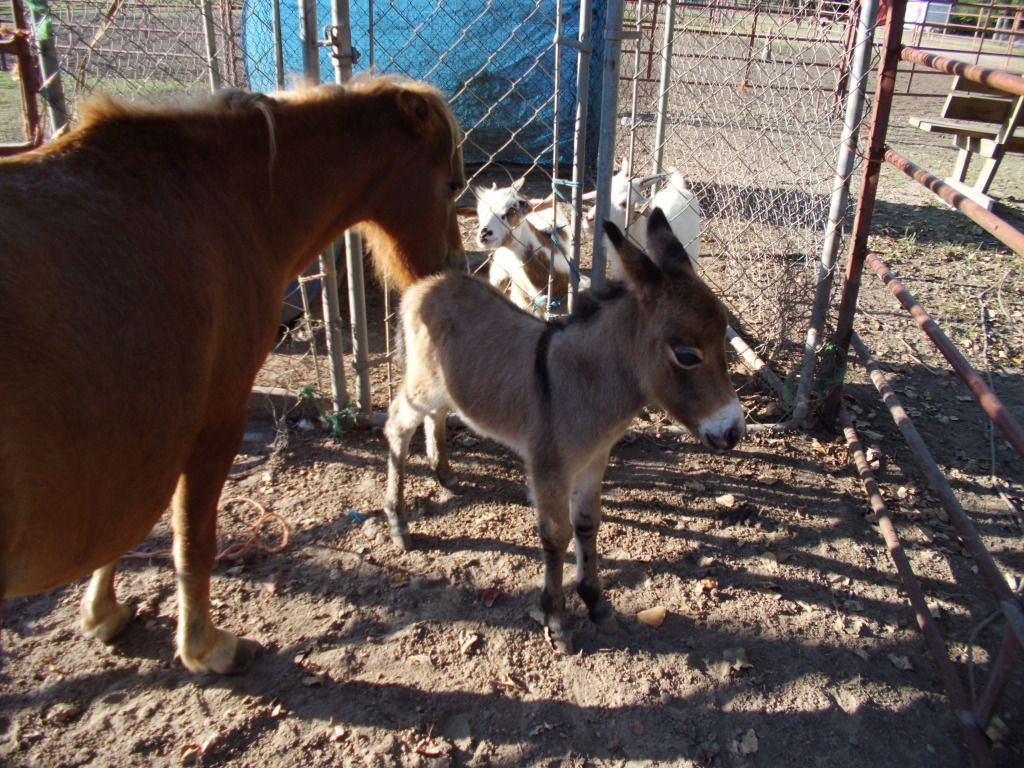 As you can see, mama is just chestnut with some counter shading that comes and goes with the season.
a picture of Dad, just in case its needed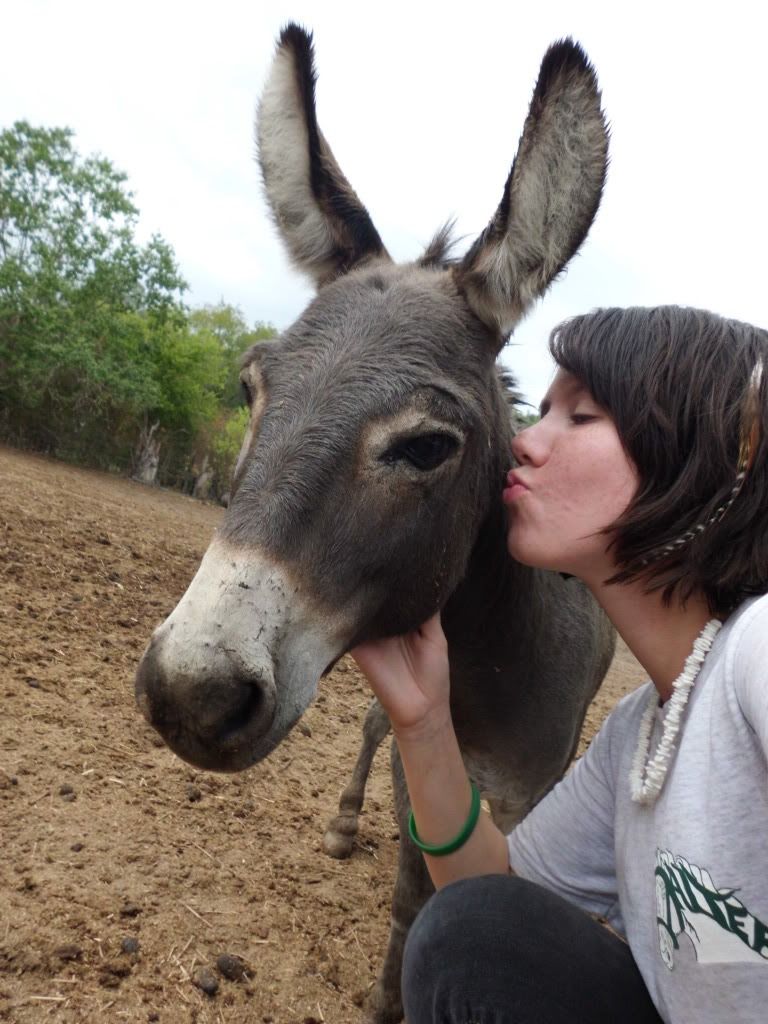 ---
Everyone in your life is meant to
be in your journey, but not all of
them are meant to stay till the end.
---
Last edited by Endiku; 10-13-2012 at

08:57 PM

.
I vote dun, I don't see bay at all.

But really, all I know is that she's donkey-colored, lol.
Posted via Mobile Device
Teen Forum Moderator
Join Date: Dec 2010
Location: South East Texas
Posts: 7,157
• Horses:
2
Thats what it seems like, but the shade is fooling me! I've never seen a dun that was this dark before.
---
Everyone in your life is meant to
be in your journey, but not all of
them are meant to stay till the end.
Definitely dun! Shoulder strips and dorsal are the big give away!
---
Noey's Herd
I ave no idea of her color, I just had to say she's soooo stinkin cute.
---
EQUUS KEEPUS BROKUS
Donkey/mule genetics are very different from horse genetics. I personally know nothing about donkey genetics nor the mules that inherit most of their color, so, unfortunately, I'm not of much help here.
awe !! I want one. I think she is a Red Dun :)
Green Broke
Join Date: May 2009
Location: Winnipeg, Manitoba, Canada
Posts: 4,510
• Horses:
2
She seems to have inherited the classic donkey color genes. Pretty sure she has that primitive dun donkey gene but donkey colors are totally entirely different from horses. I don't even know if much/any work has been done on mules to determine how horse and donkey color genes work together.

I'd call her a class donkey dun though.
Posted via Mobile Device
Definitely looks like donkey genes rather than horse genes giving her the primitive markings. I don't know much about donks/mules, but I do know that the shoulder barring like that is called something like a "cross".
---
Mods, grant me the serenity to see the opinions I cannot change, courage to change the ones that should change, and the wisdom to spot the trolls.
My friend spotted mule baby. Isn't he cute! Anyways the little mule is registered as a gray dun spotted mule.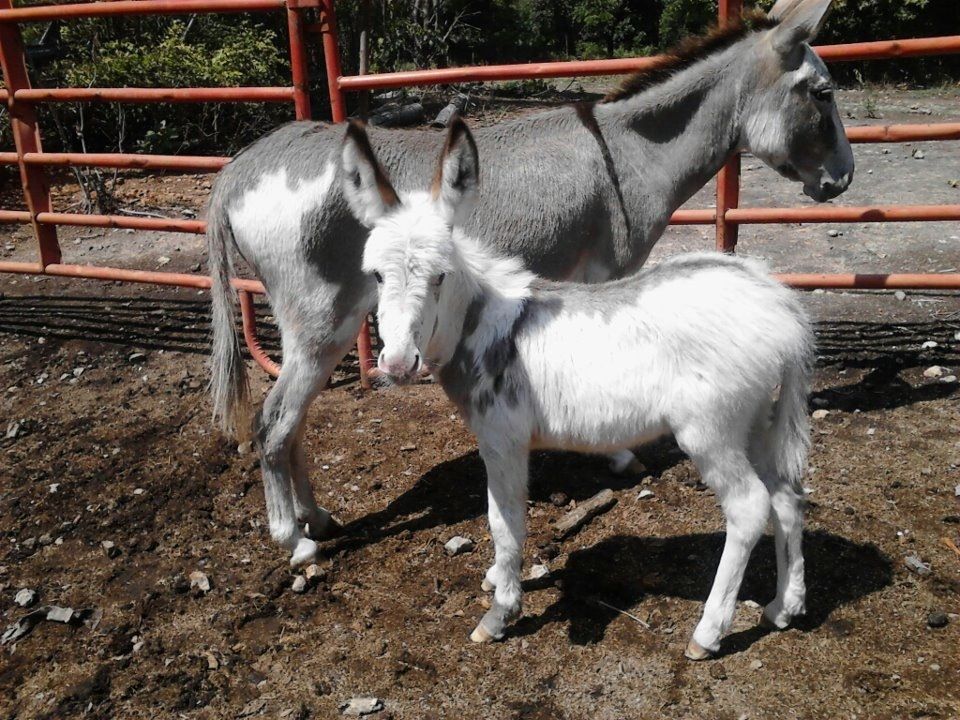 Posted via Mobile Device