and do you mean the chestnuts ? corns ???
Yeah...There are a few certain things about Ellie I would try to avoid breeding into but most are more aesthetic (mainly being I've had a lot of people ask if she was a mule...I shook my head sadly at that. I enjoy mules, but she is not a mule) and she is a little "foundation-y" in the withers for my taste. She is a little flat withered. She may be a touch wide in the chest, too. Otherwise, I lover her make-up. I'd like to breed her to a taller stud, not huge obviously because at 14.3, I don't want her to have a huge baby, especially as a maiden mare, a stud with high withers and an average chest. She's got great legs and a such a baby doll head...Though, sometimes her coloring doesn't make it seem that way. :/
She is such a joy to ride. She trots and her natural trot looks like a prancing float. It's awesome, I love watching her move. And for a three year old, she is just so calm and nothing bothers her(except cows). I took her on a trail ride(first ever) and she acted like he'd done it her whole life. Can do anything to her and she doesn't care. I'd love to pass that on to a foal. She is just so sweet...pushy sometimes because she is a baby, but never ever has she been mean.

I'd keep it and raise it up. I bought a 5 mo old stud colt(7 mo now) and she babies him like he was her own. Takes care of him from the herd mare who can be a real bizzzziiittchhh.
Let's see her papers are: Registered name Jay Kid Drift

Sire: Jay Tee Whippet, Sire's sire: Tee J Whippet, Sire Dam: Chirp Jacktwist
Dam: Bankers Drift Kid, Dam's Sire: Bankers Gray Kid, Dam's Dam: Winters Drift

Have another generation but that could get confusing.

Corns are when a roan horse gets trauma to their coat, like a nip or something and the hair gets removed. The hair will grow back in the base color only, not as a roan color. So a roan horse with a lot of nips or scrapes with have oddly shaped and solid(base) colors marks all over the body.
The only thing is generally people want you to have a plan more than just "to raise it" as a reason to breed. While thats fine and dandy there has to be a system in place for the foal. You have to make the foal worth as much as you can even if you never plan on selling it. You need to know whether you want a trail horse, show horse, cattle horse ect out of her and pick a stud to compliment that decision as well.

Say for my mare. I would probably take a lot of hate for breeding her if i werent doing it for a show foal. She's generally a bit long in the pasterns and has typical TB thin walls. However when you see her temperment and when you see her move you see how much of a good broodmare style she is. I couldnt see the point in breeding her to breed her. She's still got her own career ahead of her and she's still young. (only 4. Will foal at 5) In fact if it werent for the fact that i am looking for a HUS quarter horse (sire is dbl reg) then i wouldnt be breeding at all as i understand how difficult and heartbreaking raising foals can be.
Quote:
Corns are when a roan horse gets trauma to their coat, like a nip or something and the hair gets removed. The hair will grow back in the base color only, not as a roan color. So a roan horse with a lot of nips or scrapes with have oddly shaped and solid(base) colors marks all over the body.
strange! Ive had my roan for 2 years and ive never heard that expression! Ive noticed it but didnt know there was a name for it! Thanks for enlightening me!
Okay, so since her foal pictures appear to be that she's a bay roan under the gray and her sire is a brown roan, meaning she would have gotten it from him. Also meaning that she only carries one copy of gray and that gives you a 50% of a non-gray foal. And a 50% of a roan foal. For the sake of answering your questions, I'll assume she's heterozygous for her other genes.

Soo I will answer the other colors you mentioned in your first post:
Cremello:
Buckskin
Palomino
Smoky black
Buckskin roan
Palomino roan
Smoky blue roan

Palomino
Chestnut
Palomino
Bay
Buckskin
Black
Smoky black
Red roan
Palomino roan
Bay roan
Buckskin roan
Blue roan
Smoky blue roan

Grullo (also assuming heterozygous for everything)
Chestnut
Bay
Black
Red dun
Bay dun
Grullo
Red roan
Bay roan
Blue roan
Red dun roan
Bay dun roan
Grullo roan

Black/white
Chestnut
Black
Bay
Red roan
Bay roan
Blue roan

I can't comment on the pattern being passed on or how much it will be expressed, but if the stallion ad says "Homozygous blahblahwhateverpattern," your foal will receive it. If it doesn't say, you have a 50% chance of any of the patterns the stud may be carrying.
I always try to aim for pleasure(of the western variety), I try to get my horses to the best of performing maneuvers so I don't have a specific discipline. There will always be trail riding involved. I like all around horses...nothing has to be super fancy or showy, as long as they are capable and sound mind. Though, if Ellie didn't have a phobia of cows, I'd totally like to do something of that sort, or reining. I know she isn't a barrel racer. She is too level headed and slow for that. She prefers to meander.

No problem. I thought it was pretty interesting myself. I always wonder why they do that. Actually...can anyone here explain that?

That's really awesome info! It's actually quite helpful.

I actually enjoy paints. I prefer overos to tobianos. I don't know why. (Sorry, a little scatter brained suddenly)
Most of the time as long as you can put a solid foundation on the horse and its quiet it will be worth something to the general public.

I have no idea why it happens. My roan has a few spots on her hip and girth line herself but theyve all been there since before i got her. Every place she has hurt since I've owned her has been already roan-less. (mainly her legs.)

The sire im breeding to is a frame overo. Luckily my mare isnt frame. I hate paints. They're so much more maintenance. All the white you have to keep clean and sunburns ect. I dont mind solids (which im hoping for!)
I'd say if your planning on breeding at one point be sure you look into genetic heritable diseases, you may need to test for these or make sure your stud your breeding to doesn't carry these diseases. I'll give a brief description but I recommend reading about each one further on your own.
Diseases related to color.
OLWS/LWO- caused by foal inheriting two copies of frame. Frame is in multiple breeds not just in paints its also found in QH's which I'm assuming your planning on breeding to. It also may not show up on the coat it can even be on solid color horses. Two copies of frame (homozygous) is ALWAYS lethal. Frame is testable.
CSNB- congenital stationary night blindness (I don't know a lot about this one but I believe it associated with the leopard complex in appaloosa's.) just in case you wanted to breed to an Appaloosa
.
Splash- can sometimes cause congenital deafness.
These are the diseases that you definitely need to learn about! HYPP, HERDA, GBED are all testable sometimes stallion owners lie about the status of these diseases a good way to check further is check out the offspring!
HYPP- Hyperkalmic Period Paralysis: this is associated with horses related to the stallion Impression. If breeding to any Impressive bred horse be sure the horse has been tested and confirmed N/N for no HYPP. Causes sporadic attacks of muscle contractions and convulsions and can be so severe it kills the horse. Be aware some breeders lie about thier studs HYPP status.
HERDA/HC- Regional Dermal Asthenia/Hyperrelastosis Cutis: recessive hereditary skin disease. These horses have loose hyper-extensible skin, poor wound healing, lesions, fragile skin. Horses are usually put down when discovered to have this disease as they suffer from chronic skin infections and cannot be ridden, they also have horrible disfiguring scars. This disease is associated with Poco Bueno and his sire King.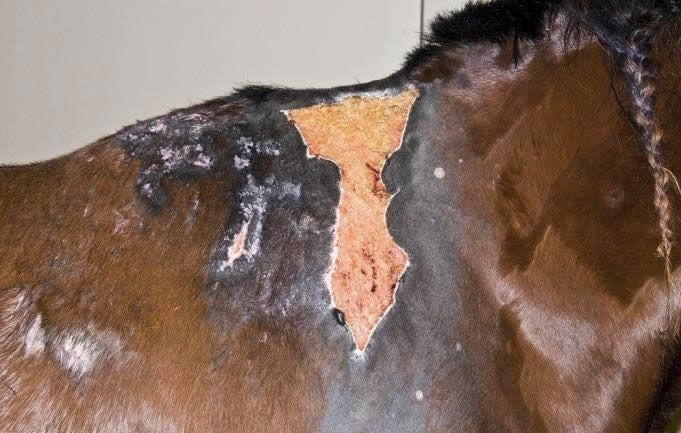 GBED- Glycogen Branching Enzyme Deficiency: foals are born lacking the enzyme to store sugars causing the brain, heart, and muscles to slowly die. This disease is again associated with King and his sire Zantanon. This is 100% LETHAL.
ERU- Equine Recurrent Uveitis: causes blindness in horses associated with Appaloosas, thoroughbreds, and Standardbreds. No test for this but can be found in the offspring.
I think I covered the one's you need to worry about are there any I'm forgetting I feel like I'm forgetting something lol.
Posted via Mobile Device
---
Noey's Herd
---
Last edited by Peppy Barrel Racing; 01-16-2013 at

02:17 PM

.
Yes, your mare is a roan that turned grey. She's a nice-looking mare. I've heard of the "corn" markings too. I'm sort of a roan-a-holic, always have liked that color, I used to own a blue roan Fox Trotter colt.

I don't think there is anything wrong at all with wanting to breed for a color, or pattern, as long as you keep conformation and disposition of both sire and dam in mind, and inherited diseases. Not sure why some people like to jump all over others for wanting to try for color... Paint horse breeders, Appaloosa breeders, dun breeders, jeez a lot of people breed for color, and as long as they keep good conformation in mind, why not.

When roans (and my grey did too) get marks on them from bites or kicks or scratches, the hair grows back like the darker original base color. Being grey, the dark corn spots should eventually grey out too.
---
Last edited by Remali; 02-01-2013 at

03:53 AM

.