Quote:
If her tail does not darken that is what it will look like. Her mane is completely black with sunburned tips. Thanks inga. This internet idiot owes you one.
Oh and I do see the paper clip icon so this might not be too hard after all. I dont know how to open another site on the computer and will have to create a file for pictures. Shalom
Oh dear, no judgements, believe me. I tend to repel technology as well. I do have a photobucket account but it froze up on me for some reason over a year ago and I can't upload anymore pictures. ha ha I am sure it is a simple fix but... alas, I am not techie ha ha
I am from the generation BEFORE everyone was so comfy with computers. ha ha
My 1st thought when I read your description was gulastra plume-
Time will tell I guess
the black horse in the top picture is what her tail looks like as we speak.
What exactly is gulastra plume and what causes it? Can she pass this on to her foals? Shalom
Some say its a form of Sabino and some say its a splash like mimic. IDK if there is genetic testing for it though. The color was named after the stallion Gulastra, whose descendants inherited the mutation. Its also known as Silver tail.
This is a TB with the gene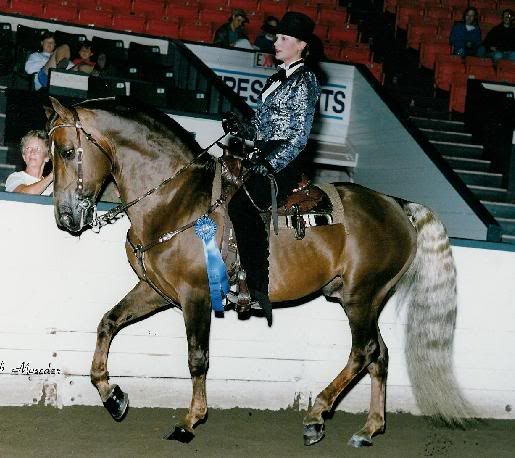 Equine Color Genetics
OMG, those first pics are stunning! For a possible genetic fluke, what a neat looking one!!
---
Cowgirl up!
This is the first and only time I want NDappy to be wrong about anything related to colour genetics.
She probably isnt but I can hope cant I? Shalom
I've heard of that before: really cool!
---
The sensitivity of the internet baffles me.
I got a better look up close today and the blonde is blonde from the roots to the end.
She will be a black with minimal white and a white tail.
I thought since the colt was black with four whites and a star strip and snip and their half sister is a bay rabicano that Kemah would be the plain one.
Guess she wasnt going to let that happen.
Thanks sunnydraco and all the rest for your help with the pictures. Shalom
Ooh that is cool! I almost got a Rocky Mountain because I love the flaxen mane and tail on a dark horse! Alas they were all WAY out of my price range! Never heard of it on an Arab or Thoroughbred though. Good thing I'm not still looking or I'd be banging on your door db!