Quote:
AND you are wrong as well, a grulla can express the cream gene!
Actually I wouldn't say grulla can express a cream gene, it can hide a cream gene, just like black.
Nakoda, I have been around horses for over fifty years...professionally showing and training for almost 40. While I consider myself a very knowledgeable horsewoman, one thing I know very little about is color genetics.
One thing I DO know, however, is NEVER to argue color genetics with Chiilaa and several other posters here. I do know they have spent enough time really researching this area to know what they are talking about. I, as many others, would be totally underqualified to argue here.
As for your grey horses coming from another color.....most greys start out as "another color". The stallion I am riding in my avatar was homozygous for grey. He could produce no other color. So, when my bay mare gave birth to this foal (by the stallion in question).....
Yup, he sure looked bay, just like momma. But I KNEW he was gray. Sure enough, this is what he turned into....
BUT, if Chiilaa told me that this horse was a zebra, I doubt I would argue with her!!!
The subject of greys is something that I ponder very, very often now that I own a grey. I've never seen a horse change colors as often as she does. In fact, until owning a grey, I don't think I ever understood that they always start as another color and grey out as they mature. I recently was given pictures of my girl from birth to when I received her and was SHOCKED by how brilliantly "sorrel" she was up until she was 2. Even after a few months she has progressed from what I (and I am using my own color explanation, nothing correct to genetic colors I'm sure) a steel grey to what she is now. Every week she has more and more defined white spots, and is now developing almost black points down her legs.
It is so freaking interesting to look into color genetics. I never paid much attention, but having this "horse of a different color" now, I have become fascinated by what decides colors!
Minutes Old
Approx 1 year old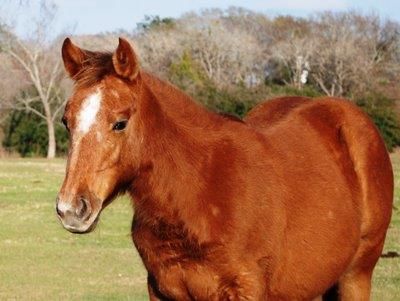 Present as of March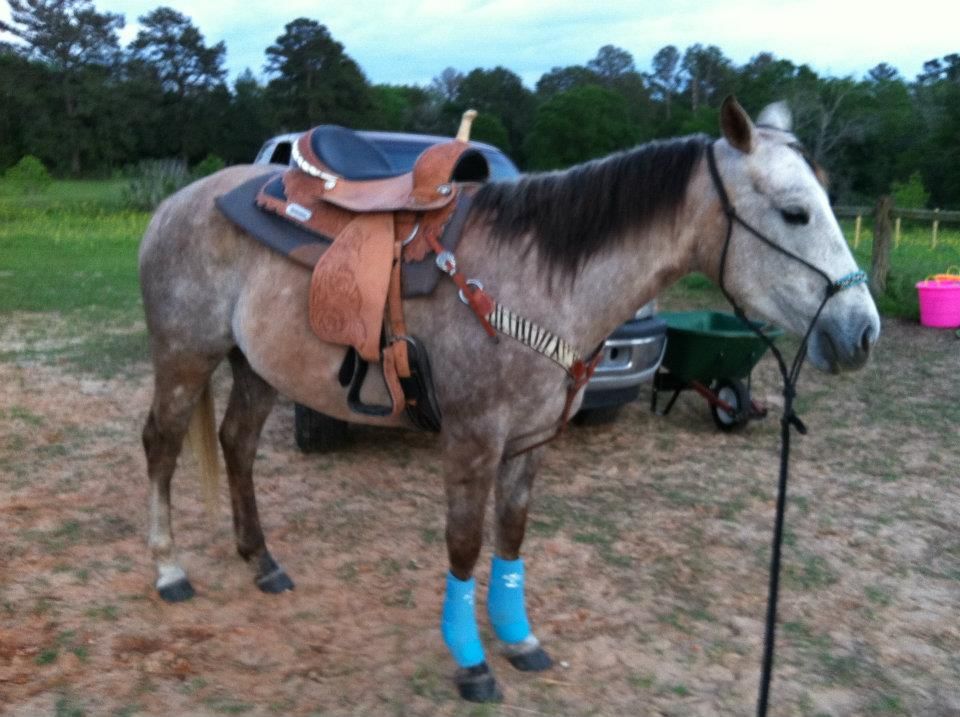 Yeah. Greys uusually do start out as another colour. We had a grey mare (born black) foal a lobo dun colt, and by the time he was 6 months old he was half grey. It is also interesting to see how much time it takes a horse to grey out, especially when they start. I know the main indicator is all the white around the eyes. My filly started around her eyes and on the outskirts of her claze. It's been interesting to watch the process
And sorry to all whom i havent replied to. As dumb as this sounds my computer is gunna die any second, so I do not have time :/
And about the cream genes... All I know about them is that a buckskin is a bay with one cream gene. A perlino is a bay with two. A palomino is a chestnit with one, and a cremello is a chestnut with to. That's all I know
I would say she is a gray that displays dun factor.
---
Any day riding is a good day.
Yeah I think she is. I just hope the dun stays like it is on our claybank
The dun wont stay. The grey will probably make it stand out more/"brighter" for a time, but it will be erased by the grey.
Aww.... N yea it's already hard to see her body stripes now. She was extremely extremely sick in this photo, but it shows how much her coat has changed since last summer.
IMG_3246.jpg