Sooty too I'd say judging by his cool dark wither marking. Probably why his face looks so dark too. He's very pretty! Love his build.
You think sooty? He does have there k wither stripe and super dark counter shading. But I don't know how sooty works. His mom is black, dad is buckskin
Thanks for putting those old pictures up, I couldn't copy them on my phone!
He's a good looking horse! I vote brown roan.
Posted via Mobile Device
---
Proud Partner Owner of Me Too Radical, Top 10 PQHA Quality Improvement Program Futurity. Sire of AQHA, NSBA, and NRHA champions. Sweet, gentle, excellent mover, excellent temperment, and so much more. Standing in Indiana.
Quote:
Not sooty bridger. Brown for sure.
I wasn't doubting he was brown. Is his darker wither marking not caused by sooty? I guess I was wording it funny. I meant sooty in addition to brown. Unless that isn't sooty lol.
Like such: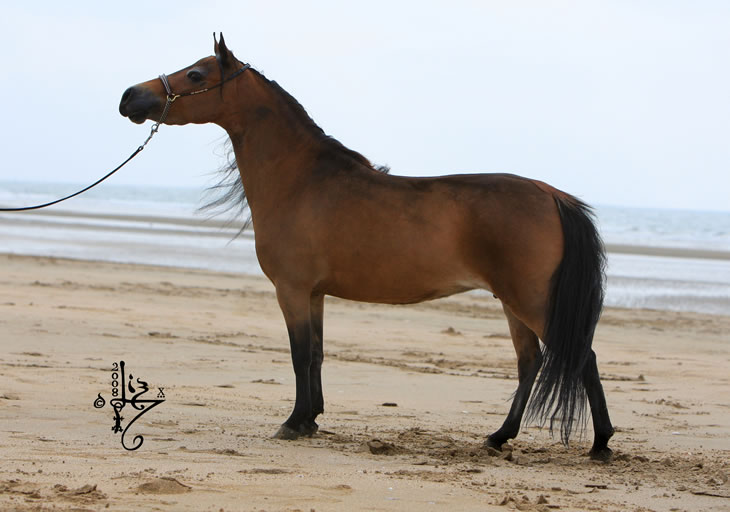 ---
Last edited by Bridgertrot; 07-15-2013 at

01:30 AM

.
His dad is most likely a sooty buckskin, he looks like this horse with the shouder stripes and face mask and dark dappled loook on shoulders and hindquarters, but he is not tested for colors
Bridgertrot, I am in the camp that is beginning to wonder if sooty even acts on a black based coat, or if what we are seeing is the different expressions of agouti.
---
Mods, grant me the serenity to see the opinions I cannot change, courage to change the ones that should change, and the wisdom to spot the trolls.
Those are a few weeks old, he is more roaned out right now and his counter shading is much darker now, and I see a face mask like his dad has. You can't test for sooty right?