Buying for Color: Have you done it, and has it worked out??
---
This is just a thread based on curiosity. Between the weather and an injury I am bored, and got to pondering. I have a bay Arabian, that I really like(in foal to a bay thoroughbred), a bay(starting to roan)appy filly, and a grulla going grey weanling. I totally stumbled into buying the grulla, but I bought her for color, 100%. She is also built nice, with a good attitude and breeding I like, but it was mainly her color. I am in love with a mare my BO owns who is also bay. As you have probably guessed, I'm going to be in a bit of a predicament over who to sell and who to keep, but that's a topic for another time.
As you can tell, I seem to end up with a lot of bays. Sometimes I get to thinking about how nice it would be to have a bit of color, a paint, some spots, a grey even, but my bays are everything I want, its just color that's missing, which ,as we all know, doesn't make any difference.
I have bought horses before mainly based on color. A dun pinto mare, which would have been perfect for me except for her size, a stunning chestnut appy that I did not click with at all, a chesnut overo mare that I didn't love either, a blue roan that was too lazy, a buckskin that wasn't right for the riding I was doing and a grey that nearly killed me. You can see where I drew the conclusion that color should be the last quality looked for
so who here has shopped for color? has it worked out for you the way you anticipated?
When I bought my Appy mare, the first thing that caught my eye was her color. I have a weakness for Appaloosas of any pattern. I lucked out and ended up with a really great mare (even though I have always preferred geldings).

However, while there are certain colors that I prefer over others, I am a firm believer in the saying, "A good horse has no color." :)
Posted via Mobile Device
In a long line of important things to look for in a horse when wanting to purchase, color is low on the list. That said, we are all human and have our favorite "looks" in a horse.

If I wanted a certain color, I would look at many horses of that color and hold out until I found one that fit all the other criteria. Conformation, soundness, temperament etc...
I'm not sure. Last horse I bought was a black twh mare. Always wanted a black walker. Also a plus I knew the guy selling her, not through horse circles though, and trusted what he told me. Probably wouldn't have bought her if she wasn't black. Definitely wouldn't have bought her if she wasn't gaited and wouldn't have paid that much if I didn't know the seller to be honest. Very nice horse. All other horse's were bought for training and disposition so l'm not really a color person.
Posted via Mobile Device
I agree, colour is pretty low on the list, however, a chestnut or dark brown or tobiano of any colour always catch my eye. If I were to go look at a horse and it wasn't my favorite colour but was everything I wanted, I wouldn't walk away because I didn't like the colour.
I had no idea what color my mare was when I bought her (just knew some kind of roan) I had the pick between her (I know now she's a grulla roan) and her blue roan sister both very similar and I picked her based on personality.

My stallion I had admired from afar and never thought he would be mine. He's perlino and sabino not a color I'm wild about, but his conformation, personality, athleticism, breed type, etc are what I went for. But I'm sure his color will help market him and I'm warming up to it.
Since I have a cremello stallion, I went looking for a bay QH mare so I could make buckskins. Well.....I bought a chestnut Paint mare and a buckskin QH mare and a dun QH filly. The last one is the only one that really fit the bill color-wise. I bought good bloodlines, good conformation and temperament. The first mare is halter all the way but she can pick it up and move when she wants. The buckskin I bought because of her Presidente Shiner sire line, and the temper & athleticism and pretty that goes with that breeding, so I bought her in spite of her color. The dun I liked her lines, her athleticism, temper and color, but her head was not as nice as I normally look for, a little long & a bit roman nosed. Since you can't ride the head, I gritted my teeth and bought her anyway. And it's not like she's ugly...she's just not as baby doll headed as I normally go for.
Honey Boo Boo the chestnut:
Shiner's Moon Dance aka Goldie: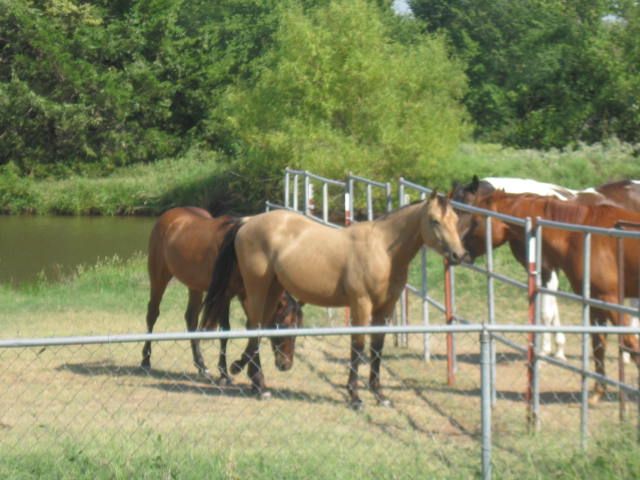 Wart aka Lakers Smoke: Wart's in the back, Goldie is a camera hog.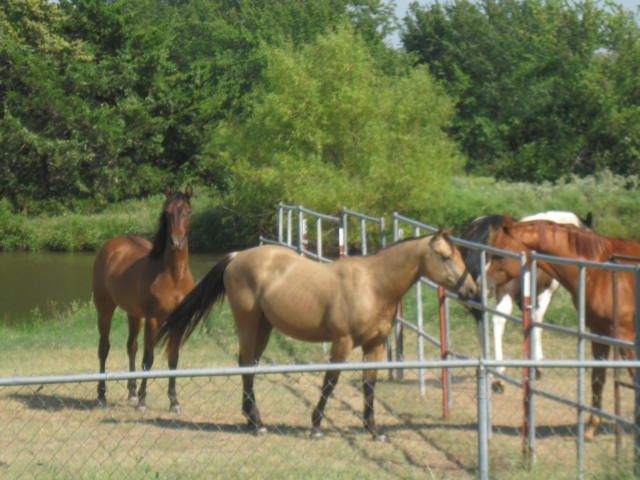 ---
Nope... I haven't, and don't see any occasion when I would feel the need to. I have my preferences, but I would pass on a horse of my ideal color if it didn't meet all of my criteria, or we didn't "click". Finding the right horse is hard enough anyway!

That said, I did almost buy a gorgeous, jet black mare with lovely markings. My perfect, ideal color in a horse. We ended up passing on her because she was nuts, and I may have seen those flaws sooner had I not been too excited about her color. On the flip side, I'm not so much a fan of grays. I wouldn't pass on the perfect horse because it was a gray, but it would have to be an absolutely perfect match for me! As it is? I'm happy with my guy's wild bay and chrome. I think just about any color would grow on me if I had a horse of that color anyway, lol.
I haven't personally, but I used to board with people who did have it work out for them. They were very new to horses (a mom and two daughters), but the resident trainer was a good friend of the mom, so they had help. When searching for their own horse after lessons for a while, they were adamant that the horse be a buckskin, despite being told by others that their safest and cheapest bet would be a "boring" and common color like an older bay or sorrel gelding. It would be safer and more experienced for them to learn on.

Nope. Wouldn't have it. After searching for a while, they finally found this 6 year old mare. Her only fault in their eyes was that she had 4 socks, not the black legs they were so hoping for. She ended up being very sweet and worked very well for all three of them and got 90% of the color they wanted (they were jealous of my buckskin for only having one small pastern). I no longer board with them, but I assume they're still doing well.
We have never bought for color. That's led us to own some blacks, a couple bays, a couple palominos, some pintos, some chestnuts, and a gray. Among other colors too.