Apparently the universe has decided I can only have grey horses.. which was originally my least favorite color as I am lazy and never wanted to deal with keeping one clean.

Now I just embrace the brown/green/yellow color that they are, as I wouldn't trade any of our 4 for anything. :)
---
There is no joy equal to that found on the back of a horse.
My first horse I bought for her colour. I was looking for a black quarter horse. I lucked out on her, as she has pretty good conformation, a great attitude, and she is my 'heart horse', although she is a grade horse. She is my forever horse.
The second horse I bought was based on his conformation and overall build, not his colour, he was a dappled grey, and although he was pretty, that is not what drew me to him. We didn't click though, and I sold him about 6 months after I bought him (he was a resale though, just went sooner then I first planned)
The horse I just bought was bought for both colour and build. I wanted a palomino, but I was open to all colours, and looked at many before I bought her, but as long as they were the size I wanted, and had good conformation for what I wanted to do with them, I would buy any colour. I ended up getting a palomino mare. She has OK conformation, she is a decent size and she has a nice disposion.
My next horse (if I get a next horse) I would mainly be looking for a solid, thick build, good conformation and a nice disposion. I will not be looking at colour as much, because I would like a nice good horse.
This is my black... Breeze, a grade quarter horse filly:
The grey I sold... 'Dimensional Wrangler' aka Wrangler quarter horse gelding:
My Palomino... 'Wrangles Kooler' aka Promise quarter horse mare:
Nope, never.
My first horse was chestnut, and if you squinted you could never pick him out of a herd, he was so plain.
Second horse I bought was ugly as sin when I brought him home(first pic). I thought he was the ugliest color on earth- light chestnut, but dirty light mane and tail. But, he grew up and became a real looker. :) second pic
Next is Cloud. I loved him, but I was actually put off at first that he is a paint. Never really wanted a paint, and I thought it was kind of a cover up for conformation deficiencies. Plus all that white is a real pain to keep white! But he gets sooo many compliments
He's in my avi
---
"There are two ways to live your life. One is as though nothing is a miracle. The other is as though everything is a miracle." -- Albert Einstein
When I was horse shopping, I was looking for a quarter horse who was on the larger side and ready to be shown in both English, western and cow working events. A friend wasn't exactly sure what I was looking for but told me she knew someone selling a horse. I went and test rode this crazy, hot sorrel overo paint horse. Even when I looked at a show ready quarter horse, much better trained, already a proven winner I turned him down. I had fallen head over heels in love with Stitch.
For the past 7 months we have been diligently undoing everything his previous owners did, and (if all goes as planned)will be debuting in the hunter ring in April or May. Sometimes you don't always end up with what you expected. :)
He's my heart horse, and will be with me until the day he dies.
Posted via Mobile Device
I've always picked based on personality, build, and when I was still breeding - bloodlines.

My husband likes flashy and I can always be pretty sure that any animal he picks out is going to have mental issues whether it's a horse, dog or cat. I haven't figured out the cause of this strange phenomena but his kids assure me it has been happening since long before I came into the picture.
Its very interesting seeing the different colors people like and dislike. I never wanted a chestnut or bay, always liked grey and dun and most patterns, but my favorite horses have ended up being chestnut and bay. oh well. I try my best not to be "color blind". So many people pass by the perfect horse because they want another color.
on an unrelated note, Glynnis, the horse in your avatar is an arab mare, right? Mine has almost the same facial markings.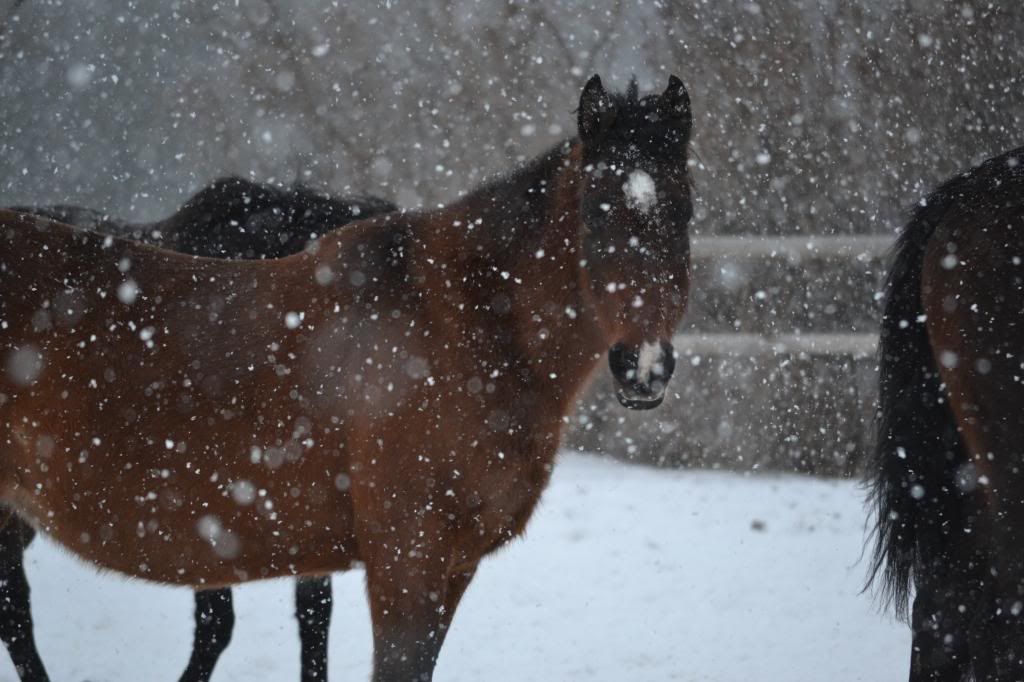 My first horse just happened to be a beautiful, golden buckskin. A real looker. I bought her as a baby, during the winter when she was a color much more akin to dirt xD

My current horse is liver chestnut, which is probably my least favorite horse color.

So, the answer is no.
---
The sensitivity of the internet baffles me.
No, I haven't although the first horse *I* bought is a dun. A beautiful, well marked, bay dun with stripes, dorsal, webbing, zippers, frosting and the whole nine yards. Too bad I really didn't like the dun coloration. Really I've never been a fan of any of the "colors" and I don't like chrome either. So, I bought in spite of color on Soda, although at least he doesn't have a lot of white.
I do like his color now, but at first I wasn't a fan.
Lily is a beautiful dark brown with a light sprinkle of white hairs on her flanks and tailhead and a whole 6 white hairs on her pretty little face. Although I still didn't buy her for her color, I bought her for her adorable little ears!
ETA - I should mention that my favorite colors are chestnuts, bays, blacks, browns with MINIMAL white. Just a little star or snip and maybe a little sock or something.
Buying for color certainly didn't work out here... I wanted anything BUT a medium chestnut with minimal chrome. He has one white sock, a small star and a snip.
I like to call him sorrel because I think it makes him sound more exotic...
At least he has a pretty butt stripe and a darn nice mane and tail! Oh, I guess his adorable personality, awesome bloodlines and conformation kinda make up for it too. ;)
I almost bought a dapple gray Andalusian because that's what I've always wanted. Luckily I got a trial period on her, because she had zero respect for anyone. The vet couldn't even finish the vet check on her because of her behavior. I do think she would have made a nice horse after some time with a good trainer, but the seller wasn't willing to negotiate on the price and was asking way too much for a horse with her issues.
I ended up getting a cremello. I lucked out in that he's pretty neat and stays surprisingly clean, but I wouldn't normally be very excited about having a white horse (although, yes, I know the dapple gray would have gotten there eventually!
) I can't imagine how long it would take me to find another horse like him; once I met him in person color wasn't even important any more.