I haven't bought strictly for color though I did want a buckskin for a long time. I finally bought my dream color buckskin Jackpot though he is technically a dunskin (bay+ dun+cream). But I looked at several buckskins, I checked for build and temperament as my main priority. I wanted a rodeo prospect first and foremost, and a horse that was built to last. With patience you can buy what you're looking for in a color that you prefer
. I don't think breeding should be done strictly for color though. I think build, temperament, and resposible breeding should be first and foremost with color being one of the last things to worry about. Though with resposible educated breeding you can breed for conformation, ability, and color.
My dream dunskin Jackpot
Posted via Mobile Device
She is an Arab cross. And that is really funny! I know there's nothing remarkable about a star and a snip, but the size and shape are really similar.
I just thought of something relating to buying for colour. My sister was always the fanciful one in our family when we were growing up and swore that our first horse, who was completely greyed out, was a unicorn. Years later, when we were looking for a horse for her, we looked at all shapes, sizes and colours. When it was finally narrowed down to a couple who were comparable in comformation, type, price, etc., she ended up picking the grey, although she knew at that age that she wasn't in fact a unicorn. So, it wasn't buying for colour specifically, but with all things being equal, the colour did end up being the tipping point for my sister and that mare will be 30 this year.
This question really isn't that cut and dry. When I horse shop I do at times have a pretty good idea what color (colors more likely) that I would like my new horse to be, but that is just a tiny piece of the equation, so what do I do? Look mostly at horses in these colors, that way when I find 'the one' there is a good chance it'll also be in the color I want. There are enough good horses out there that there is no reason I can't have the one I want, in the color I want! That said I don't always end up buying my color. When I bought my grulla mare I was really wanting some shade of dun, well any dun, except grulla!! I, at the time, had mostly seen the darker grullas and didn't realize they could be so gorgeous and silvery til I laid eyes on my girl and it was love at first sight!! I didn't buy her because of her color, I bought her because she was everything I was looking for with a lucky bonus of an attractive color!

When I bought my most recent horse I did not care what color he was (already had one in the color I wanted), ended up with a perlino. I would have bought him no matter what color he was, even if he'd have been gray, my least favorite (I do love certain shades of gray, LOVE them!! But the fact that they will not stay that way ruins it).

There have been times that I have been scanning the classifieds and stumbled across a horse who's color was just so pretty (although the horse has to atleast be cute to) that it may cross my mind to want to buy it just to have it in my pasture, although I have never followed through with that, I can't say sometime I wouldn't (although it would have to be cheap). That is the only time I could see myself just buying for color.
My next horse has to be a dun (hopefully a Kiger or a dun Mustang). I LOVE Duns (my user is a good hint at that lol). My first mare is my heart horse. The funny thing is she is everything i was NOT looking for. Shes and Arab, seal bay, When i got her she was "broke" had hoot issues and drove me to tears multiple times. But now its over 2 years later and i would not trade her for the world.
Trying out the Indian "war bridle" (halter with reins was for emergency and the leather "bit" will brake if I pull too hard)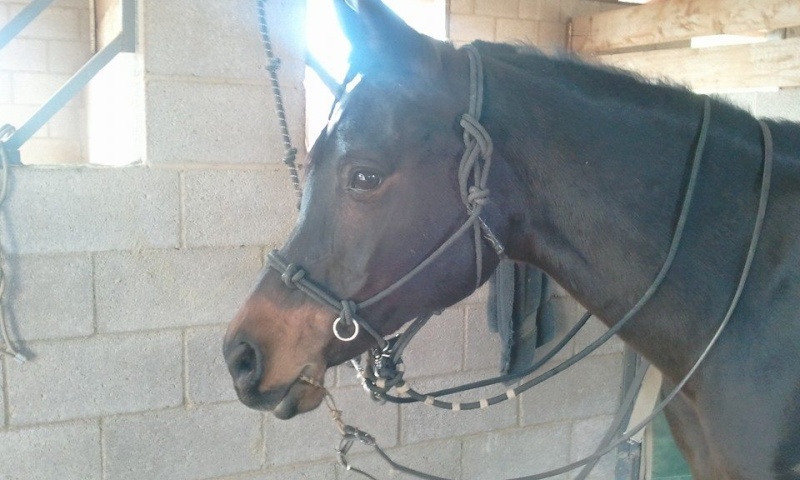 Her showing her Seal Brown colors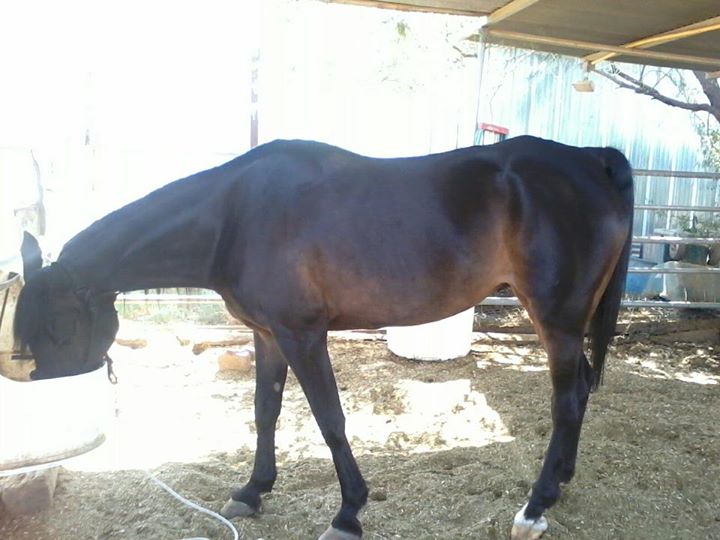 Her looking good at 18 (last year)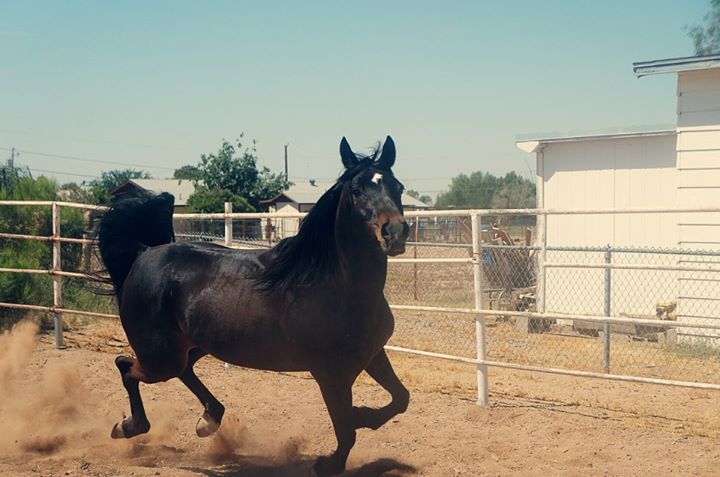 When my mom decided she wanted an Icelandic after our trip to Iceland, she decided that, if she was going to spend 6-7 K on the horse she'll have for the next 20-30 years, it had to at least be a "cool, color ie not chestnut, bay, etc.
We ended up with a red dun, pretty cool color. But we very nearly did end up selling him. We chose btween several horses at the farm: a grulla that was shy and spooky, a silver dapple that bucked when away from other horses, and Broddi, a 9 year old pasture puff with 30 days training on the trail. He had some serious separation issues and just really needed miles, and we actually had him for sale and had several offers and visits, but no body actually came through, which is probably good because, once we really put some miles on him and gave him a job, he actually became e really nice horse. So, in that case, searching for a flashy color did work out or us.
When I look for a prospect horse later this year, temp, health, and confo will come first, but if I can narrow it down to several good prospects, a flashy color might be the deciding factor.
Posted via Mobile Device
Yes, the horse in my avatar. We originally looked at her for my husband, but he pronounced her "too pretty" and she was greener than he wanted. I did NOT need another personal horse, but could not get her out of my head (I have no problem riding pretty horses, lol) & ended up buying her a couple of weeks later. She is my main riding horse at this point and I am very happy with her. She is not perfect and we worked thru some issues at the beginning (very headshy, threw herself backwards when tied), but she has turned into a really nice, dependable trail horse.
I don't shop for colour specifically but I sure do like the added bonus of it. My mare, Rem ( I own 25 horses but she will always have a special place in my heart) is a sorrel, and not a nice sorrel either, she has that orange/tarnished look to her.

When I was shopping for my new stallion I wanted something that gave me the possibility of colour (weather it be lots of white, black, roan, dun etc) and I waited for almost two years for the exact right horse to come along. Conformation and breeding came first, then colour. Had a sorrel stallion came along that had the breeding and conformation that I wanted in my price range I would have bought him too, it just never came along. I am glad I waited my new man is homozygous for dun.
Quote:
My next horse has to be a dun (hopefully a Kiger or a dun Mustang). I LOVE Duns (my user is a good hint at that lol).
I NEED a dun. NEED. I'm probably going to end up with a sulphur they have the conformation and breed type I'm looking for plus they almost all come in dun. I was close though I ended up with a grulla roan (I thought I was just wishing the dun factor there nope it's real!) and a perlino sabino who may also be dun... we shall see! But I want a BAY dun. Like this guy Sulphur's Chance: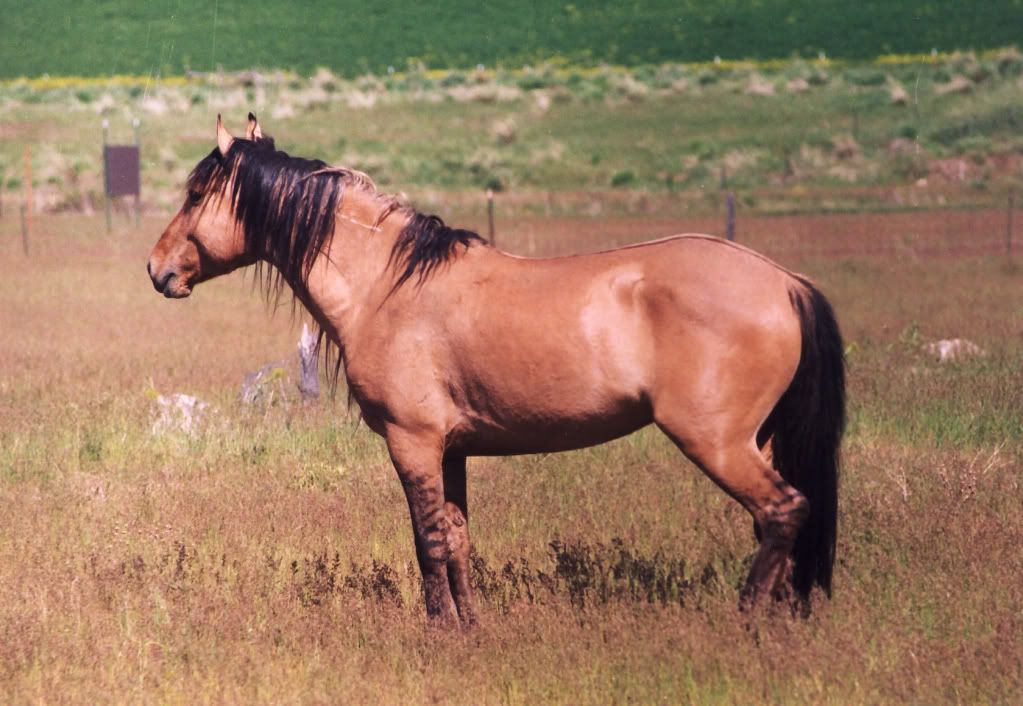 Color isn't something Im really to concerned with when buying a new horse although I really really don't like perlinos and cremellos, so the horse really has to have the whole package of breeding, conformation, soundness, and a really good mind for me to consider it. Now when I go on the hunt for a new horse again if I find 2 horses that have the same breeding and both have fantastic conformation and ones a flashy Dun or something with chrome and the other is a plain bay then the odds are likely to favour the dun lol.

I would rather have a pasture full of well put together well bred sorrels then a bunch of flashy train wrecks lol.
I went shopping for conformation, intelligence, personality, and size (I wanted something short). That said, the breeds I were looking at (Haflingers and Fjords, mostly) are distinctly monochromatic. So I did *know*, when I went down to that Haflinger farm, that anything I came home with would be flaxen chestnut. I guess that sort of counts? Although I will say that even though Nyneve's pure gold-ness is definitely growing on me, I once strongly preferred the darker-colored Haffies.