View Poll Results

: Can my stallion carry the grey and roan gene?

Yes
3
50.00%
No
0
0%
Yes and will pass both off to foals
1
16.67%
Yes and can pass either one or the other off to foals
2
33.33%
Voters: 6. You may not vote on this poll
The palomino appears to be going gray, as well. And I wouldn't *totally* discount gray just yet on the bottom roany colt. It's not the best photo to go from, and even if he is a true roan, he might still gray. Not saying he will, just that he might.
True roans have solid colored heads. They can have white markings like blazes too, but their faces do not roan. A Sabino can have a fully roaned body like a "roan" and also have a roaned head. Most of the time they will have high whites maybe a bald face and a belly spot too, splashy. Greying(roaning) on the face as they age is a big sign they are going to go grey.

My Heidi (in my sig) is a bay roan Hancock mare. Those are some pretty babies there.
---
My colt was born a bay, and now he's completely grey at four- my (uneducated, so I'm very likely wrong) guess is that I don't think it's actually a roan gene, but just the grey gene- I'll bet all his babies will turn out to be grey when they're done changing their coat colors. Then again, I know little about the roan gene.
Someone correct me if I'm wrong, I'd love to know the answer to this too, though!
Classic (true) Roans have solid coloured legs with upside-down "V" shape where roaning meets the non-roaned leg colour, along with solid coloured head, mane & tail (unless another modifier is present) that are NOT gray on the ends. With-in 2 mths Roaning becomes evident as foals start to shed into their adult full Roan colouration- which covers the body from ears to base of tial & extends down to just above the knees & hocks(so the horse is left with solid points)...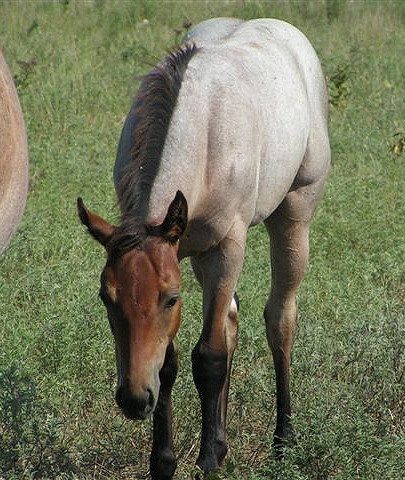 &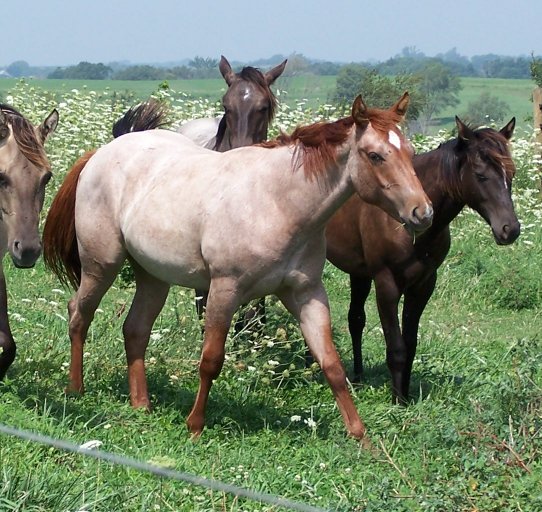 Tobiano wont change that unless there are higher white markings covering the entire Roaned area, so there will be solid coloured knees, hocks & head if the white markings finish below these areas....
I would think your foals are likely to be Sabino, which is often confused with roan - the 1st 2 foals almost certianly as they have jagged leg markings & lots of wite flecking on their faces....
I also think as others do that at least the 1st 2 foals (1st 3 photos) also will gray out due to the high content of gray around their eyes (gray rings)- thats always a dead give away of gray.
Oh & since your stallion is throwing chestnut based foals he'll either be chestnut or at carry chestnut & is also heterozygous for gray as not every foal looks to be going gray- unless the last 2 foals in your photos also go gray :)
---
Last edited by Surayya; 12-07-2011 at

06:04 AM

.